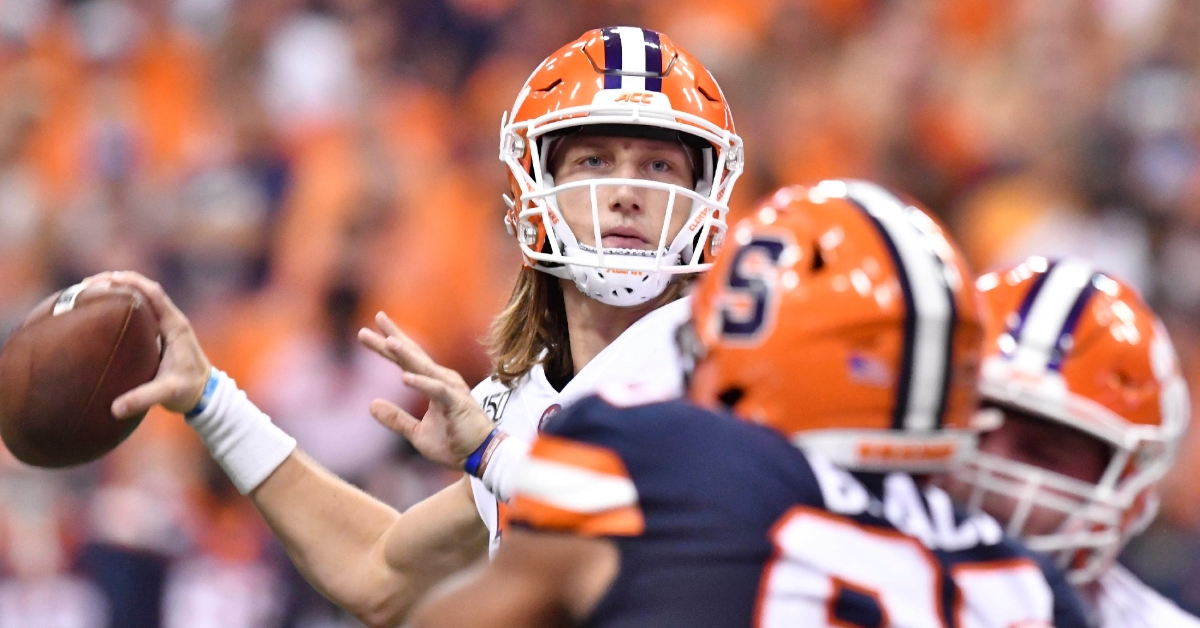 | | |
| --- | --- |
| Swinney fires back at media in defense of quarterback Trevor Lawrence | |
---
| | | |
| --- | --- | --- |
| Wednesday, October 9, 2019, 7:50 PM | | |
CLEMSON – Quarterback Trevor Lawrence has been under a microscope since taking the college football world by storm as a freshman last season. There have been questions about his play and lately about his health, and head coach Dabo Swinney didn't mince words when defending his quarterback after Wednesday's practice.
Reports began to surface earlier this week that Lawrence underwent an MRI a few weeks ago and a reporter asked Swinney to confirm that news Wednesday, and Swinney said a text message he received Tuesday night didn't sit well.
"I'm not confirming any of that and I don't want anybody texting me any more. I had a media guy text me the other night," Swinney said. "That's private information. If I want anybody to know our medical stuff, I'll tell you. We'll put it on the injury report. People texting me on my phone to ask me information that's not public information that I wouldn't put out unless it was something that needed to be put out, that's bad business. That's not how we do things.
"There's nothing wrong with Trevor. I don't like people trying to create drama. There's no drama on this team so what do people want to do? They want to create drama. It's the most unbelievable thing. There's no drama. There's nothing wrong with Trevor. Nothing. If we did an MRI or we didn't, that's nobody's business. We do MRIs all the time. All the time. A guy gets a bruise on his knee, we do an MRI. A guy bruises his elbow, we do an MRI. It drives me crazy. There's no drama on our team so we want to create some drama."
Swinney said people who question whether the injury has affected Lawrence's play obviously didn't watch the win over North Carolina when Lawrence carried the ball on the goal line.
"Oh, Trevor missed a throw, so he must be hurt. No, he's human. He's human," Swinney said. "Here's what I'm confirming: Trevor Lawrence is a great football player and a great leader and there's nothing wrong with him. People are creating stuff. Whether he had one or not, it means nothing. He had a bruise. If there was something wrong with him, would we be running him on the goal line?
"He's run great. There's nothing wrong with him. If he missed a throw, it's because he missed a throw, period. He made a mental mistake. He's not hurt. There's nothing wrong with him. All of these people need to relax. He's a human. He's met every expectation. We're 5-0 and he's done a great job. Throwing for more yards per game than we threw last year at this time, scoring the same amount of points as we did last year, our third-down percentage is higher."
Swinney said the text rubbed him the wrong way.
"I'm not getting into medical information that I don't put out there and especially something he gets a bruise in the Texas A&M game," Swinney said. "There's nothing wrong with him. Nothing. Zero. He had his best game at Syracuse. There's nothing wrong with him. The reason I'm hot about this is because I got a text last night at home and I was pissed about it because it's like, 'Oh my God, there's some conspiracy going on.' No, I tell y'all the truth. I try to be transparent and honest. If there's something wrong with him, I'd let people know. There's nothing wrong with him. Zero. Nothing. People need to get over themselves and quit creating drama when there is none. Zero. It drives me crazy. I've been mad about it since last night."