| | |
| --- | --- |
| Swinney discusses Deshaun Watson's surgery and return date | |
---
| | |
| --- | --- |
| Sunday, October 12, 2014 7:09 PM | |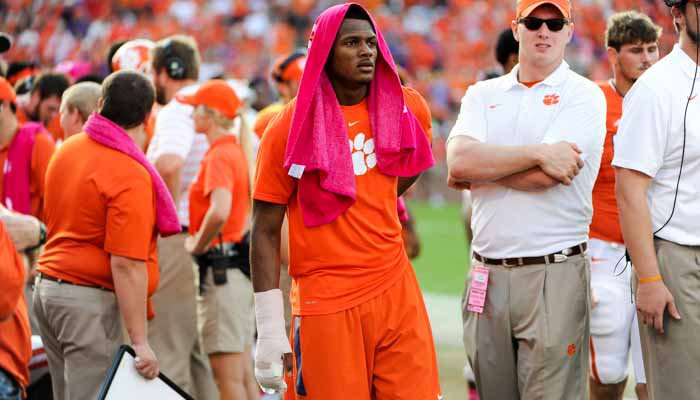 CLEMSON – Clemson head coach Dabo Swinney

Dabo Swinney
Head Coach
View Full Profile said that quarterback Deshaun Watson

Deshaun Watson
Fr. Quarterback
#4 6-3, 204
Gainesville, GA
View Full Profile was obviously disappointed after breaking a bone in his right hand Saturday, but said the Tigers will have to move forward if they want to beat a good Boston College team in Chestnut Hill next Saturday.
Watson injured his throwing hand during the first half of Saturday's 23-17 win over Louisville, and Swinney said his young quarterback was disappointed.
"He's disappointed. He didn't really get a chance to get going in the game," Swinney said. "He had a great week of practice and was excited to play a great defense like Louisville. He's a great young man with the right type of mentality. He knows there's nothing he can do about it. He's just going to get well and get back to work."
The good news is that bone is a small one that can heal quickly.
"The bone that he broke, it's a very small bone in his finger, the top part of his hand there," Swinney said. "It's a quicker healing bone, but they will go in tomorrow and put four screws in. It goes right into the bone. We don't know when he will be back. We expect him to be back at some point this season. We'll see how that process goes. We'll be excited to get him back going."
The Tigers play at Georgia Tech on November 15th, and Swinney it's possible Watson could return for that game.
"I think that's a possibility. That's well within the time frame. He's out for Boston College, Syracuse, then an open date, and then we'll play Wake and then Georgia Tech," he said. "It's not out of the question. It may be sooner or later. The one positive is that it's a quicker healing bone and because of what they're doing, they will be able to splint it and do some rehab with him. Hopefully that will speed up the process. We'll get Cole back in practice this week. It's difficult when you don't get reps. Nick got a lot of work last week, so that'll happen again this week and it'll be good for his development."
Watson was replaced by senior Cole Stoudt

Cole Stoudt
Sr. Quarterback
#18 6-4, 231
Dublin, OH
View Full Profile , and Swinney said Stoudt persevered through a difficult situation.
"I was proud of Cole. He wasn't perfect with his execution, but he didn't practice all week," he said. "It was just a gutsy performance on his behalf. Like I told the staff today, we played about as well as we could play at Florida State and lost. It's always good when you can find a way to win. The team seems like it is putting some momentum together. We have to go on the road this week. B.C. is another top 10 defense. We haven't found a way to win on the road yet. That's kind of the next challenge for us."
Other notes
On beating Louisville
"Just a great win and proud of our coaches, our players. That's one of those wins where you just have a great appreciation for it because you know how hard it is to win, especially games like that. Proud of our guys, especially defensively. Just an incredible effort holding them to 264 yards. And a lot of that came on that big play at the end. We were able to stop the run. When you stop the run, it usually means you will be good on third down. Still some things we can do better and correct. After six games we're at the halftime of our season and I'm proud of where we are defensively. We're one of the better groups in the country. I'm really pleased with the improvement we've made on special teams, especially the last three weeks. To not score an offensive touchdown in a game and still be able to win, that's something special to be a part of. It's something your team can draw a lot of confidence from.
"Offensively let's give Louisville a ton of credit. They're number one in the nation for a reason. They're tremendous. We knew it would be a hard-fought day. That was probably the biggest disappointment; we had some opportunities we didn't take advantage of, especially before the half. We had two big, costly drops as well. But again, let me give them a bunch of credit. That's a really good defense. At the end of the day, it would be which offense could grind out the most."
Injuries
"Injury-wise, we came through pretty good. Deshaun obviously was the biggest loss and really our only loss. " Joe Gore

Joe Gore
RS Jr. Offensive Tackle
#73 6-5, 283
Lake Waccamaw, NC
View Full Profile will start back practice this week. Cole is sore but came through OK. Charone Peake

Charone Peake
RS Jr. Wide Receiver
#19 6-3, 204
Moore, SC
View Full Profile , we went in Friday and decided to scope his knee. They took out some fluid that they feel like was causing some irritation. We hope we can get him going back in the right direction, too."
Is backup QB Nick Schuessler

Nick Schuessler
RS So. Quarterback
#12 6-3, 195
Grayson, GA
View Full Profile the next guy in line?
"Yes. That's who we've got. It's next man up. You have a starter and a depth chart for a reason. We like our guys. I think Nick is very capable. He hasn't had much experience and much opportunity. He's capable of being a solid quarterback at this level."
Thoughts on Adam Choice

Adam Choice
Fr. Running Back
#26 5-10, 211
Thomasville, GA
View Full Profile
"We've got four backs and we're going to play them. These two freshmen, we've kind of force fed them and tried to bring them along. Wayne Gallman

Wayne Gallman
RS Fr. Running Back
#9 6-1, 209
Loganville, GA
View Full Profile missed a couple of things early and Adam went in there and sparked us and kind of had the hot hand. You can see his confidence growing. Still a few things that he can clean up. Still not 100-percent confident with his pass protection but I thought he ran really hard."
Adam Humphries

Adam Humphries
Sr. Wide Receiver
#13 5-11, 193
Spartanburg, SC
View Full Profile
"I think coming in he was fourth or fifth in the conference in punt return yards. He has been improving, but to be honest with you I'm very pleased with the guys up front and the job they've been doing as hold-up guys. They have really been improving and they've given us an opportunity to get things started. Pleased with Adam. He got 107 yards in punt return yards and that's one of the best in school history. It's good to get a score on special teams. The protection on the field goal team has been good. It was good to see Ammon knock down three critical field goals for us. That's why you have kickers."
Trip to BC
"Yeah, we were able to win up there in 2008. We didn't get it done in 2010 but we came back in 2012. They're a good team. Very impressed with what that staff has done. They play with tremendous effort and toughness. We wake up today and we just played the No. 1 defense in the country and then you look at this bunch and they're in the top 10 in the nation as well. They're big, strong, physical guys. They do a good job of running the football. We've got our hands full. It will be a very big challenge. We've got to find a way to win on the road against a very good opponent."
Thoughts on the polls
"We're just trying to be the best team we can be. I don't think Auburn broke the top 20 until late October and they played for the national title. We just have to put everything we've got into each week. If we can win a bunch of them, all that poll stuff will take care of itself. If we can do that, we'll let the voters decide where they see us. We just have to stay focused on what we handle on the field."