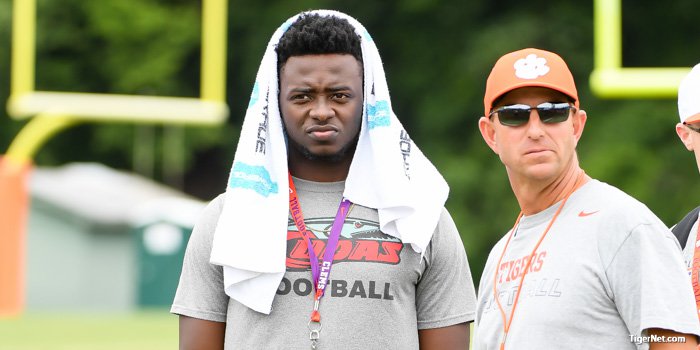 | | |
| --- | --- |
| Swinney Camp Insider: Session One all about the quarterbacks and a surprise visitor | |
---
| | | |
| --- | --- | --- |
| Tuesday, June 6, 2017, 5:28 PM | | |
CLEMSON – Dabo Swinney's high school camp is underway, and while there isn't a wealth of talent on hand, I was reminded of something very important when I overheard tight ends coach Danny Pearman talking to another coach – everybody is a prospect, even the sixth graders in attendance.
The first of ten sessions started Tuesday afternoon, and Swinney didn't waste time in lighting a fire under everybody – he grabbed a microphone and said he was going to have to change the "Best Is Standard" sign inside the indoor practice facility to "Average Is Standard" if people didn't begin to show some excitement.
Swinney said, "What do you want to be? Do you want to be to be average? If so, we will just change the sign."
Once things were going at the tempo he wanted, Swinney rode around on his golf cart and watched each one of the position groups.
With high school coaches not being allowed to coach, it was a little strange seeing so many college logos represented. Swinney's staff, plus players, joined coaches from nearly 50 colleges in running the camp. However, at one position group I saw current Clemson wide receiver Cornell Powell take over the wide receivers.
The college coach he was working watched as Powell the player turned into Powell the coach. All of the receivers watched intently as Powell went through instructions for drills, and he looked like a natural.
*2019 cornerback Jaleel McRae out of New Smyrna Beach (FL) was on hand but didn't work out because he's recovering from a torn ACL. He spent time talking with Swinney and toured the facilities with coordinator of recruiting operations Ty Clements. He has offers from Florida, Georgia and N.C. State. He's committed to Florida.
I've been told there is definite interest from both parties.
*Clemson defensive end Richard Yeargin was watching the proceedings with his neck brace, and he looked like he was moving around without much discomfort.
*Spent some time watching 2019 QB Garrett Shrader out of Charlotte (NC) Charlotte Christian go through drills. It's hard to tell a lot about a quarterback just from drills – I like to see them work with receivers and get a better idea of their footwork – but I love his throwing motion and release. Tall and lanky (6-4, 200), I expected to see more of a whip action in his motion, but he's compact for a taller guy.
He got some time with quarterbacks coach Brandon Streeter and worked out under the watchful eye of Swinney. His current offers are from Missouri, Penn St., Pitt, Wake Forest, Louisville, and East Carolina. That list will expand as he hits the camp circuit.
Other quarterbacks who are on hand – and we will watch in the afternoon session – are 2020 Luke Doty out of Myrtle Beach, Hewitt-Trussville (AL) 2019 Paul Tyson (great grandson of legendary Bama coach Bear Bryant), Summerville (SC) 2019 Johnathan Bennett and Mobile (AL) Cottage Hill 2020 Brett Nezat all worked out in Streeter's group.
To me, Doty was the best of that second group
*I also spent a portion of my time watching Bowling Green (KY) South Warren 2019 4-star defensive tackle Jacob Lacey. He spent part of the drills standing next to current defensive tackles Christian Wilkins, Albert Huggins, and Dexter Lawrence, and I was surprised to see he has much the same length as those guys with maybe a little wider body. He has nice explosion out of his stance, and his hands are quick. He's another one we will watch more in the afternoon session.
*I watched the receivers for a while, and saw 2018 Central (SC) Daniel wide receiver Drew Swinney working with receivers coach Jeff Scott in the main group. Yes, that's Dabo's middle son. His older brother Will is walking on to the football team this fall, and that is certainly option for Drew. He has good hands, and runs smooth routes and might be the best overall athlete of the bunch. Hopefully, we will get to see more of him this week.
Photo Gallery: Dabo Swinney Camp #1