| | |
| --- | --- |
| Stoops says playing Clemson will be a big challenge | |
---
| | |
| --- | --- |
| Saturday, December 26, 2015 7:01 AM | |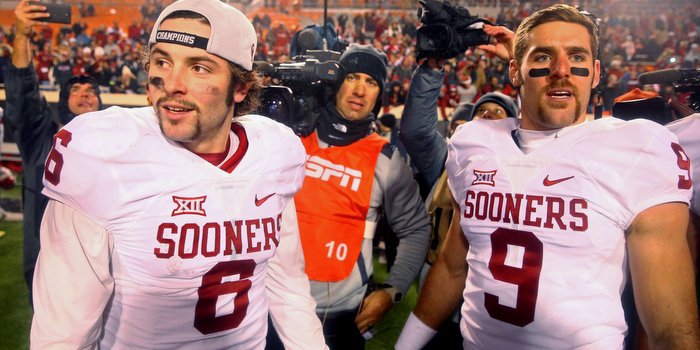 The Oklahoma Sooners returned to practice last week after a two-week layoff following their 58-23 win over Oklahoma St. to end the regular season.
The No. 4 Sooners will take on No. 1 Clemson in the Capital One Orange Bowl on New Year's Eve, a rematch of last year's Russell Athletic Bowl that saw the Tigers claim a 40-6 victory.
Oklahoma head coach Bob Stoops said his team is well aware of the challenge they face.
"Playing Clemson, the No. 1 team in the country, will be a big challenge. Coach (Dabo) Swinney and his staff have done a great job the last couple of years, but this year they have really played well," Stoops said. "They are the only team in the top four that is undefeated. Everything they do offensively revolves around Deshaun Watson. He has gotten a lot of accolades and he's earned them. He has a lot of great weapons around him. Scott the wide receiver, Leggett the tight end and Gallman the running back – there isn't one guy you can really take away because then the others beat you. They do a great job of using all of those guys and hurting you.
"Defensively, they have done a great job. Brent Venables and that group have done another excellent job. Shaq Lawson is the star of the defense, but Boulware and Alexander and Kearse do an excellent job of covering people, hitting people and tackling. Brent has done a really good job with those guys of getting tackles for loss and getting pressure. It's an exciting challenge."
Stoops said the Sooners are aware of the capabilities of Clemson quarterback Deshaun Watson, especially when the Heisman Trophy finalist makes plays with his legs.
"The quarterback run game is a big part of it. You are talking about one of the best players in the country. The rest of the offense is similar, formation-wise," Stoops said. "They keep their tight end in the game about 85 percent of the time, but still get in 10 personnel (one back) and four wides with the tight end in there. There is a little more of that this year but the rest of it is very similar. When they are in critical situations, the quarterback run game is designed and they do a lot of it. When they really need a play and it's important he is the guy that is going to be carrying it. But he is so capable on third down or with a busted play or if he doesn't like the look he is capable of tucking it and running it."
The Sooners also have to be aware of running back Wayne Gallman.
"He's a great player," Stoops said of Gallman. "All of those yards rushing and First-Team All-ACC, so he's a great player and exciting guy. He's strong and makes great cuts. I think he is really a great player."
Oklahoma quarterback Baker Mayfield said the Sooner offense will also face a challenge in Clemson's defense.
"Obviously we know Coach Venables. He used to be here. They have a great coach and they've done a great job of refilling their defensive line," Mayfield said. "They lost a couple of key guys from last year and they've just kind of reloaded. They have good athletes and they like to mix their stuff up on defense. They are good at what they do. Obviously they are undefeated and number one in the country for a reason."
Sooner wide receiver Sterling Shepard caught just one pass for 13 yards in last year's loss, and he said the Tigers haven't changed much defensively.
"Not much. They still do the same thing and still have the same defensive coordinator," Shepard said. "They still have some of the same guys at the corner positions and at defensive back. Not too much different. They play a lot of man. But it's two different teams and a different year. Guys have gotten better at their craft."