| | |
| --- | --- |
| Spring Breakdown: Freshman quarterbacks to get a long look | |
---
| | |
| --- | --- |
| Tuesday, February 24, 2015 7:01 AM | |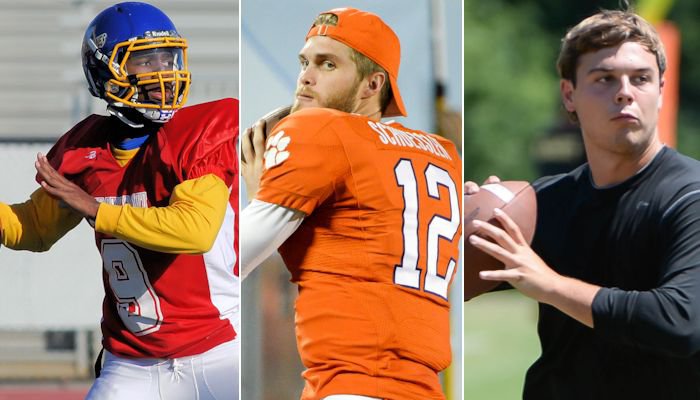 Brandon Streeter

Brandon Streeter
Quarterback Coach
View Full Profile was hired in December to become Clemson's new recruiting coordinator and quarterbacks coach, and the hired paid immediate dividends as an energized Cole Stoudt

Cole Stoudt
Sr. Quarterback
#18 6-4, 231
Dublin, OH
View Full Profile was outstanding in helping fuel a dominating win over Oklahoma in the Russell Athletic Bowl.
Streeter is already on the recruiting trail, but he will really begin to earn his salary when spring practice starts for the Tigers next week, working with two freshman quarterbacks and veteran Nick Schuessler

Nick Schuessler
RS So. Quarterback
#12 6-3, 195
Grayson, GA
View Full Profile as the Tigers try to find the right person to become Deshaun Watson

Deshaun Watson
Fr. Quarterback
#4 6-3, 204
Gainesville, GA
View Full Profile 's backup.
Watson is the unquestioned starter and leader of the offense, and once he recovers from offseason knee surgery the job is his and his alone. But Watson comes with a risk – he missed part of last spring with a broken collarbone, missed time midway through the season with a broken bone in his hand and missed the bowl game after tearing his ACL late in the season.
That means the backups had better be ready. Which of the two freshmen will earn a shot at avoiding a redshirt? Can Schuessler keep a solid hold on the backup job? Spring practice and the spring game will go a long way towards determining those answers.
Clemson head coach Dabo Swinney

Dabo Swinney
Head Coach
View Full Profile says he is looking forward to the competition.
"This is a really good combination," he said. "You're going to take two quarterbacks and you have two, really really gifted quarterbacks here. They're very different. These two guys will be fun to coach. Obviously with (Deshaun) out Nick Schuessler will lead the way into the spring and these two freshman will get a ton of work. If they make the same progress Deshaun made in the classroom as far as learning about what to do, I know the production's going to come on the field because I know they have a tremendous skillset and both of them are outstanding leaders."
Schuessler is a former walk-on who earned a scholarship and will be entering his junior season. Schuessler played 35 snaps last season and completed 7-of-8 passes for 47 yards. He's been in the system for a few years, and the coaches have a pretty good idea of what Schuessler brings to the table. His job this spring will be to show his knowledge of the offense and earn the trust of Streeter and of new co-offensive coordinators Jeff Scott

Jeff Scott
Asst. Coach (WR) / Recruiting Coord.
View Full Profile and Tony Elliott

Tony Elliott
Assistant Coach / Running Backs
View Full Profile .
That leaves Bryant and Israel. Bryant is a 6-4, 205-pounder who was the Greenville County Player of the Year his senior season, and his senior stat line is impressive – he was 231-368 passing for 3,579 yards and 41 touchdowns along with 720 yards and 14 touchdowns on 128 carries. He had 2,800 passing yards and 28 touchdowns against just interceptions along with 1,200 rushing yards and 19 touchdowns as a junior.
Swinney said Bryant reminds him of former Heisman Trophy winner and current Carolina Panther quarterback Cam Newton.
"Kelly Bryant, his potential is off the charts," Swinney said. "Physically, when you meet him, he reminds you of Cam Newton. He's that type of presence and size. Just has unbelievable athleticism and size. He's got an extra gear. I've watched him play live and there were a couple times where it's like he's not really running and then all of a sudden he's shot out of a cannon. This guy is ideal for what we do.
"They've done a great job [at Wren] in developing him as a quarterback to make all the throws. "He's a tremendous young man and a great student. He's almost a 4.0 student as well. Also a big year as well. I can't wait to get out there with big ol' Kelly Bryant. He's going to be special."
Israel didn't wow the scouting services because of his height – he's 5-11 – but his numbers are eye-popping. Averaging 35 passes over 43 career games, Israel broke Tim Tebow's Florida state record with 15,034 passing yards and also owns the passing TD mark (162). He set a single-season record as a senior with 56 touchdown passes, throwing for 4,446 yards. Israel also averaged 5.9 yards per carry at Lake Nona.
Swinney compared Israel to another NFL quarterback – Drew Brees.
"Tucker is just a gunslinger," Swinney said. "He can run and move around, but you're not going to see him make some of the plays that you see Kelly make as far as extending plays and stuff like that. This guy right here absolutely gets the ball out and knows the passing game as well as anybody we've recruited here. They probably throw it 60 times a game. Has set every record down there. That doesn't just happen."
"He's a very smart, bright young player. Got a little bit of Drew Brees to him. A little bit of a gunslinger and thinks he can make every throw and he's open all the time with a six-inch window. I'm excited about his potential."
Streeter should have an interesting first spring as Clemson's quarterbacks coach.
"I think (Streeter) really being freed up to coach the details of that position without some of the stress of having to be coordinator will be helpful for where we are right now with a sophomore quarterback, two freshmen and Nick (Schuessler)," Swinney said.