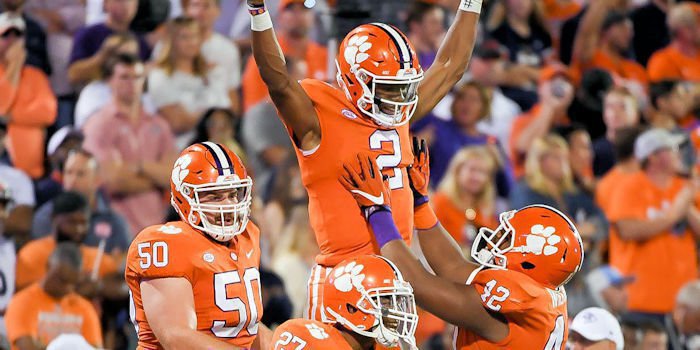 | | |
| --- | --- |
| Sack-tastic! No. 3 Clemson records 11 sacks in 14-6 victory over No. 13 Auburn | |
---
| | | |
| --- | --- | --- |
| Saturday, September 9, 2017, 10:29 PM | | |
CLEMSON – Saturday's game had it all. Defense. Sacks. A few big offensive plays. And an injured quarterback that came out of the medical tent to lead his team to a win.
No. 3 Clemson overcame a sluggish start and early 6-0 deficit and recorded 11 sacks in defeating No. 13 Auburn 14-6 in front a sold-out crowd in Death Valley Saturday. Clemson improves to 2-0 in the post-Deshaun Watson era, and his replacement, Kelly Bryant, is a big reason why.
Bryant has 249 yards of total offense, accounting for all but 34 of Clemson's yards. He was 19-29 for 181 yards through the air, and carried the ball 19 times for 68 yards and two touchdowns. Hunter Renfrow had nine catches for 61 yards, while Ray-Ray McCloud had six catches for 81 yards.
Auburn had 74 yards in the first quarter, but managed just 43 yards the rest of the way. Auburn quarterback Jarrett Stidham was 13-24 for 79 yards, and because of the sacks was credited 18 carries for a negative 42 yards. Auburn hasn't given up more than 19 sacks in a season since Gus Malzahn took over as head coach in 2013, but gave up the big 11 to Clemson in one game.
Austin Bryant led the Clemson defense with four of the 11 sacks, while Dorian O'Daniel recorded a career-high 14 tackles. Christian Wilkins added 10 tackles from his defensive tackle spot.
"I feel like I'm back at Alabama in 1988 after that one. What a tough, gritty game," head coach Dabo Swinney said. "That's such a reflection of the heart of our guys. You have to find ways to win games, especially early in the season, and I'm just really proud of our guys, particularly on defense. Hats off to those guys. 11 sacks and 14 tackles for loss. Our defensive line controlled the game. Really, all three levels of the defense played well. I can't say enough good things.
"This is the type of game that you can really use to help your team grow when preparing for conference play. I can't say enough about the way that Kelly Bryant performed. Hunter Renfrow, Ray-Ray McCloud and a lot of our playmakers were great. Special teams played well, too. It was just a great all-around performance."
Auburn took the opening kickoff and put together an impressive drive, aided by two Clemson penalties and a fourth down conversion inside the Clemson five. The drive took almost half of the quarter, and Auburn tried to go for it on fourth down at the Clemson two, but a delay of game penalty led to a 24-yard field goal by Daniel Carlson for a 3-0 lead.
The teams traded ineffective possessions and punts, but Clemson made another mistake on its second possession. The first play went out to Ray-Ray McCloud on a quick screen, and McCloud fumbled the ball and it was recovered by Auburn. Clemson's defense held again, however, and Carlson hit another field goal that made it 6-0 early in the second quarter.
The teams once again traded punts, but a short punt allowed Clemson to take over at its own 46 with 10:14 to play in the second quarter. On the third play, Kelly Bryant was driven into the turf and had to leave the game. Zerrick Cooper came on in relief and engineered one first down, but Greg Huegel missed a 46-yard field goal to thwart Clemson's best scoring chance.
Auburn was once again forced to punt, and Clemson took over at its own 12. Bryant made his way back out on the field and promptly led Clemson to a touchdown. Hunter Renfrow caught three passes for 22 yards, McCloud had a 29-yard catch and Deon Cain had a 20-yarder as Bryant led Clemson down the field. Bryant did the honors, rumbling in from three yards out with 48 seconds remaining, and Clemson led 7-6.
"It was definitely the spark we needed," Bryant said of his return. "We really didn't get any rhythm in the first quarter and a little in the second quarter, but right before the half, we needed a spark and we got it. Made a few plays, and we got in the end zone and really fired us up."
Clemson took the opening kickoff of the second half and marched down the field. Facing a 1st-and-15 at the Auburn 27, Bryant ran to the right, bounced off two defenders and raced the distance for the score, putting Clemson ahead 14-6 early in the third.
The teams then settled into a battle of field position, bad offense, and sacks by the Clemson defense. Auburn moved into Clemson territory just once in the second half, but Stidham was sacked for a huge loss, and the drive ended.
Following yet another Auburn punt, Clemson took over at its own 18 with just over three minutes to play, and two rushing plays netted little yardage as Auburn burned two quick timeouts. On third down, however, Bryant hit Renfrow on a curl route for 13 yards and a first down.
Three plays later and with Auburn out of timeouts, Bryant picked up four yards and a first down, sealing the win.
"Obviously, this was a very disappointing loss. Looking back at the game...offensively, we moved the ball well early, but kicking those two field goals and not being able to score a touchdown in the red zone really hurt us," Malzahn said. "Of course, in quarters two, three and four, the negative plays killed us. I think we got sacked 11 times. Our defense was outstanding. They kept us in the game. We got numerous chances towards the end, we just didn't respond. They're defending national champs and their defense is one of the best ones in college football, but offensively we just didn't get it done. We'll get better. We have to be able to run the football, and we have to be able to play-action pass. Our kids are hurting right now in the locker room and this was a disappointing loss for us."
Clemson will play at No. 17 Louisville next weekend in an early-season ACC showdown.