| | |
| --- | --- |
| Radakovich says Swinney's new deal reflects on and off the field accomplishments | |
---
| | |
| --- | --- |
| Sunday, January 19, 2014 12:18 PM | |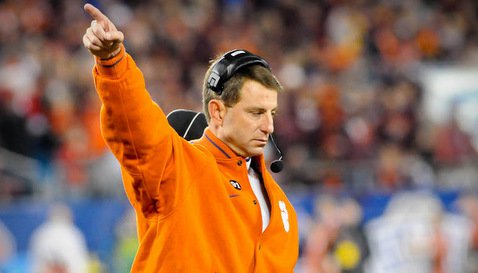 CLEMSON – Athletic Director Dan Radakovich told TigerNet Saturday afternoon that head coach Dabo Swinney

Dabo Swinney
Head Coach
View Full Profile 's new eight-year deal is a reflection of what Swinney has accomplished both on and off the field at the university.
Swinney has compiled a 51-23 mark over his first six seasons (five full seasons), posting a 33-12 record in Atlantic Coast Conference games and advancing to postseason bowl play each year. Under Swinney's watch, the Tigers have recorded three-consecutive seasons of double-digit victories for the first time since 1988-90, including a school first 11 wins in each of the last two years. Clemson finished the season ranked seventh in the final USA Today Coaches' Poll, the highest ranking in any final poll for the program since the Tigers won the national championship in 1981. Clemson's five victories over teams ranked in the top-10 in the last three years are exceeded only by Alabama and Oklahoma, who each have six.
Off the field, the Tigers have been just as impressive, finishing among the nation's top 10 in the NCAA's Academic Progress Report each of the last three years. The program leads the ACC with 29 All-ACC Academic selections since Coach Swinney took over, and Swinney continues to emphasize the importance of service in and around the Clemson community. Dabo's All-In Foundation, with a mission of raising awareness of critical education and health issues in order to change lives of people across the state of South Carolina, has donated and pledged nearly $1 million to local organizations over the past four years.
Radakovich said that combining all of the factors, along with Clemson's increased recognition nationally, made it easy to give Swinney the new deal.
"We are excited to have Dabo here, and he is going to be a part of the Clemson community for years to come. He has built a really great foundation," Radakovich told TigerNet. "When you read those Wall St. Journal articles, and you see that paw in the upper right hand corner – I didn't have a whole lot to do with that. He did with putting the right kind of product out on the field, keeping the student athletes graduating, doing the right things and being a part of the community. There is a value as it relates to Clemson University. We are just excited to have him as our coach."
Radakovich said the contract was the culmination of months of negotiations.
"We've been working on it for a while, and talking about it for a while," he said. "We were able to come to conclusions over the last couple of weeks and had it ready to send forward to the board in the last few days and we were able to do that this morning."
He then said he thought the contract was fair from both the school's and Swinney's perspective.
"Whenever you go into one of these, you look for a fair outcome," he said. "If you go into it saying that one side has to win and one side has to lose, that isn't really good as it relates to moving forward with an employee, no matter if you are running a big corporation or a fruit stand. You want to have your people feel like they are treated fairly, and that the business itself can continue to move forward given the compensation that you are paying the employee. So in that respect, I think we came out with a very fair deal."
Radakovich said the eight years was a result of Swinney wanting to see his youngest son Clay, now a fourth grader, graduate high school with his current classmates.
"It was a request and we talked about it and it seemed like it would work for Dabo," he said. "It was only one year longer than what Clemson had done a few years ago for Coach (Tommy) Bowden. So, not normally what we would like to do, but I think that risk and things allowed us to get it to eight without a whole lot of issues."
Radakovich said the buyout clauses in the contract are fair for both sides.
"The buyouts are set in circumstances that after years one, two and three they would move down because the employee would have earned part of the total value of the contract," he said. "So, you want to deescalate those buyouts as time goes on, from what the institution would pay the employee. On the other hand, from the employee's perspective, you have those higher buyouts to leave the university early on in the contract and not later. It works for both sides."