| | |
| --- | --- |
| Pagano-Crowder battle highlights bowl practice | |
---
| | |
| --- | --- |
| Thursday, December 19, 2013 6:34 PM | |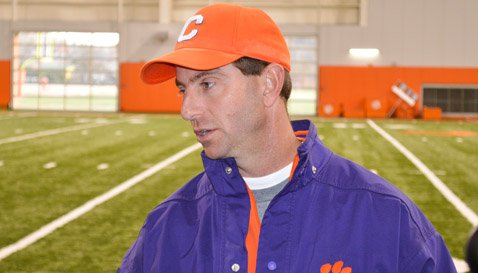 CLEMSON – Thursday afternoon's practice was football at its finest according to Clemson head coach Dabo Swinney

Dabo Swinney
Head Coach
View Full Profile .
Part of the practice session was dedicated to the redshirt freshmen and the freshmen who have played this season, each one getting a chance to impress the coaches. Imagine, if you will, big offensive lineman Tyrone Crowder

Tyrone Crowder
Fr. Offensive Line
#55 6-2, 325
Marston, NC
View Full Profile and defensive tackle Scott Pagano

Scott Pagano
Fr. Defensive Tackle
#56 6-4, 280
Honolulu, HI
View Full Profile mixing it up while their teammates cheered.
"It is a competitive group," Swinney said. "You wanna see something fun? Watch Tyrone Crowder and Scott Pagano get after it. That right there, that is football at its best. I think Scott could possibly have played, even though it might have not been fair because of the numbers. But he had the talent to play."
Swinney said that Crowder showed up this summer out of shape, but has worked hard to get back in the good graces of the coaches.
"He is going to be a lot of fun to coach. He is strong and powerful. He has worked his tail off and maximized his opportunity this semester," Swinney said. "He has gotten down there with our strength and conditioning staff and he has really paid the price so he can be a factor this spring. He came in this summer out of shape. He was too heavy. But he has worked hard to change his body, and he is an outstanding young talent."
Swinney said the coaches worked the "JV's" hard on Thursday.
"We had our first scrimmage with them today," Swinney said. " Wayne Gallman

Wayne Gallman
Fr. Running Back
#9 6-1, 195
Loganville, GA
View Full Profile , wow. Dorian O'Daniel. Those were two guys along with Pagano and Crowder that jumped out at me today. Little Adrien Dunn that walked on here from Daniel, he made a great grab out there today. We did a lot of PAW drills and 1-on-1 drills, and it was fun to see them compete. We have got some young guys that have some Bulldog in them, and it is going to be fun to watch them this spring.
"Those are guys that just kind of jumped out at me today. Maverick Morris

Maverick Morris
Fr. Offensive Line
#69 6-4, 285
Broxton, GA
View Full Profile is a guy, and you continue to see Jay Jay McCullough

Jay Jay McCullough
RS Fr. Tight End
#89 6-3, 230
Fort Mill, SC
View Full Profile and Jordan Leggett

Jordan Leggett
Fr. Tight End
#16 6-6, 235
Navarre, FL
View Full Profile emerge. I was really excited about what I've seen out of Gallman. Dorian O'Daniel was another guy that jumped out today. I like what I've seen out of all those defensive backs that we have, especially those young corners. We also kept some of the young guys that played this year out there today, and Ben Boulware

Ben Boulware
Fr. Outside Linebacker
#10 6-1, 230
Anderson, SC
View Full Profile just jumps out at you."
Swinney told TigerNet that cornerback MacKensie Alexander

MacKensie Alexander
Fr. Defensive Back
#2 5-11, 185
Immokalee, FL
View Full Profile missed Thursday's practice.
"Mackensie has looked pretty good. We sent him back down to Charleston today," Swinney said. "He had a follow-up appointment with our doctor that did the surgery on him. He went down there just to follow up with him, and he will be back up here tomorrow."
Today's practice
"Today was a really good practice, with a lot of good energy and enthusiasm. That is what I wanted to see today. We closed out the big portion of our bowl prep, and then we will come out here Saturday and have Ohio St. emphasis all day. And then we will break, and the guys will have a workout on the 26th and have practices here until we leave for the 29th."
Academic casualties
"They certify everybody tomorrow and we will know for sure, but it looks like we won't have any casualties. Because of our structure, we have a lot of hands on and a lot of eyes on guys. We work really hard with Vickery Hall and we support what they do over there. If you don't go to class, then you don't play."