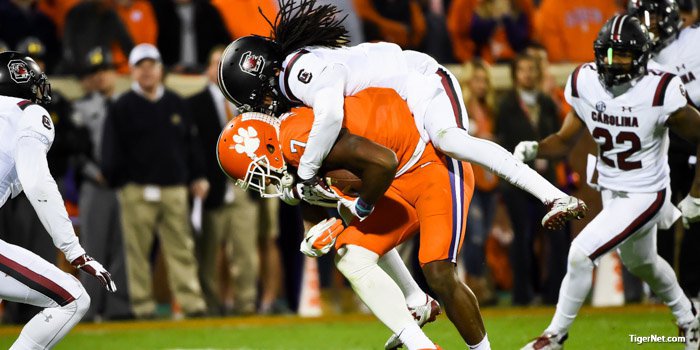 | | |
| --- | --- |
| Never again: Gamecocks looking for revenge after 56-7 | |
---
| | | |
| --- | --- | --- |
| Wednesday, November 22, 2017, 7:01 AM | | |
There's no love or respect lost between the Tigers and the Gamecocks.
When a South Carolina fan called into head coach Will Muschamp's weekly call-in show and complained about being sick of Clemson, Muschamp's response was, 'Join the crowd.'
Muschamp's team all but reiterated that message during Tuesday's interviews as they laid out their plans for revenge when Clemson and South Carolina renew the rivalry Saturday night at 7:30 in Columbia.
The 56-7 thrashing at the hands of Clemson last season and the two timeouts taken by Clemson head coach Dabo Swinney to allow the seniors one more moment in Death Valley didn't sit well with senior safety D.J. Smith then. And, it doesn't now.
"A lot. It's a motivation type deal. We see that score - 56-7 - and we're thinking, 'Man, we can't have that again.' It was disrespect," Smith said Tuesday. "They called the two timeouts to gloat on us last year and we remember all of that. It's in the back of our heads and we're ready to play. We want to beat them. We always talk about winning the state so it's a big a game for the state of South Carolina and we're just trying to win it on our side."
Senior linebacker Skai Moore, who missed last season's game, said every time the Tigers and Gamecocks renew acquaintances, it's personal.
"Every time I step on the field, it's something," Moore said. "Being up here so long, y'all instilled it in me to not like them either. Every time I step out there, it's personal. I take it a little personal and I want to perform to the best of my ability because I take it a little a personal."
Senior center Alan Knott took Clemson's actions in 2016 as a sign of disrespect and promised revenge.
"No, I don't think so (that Clemson respects South Carolina). That's just my opinion," Knott said. "The way they finished the game out last year was kind of not very good sportsmanship in my opinion but that's fine. We're going to get our revenge on them this year. We're going to put forth every effort we have. We're going to be here at home and I know Willy B is going to lit and we'll be ready to go."
For senior defensive lineman Taylor Stallworth, last year's game has been in the back of his mind since the clock hit zero.
"Last year after the game and what happened. That was the difference," Stallworth said. "Just the whole atmosphere of the game. We're preparing for teams but we still have this game in our mind and what happened last year. That clock's been going around in our head since last year. Since the game was over last year, we've been thinking that. Today Coach Muschamp showed a video of what happened. We still have the outcome of the game and what happened in the game in our head, but we owe them so just wait.
"Being here for four years and not being able to get a win over them, I've got a chip on my shoulder. What happened last year is still rewinding in my mind. It's a huge week for me and the whole team."
Knott said last year, they were an unfocused group, but while the Gamecock offensive line will be facing one of the top defensive lines in the country, their jobs may be a little easier due to a drop off at linebacker after the loss of Ben Boulware.
"As an o-line, we were angry (after last year's game). We weren't prepared," Knott said. "I don't think we came into the game with the tenacity we needed to, especially going into Death Valley. I don't think we were ready to go in there and play a game. Our minds weren't focused on the right thing, but this year we'll be where we need to be.
"They're (Christian Wilkins and Dexter Lawrence) going to be two of the better players we played against all year. No. 42 (Wilkins), he's very quick. He's probably a first rounder. Both of those guys inside are. No. 99 (Clelin Ferrell) is going to be really good on the outside. I don't think they have the linebacker corps that they used to have but they make up for that with their d-line. I wouldn't say we have to play our best game. We just have to be dialed in and fit on our correct rules."
Moore said that in order to beat second-ranked Clemson, the Gamecocks will need to channel the attitude of the 2013 South Carolina squad – the last team to beat the Tigers.
"Those dudes, they just came in here and really didn't care. It was that type of vibe," Moore said. "We're just going to come in here, hit them in the mouth and that's it. They're coming into our house and we have to make a statement and do what we do. They had an edge about them and that's the type of edge we have to bring this week."
Other quoteables
Quarterback Jake Bentley on the motivation provided by the 56-7 loss:
"It's kind of different for each guy. Some guys feed off of that more. For me, the game itself is motivation for me. Obviously, the guys who are here know what happened. Some guys need to be reminded of it every day to kind of fire them up. You've just got to go out there and play. It's a different team than last year. It's a different game and a different situation. We just have to go out there and execute at a high level."
Cornerback Jamarcus King on his performance last season against Mike Williams:
"I got in the weight room and that won't happen again. It served as motivation in the spring but I won't get carried again."
Defensive lineman Daniel Fennell on the 'Never Again' attitude:
"That 'Never Again' attitude that Coach Muschamp took has been a whole year deal. It's not just that he's turning it on for Clemson. He's had it on all year. It's just been 'Never Again' for a whole season. Never again can we go out there and get embarrassed. He's been like that this whole year. It's emphasized now, but it's been around."