| | |
| --- | --- |
| Morris: Clemson run game is far from where it needs to be | |
---
| | |
| --- | --- |
| Tuesday, April 8, 2014 4:52 PM | |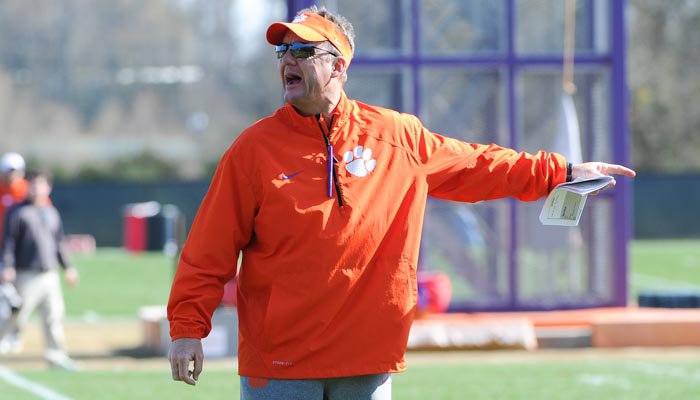 CLEMSON - As the quarterback battle continues to rage on, Chad Morris

Chad Morris
Offensive Coordinator / QBs
View Full Profile is looking for consistency and continuity from the rest of his offense.
With the quarterback battle most likely lasting well into fall camp, Clemson's offensive coordinator is looking for other groups to step up and provide the consistency that the offense is lacking – mainly the offensive line and running backs.
To this point in spring practice, however, that hasn't happened.
Morris has made it clear that without Tajh Boyd

Tajh Boyd
Quarterback (2009 - 2013)
#10 6-1, 225
Hampton, VA
View Full Profile , Sammy Watkins

Sammy Watkins
Wide Receiver (2011 - 2013)
#2 6-1, 205
Fort Myers, FL
View Full Profile and Martavis Bryant

Martavis Bryant
Wide Receiver (2011 - 2013)
#1 6-5, 200
Calhoun Falls, SC
View Full Profile , he wants Clemson to become more of a running team, but the Tigers' ground game hasn't been anything to write home about with just a week remaining in spring practice.
"Not as good as I want it to be. Far from where I want it to be," Morris said of the running game after Monday's scrimmage inside Clemson's indoor practice facility. "I don't think we ran the football as well as we needed to. We want to run the football more this year than we have in the past, and that is by design. We've studied a lot and we've put in a lot of work and we want to put our guys in a position to be able to run the football more. Obviously, we want to take advantage of the talent that we have around us. We're going to adapt to what we do best. Our goal this spring was to have a consistent run game and today we didn't have that. It's been up and down throughout the spring. We're not going to throw a party about it."
Morris did say that all of the running backs have had their good moments.
"I feel like this is going to be as deep a group as we've had since I've been here," Morris told the media. "It has yet to disappoint as far as the depth. There are some guys that are stepping up. Wayne Gallman

Wayne Gallman
RS Fr. Running Back
#9 6-1, 195
Loganville, GA
View Full Profile is making plays. D.J. Howard

D.J. Howard
RS Sr. Running Back
#22 5-11, 195
Lincoln, AL
View Full Profile is making some plays. Zac Brooks

Zac Brooks
Jr. Running Back
#24 6-1, 185
Jonesboro, AR
View Full Profile is making some plays. C.J. Davidson

C.J. Davidson
RS Jr. Running Back
#32 5-11, 185
Clemson, SC
View Full Profile is making some plays. Those are the four guys that you are working with that are pretty much getting equal reps. I've been pleased with that group."
One reason for the lack of success in the running game could be injuries and inexperience along the offensive line. However, Morris said that line continues to do good things during the scrimmages.
"Without just watching the film, there were some good points, but we have to create some consistency and continuity," Morris said. "We've got a lot of guys going in many different positions, right now. That's something that we've really got to hone in on, but I don't know if that will get done through the spring. A lot of guys are having to learn a lot of different roles. There were some good things and some bad things."
Other notes
On the quarterback competition
"They all three got plenty of playing time. A week ago Chad [Kelly] started the scrimmage. Cole [Stoudt] started Wednesday's scrimmage and Deshaun [Watson] started today's. Everyone gets a chance to start a scrimmage and then we are trying to get them all equal reps. Chad and Cole probably got more reps than anybody today. All three guys are doing really well. They've all had their moments. These guys have to continue to push each other.
"I didn't have as many quarterback runs in today, by design. Last week, we ran a lot more quarterback-designed runs. Today we wanted to see how they would react in the pocket and move around. They were able to pull the ball down and make plays when things were breaking down around him."
On the tight ends
"Jordan (Leggett) is having the best spring that he's had. I've been really proud of Jordan. He's taking a lot of ownership and pride. He's matured a lot. I think he was a very immature player a year ago, but most would be when you graduate early and come in early. I think he has a purpose. He's playing with a purpose. He's practicing with a purpose. That's good to see. Because of that, it's filtering down to other guys in that room.
" Jay Jay McCullough

Jay Jay McCullough
RS So. Tight End
#89 6-3, 230
Fort Mill, SC
View Full Profile is another guy that has had his best two practices – Friday and today. There are some good things being done by Jay Jay. Jordan Leggett

Jordan Leggett
So. Tight End
#16 6-6, 235
Navarre, FL
View Full Profile is another guy that keeps improving everyday. Stanton Seckinger

Stanton Seckinger
RS Jr. Tight End
#81 6-4, 210
Isle of Palms, SC
View Full Profile provides us stability there."
On Isaiah Battle

Isaiah Battle
Jr. Offensive Tackle
#79 6-6, 280
Brooklyn, NY
View Full Profile
"He's done about what you would expect a guy who's a veteran now to do. He's had a good spring. You would hope that his leadership role comes into the fold as we head into the summer. There have been some good things out of him. Continuity and consistency with the guys up front. I don't think we've practiced with the same five."
On the wide receivers
"There are times that you look up and there are three true freshmen on the field. Adam Humphries

Adam Humphries
Sr. Wide Receiver
#13 5-11, 190
Spartanburg, SC
View Full Profile is a guy that stands out. He's consistent. Mike Williams

Mike Williams
So. Wide Receiver
#7 6-5, 205
Vance, SC
View Full Profile has been up and down this spring. He hasn't had the spring that I was hoping he would have. He's had some good moments and he's had some really bad moments. He has to have a great summer. Those young guys are doing well. They are doing everything that they are coached to do, but they are having to do a lot of thinking and learning have to get off of press coverage."

Tags:
Adam Humphries
,
C.J. Davidson
,
Chad Morris
,
D.J. Howard
,
Isaiah Battle
,
Jay Jay McCullough
,
Jordan Leggett
,
Martavis Bryant
,
Mike Williams
,
Sammy Watkins
,
Stanton Seckinger
,
Tajh Boyd
,
Wayne Gallman
,
Zac Brooks