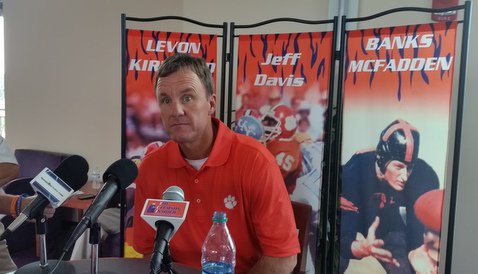 | | |
| --- | --- |
| Morris: "Are you part of the problem or part of the solution?" | |
---
| | | |
| --- | --- | --- |
| Monday, September 1, 2014, 1:31 PM | | |
CLEMSON – Chad Morris

Chad Morris
Offensive Coordinator / QBs
View Full Profile ' message to his group during team meetings Monday morning was plain and simple – if you're going to pout, complain and mope around because of Saturday's loss at Georgia, then you aren't going to be a part of the solution.
Clemson's offense was stymied in the second half of the 45-21 loss, and Morris said Monday in the WestZone that he hopes facing that kind of adversity will pay dividends for the team down the road.
"As a coach, if we can learn from this it will pay dividends down the road. That's all you can ask," Morris said. "I told them this morning, 'When you woke up this morning, you had two trains of thought - you're either part of the problem or part of the solution. If you're part of the problem, get gone. If you're part of the solution, let's get to work. I don't need you bellyaching. I don't need you pouting. Everybody is hurting this morning and we hurt yesterday. Nobody wants to lose.. You're either part of the problem or part of the solution. Figure it out.'"
The Tigers ran 54 plays in the first half and scored 21 points, but were blanked in the second half and Morris said it looked like the offense hit a brick wall around play 50.
"It was a tale of two halves. We had a high level of execution through the first 50 plays," he said. "But we would like to play more than 50 plays if we could. I thought for the first 50 plays we executed really well. We had a couple of minor things that stalled some drives. We had a couple of drops, and had what I thought was going to be an 89-yard touchdown pass right down the middle of the field that we dropped. We had back-to-back drops that caused us to go three-and-out on a couple of occasions. But outside of those few things, on the first 50 plays we were really executing at a high level. Both quarterbacks were playing well and we were hatting a lot of people up on the run game. We had 55 snaps at halftime. You could pretty much circle play 50, and from 50 to 79 we for whatever reason – no excuse – we didn't execute as well. Morris: "Are you part of the problem or part of the solution?"
"We had 31 missed assignments and it's hard to beat anybody with ten missed assignments, much less 31. We can't have that. That was pretty much the tale of the second half – we would get to 2nd-and-five and even 3rd-and-two, and we wouldn't be able to convert. We would have a missed assignment or miss a read and it snowballed on us. You are trying to play conservative. Our average starting field position in the third quarter was the 14 yard line. So you're trying to sit there and say, hey this game is in hand and we don't need to do anything that will put us in a worse situation, down three on our own end. That was my mindset as a play caller. I kept thinking all we needed was a spark – one leads to two and then you are rolling again. Give them credit –they created some of those missed assignments."
The tempo of Cole Stoudt

Cole Stoudt
Sr. Quarterback
#18 6-4, 231
Dublin, OH
View Full Profile and the offense
"There were a lot of good things that came out of it, but a lot of things we have to get better at. We were doing a lot of things - and I was doing a lot of things - that were slowing him (Stoudt) down a little bit. I didn't want to put him in a bad spot, being a first time out there. There were some things I was taking off of him a little bit. He and I were doing some things communication-wise when he was on the field. That was some of me. But we had good tempo at times."
In hindsight, would you change your play calling?
"Obviously you look at it right now. Max it out, take a shot on your own ten yard line? Obviously anybody can say yeah you can do that. But the game is just three points and you are just trying to create momentum of some sort, Looking back at, I wish we would have, on the seven or ten, there are always time you look back as a coach and say I wish we would have done that. But you don't want to do anything that puts your defense in a bad spot. it was more field position than anything at all. We didn't want to do anything to hamstring ourselves in that environment."
Sam Cooper

Sam Cooper
RS Sr. Tight End
#86 6-6, 250
Brentwood, TN
View Full Profile 's injury
"That was kind of a freakish deal. We are in there five to ten minutes before we come back out. We have our gameplan board out and we are trying to cut and paste and we are trying to get guys lined up. Jay Jay McCullough

Jay Jay McCullough
RS So. Tight End
#89 6-3, 248
Fort Mill, SC
View Full Profile did a good job of coming in and blocking. He did a good job and earned more playing time and the trust of the coaches."
The decision on when to play Deshaun Watson

Deshaun Watson
Fr. Quarterback
#4 6-3, 204
Gainesville, GA
View Full Profile
"Coach Swinney and I had a plan that we had talked about. We decided that we weren't going to tell him. We wanted him to be ready at any given moment. He knew he was going to play. Had Cole led us down for three straight drives and scored, he was going to go in that fourth drive, unless we were inside our own 10 yard line. Those are some things that we had to get him ready just in case something happened later on. I was very pleased with the way Cole played. I thought Cole handled the moment. A lot of the same similarities and you play it out. We've got to get Deshaun ready just in case and obviously we know what's ahead for him in years to come. You want to make sure he's ready, but it also helps Cole, as well."
Will you play the younger backs like Wayne Gallman

Wayne Gallman
RS Fr. Running Back
#9 6-1, 209
Loganville, GA
View Full Profile and Adam Choice

Adam Choice
Fr. Running Back
#26 5-10, 211
Thomasville, GA
View Full Profile ?
"We've made an emphasis that we want to run the football. That's been a huge emphasis for us from spring ball all the way through fall camp and into the game Saturday night. We want to run the football. We want to be more effective in running the football. There's a fine line with young guys and you can set them back or stunt their growth if you put them out there and they aren't ready. They lose confidence and it takes time to build that confidence back. You try to manage that as much as you can. Wayne got out there and got a little bit of experience. You want to try to get Adam Choice rolling in the mix. We're not going to overlook anybody. This is a good football team and a good defensive unit. They were number one in the country in defense in their division last year. We have to make sure the Tigers don't beat us first."
Thoughts on the backs
"They did ok. I thought C.J. (Davidson) ran hard. I thought D.J. (Howard) ran hard at times, as well. I think that there were some things we could've gotten free a little bit more. I thought the effort was there."
Not being able to get passing game unleashed
"It was an issue. We just couldn't ever seem to get those guys free like we wanted and like we have in the past. Then it got into the situation where they were able to get pressure on you with four guys and drop everybody else into coverage. When they do that, you've got to throw ball into a Dixie cup. That's pretty tough to do. You've got everybody dropped and in the secondary coverage. Coupled with the fact that they were able to widen their ends, pin their ears back and play a few games. Once the momentum turned, some of our inexperience showed. That's when you want that great leader to step up and say, 'Hey, we're only down 10. We've got this. We've got plenty of time.' Instead it just started snowballing from all angles. It's a learning experience. "
Getting David Beasley

David Beasley
RS Sr. Offensive Guard
#68 6-4, 323
Columbus, GA
View Full Profile back help?
"A whole bunch. It provides us some depth. It provides us the ability to move some guys around. We've got some guys up there that are playing and will continue to play. It provides us depth and with that group, we need that right now. Circle play 50 and from 50 to 79, it wasn't near the same execution as it was the first 50 snaps."
On if the second half collapse was shocking
"We're sitting there at halftime and we're on it. What we were doing wasn't broke and as a coach you don't try to fix something that isn't broke. We're talking to them and telling them that we've got it right where we want and we're going to get the ball and let's pick up where we left off. We're going to play fast. They're probably going to load the box and we'll have to throw a few balls out on the edge. It's okay. Let's keep playing fast. Our tempo is going to better the longer the game goes. The biggest thing that shocked me was our inability to create any sort of momentum in the second half. We'd get something and I'll be danged if we didn't take two or three steps back."