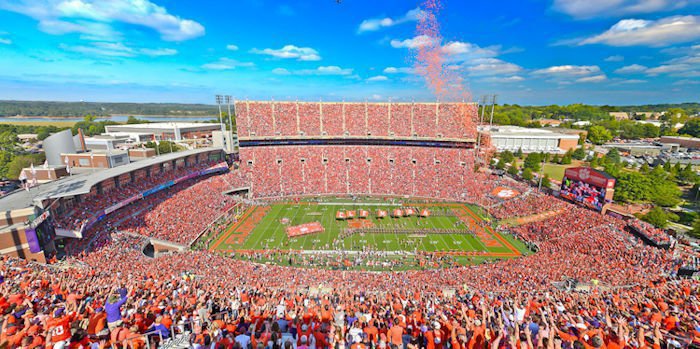 | | |
| --- | --- |
| Monday Morning Insider: Rose Bowl? Orange Bowl? Sugar Bowl? | |
---
| | | |
| --- | --- | --- |
| Monday, November 13, 2017, 7:01 AM | | |
Dabo Swinney summed it up perfectly during his Sunday night teleconference when talking about how this season has passed in a hurry. "The days seem longer but the years are shorter when you get older."
Amen, amen, and amen.
We walked out of the postgame interview area following Saturday's win over Florida St. and made our way to the WestZone area of the stadium. Nikki turned around to see why I was falling behind, and she saw that I had stopped and was admiring the view. I looked out over a mostly-empty stadium, a stadium still bathed in lights, and told her, "I am just taking it all in. We won't get to see Death Valley lit up like this – before, during or after a game – until sometime next September or later."
One more home game – next week's 12:20 start against The Citadel – and the Hill Watch countdown begins again. Can the home portion of the schedule really be over? However, for those who love their college football and love their Tigers, I have some good news.
It's been 72 days since the Tigers kicked off the season on a hot, sultry day against Kent St. If the Tigers make it to the College Football Playoff National Championship, that will be in 56 days. So, it's almost like the second season is about to begin. There are still a lot of thrills and chills remaining.
This season was also weird in the fact that Death Valley didn't host – for the first time in a long time – what I would call a huge game, one where a bevy of celebrities show up, or there's a GameDay visit. Clemson had GameDay twice, and both times the Tigers were on the road. Sure, the Auburn game was a "big" game but it somehow lacked the pop of big games in the past. Country singer Eric Church showed up, but that was about it. We rode down on the elevator from the press box with Nancy O'Dell Saturday evening, but that was about it when it comes to star power.
Next season, Clemson's three out of conference home games lack sizzle – Furman, Georgia Southern, and South Carolina. The other home games are Syracuse, Louisville, N.C. State and Duke. None of those – as of right now – really get the old meter ticking. South Carolina is always a big game because it's a rivalry game, but……it lacks the power of some of the big games over the last few years. That home schedule is, at best, underwhelming.
The road games might cause a little buzz. Clemson travels to Kyle Field to take on Texas A&M the second weekend of the season, and that's one I am looking forward to. I like to see other traditions in person, and that one has been on the bucket list for a long time. Other road games are at Wake Forest, at Florida St., at Boston College, and at Georgia Tech.
Back to this season……
Clemson's bowl destination is now down to a final three. If the Tigers lose to Miami (or even South Carolina) in the ACC Championship Game, the bowl tie means the Tigers will wind up in Miami for the Orange Bowl. If the Tigers win out and make the College Football Playoff, that means either Pasadena for the Rose Bowl or New Orleans for the Sugar Bowl. I am not going to complain about either one – they are both destination games. If I had a pick, it would be the Rose Bowl simply because it's the Rose Bowl. Sure, the Sugar has its history and it's closer to home so more fans would likely attend, but I would be all for the Rose Bowl.
The Orange Bowl – at this point – would be a bittersweet consolation prize. As I've mentioned before, I've been told the Orange isn't exactly high on the possibility of hosting Clemson again. I was told in July that the committee understands Clemson has been to the Orange three times since 2011, and most Clemson fans that want to make the trip have made it. They also know that many Clemson fans have spent a ton of money traveling to Miami, Phoenix (twice), Orlando, and Tampa over the last two seasons, and the thought of another trip to Miami might be reason enough to save money this season.
If Clemson beats Miami, the Orange Bowl would then take Miami, and that hurts the local economy with the Hurricanes playing a bowl game in their home stadium. The Orange Bowl would lose a traveling fan base and the Hurricanes would have a bowl "trip" about 30 miles up the interstate. Yikes.
But that's all in the future. There is still a lot of football to be played, and where everybody will wind up is anybody's guess. In the meantime, I plan on enjoying every single second of Saturday's final home game, and when we leave the stadium that evening I'll feel more than a little melancholy.
Until next season, Death Valley.

Upgrade Your Account
Unlock premium boards and exclusive features (e.g. ad-free) by upgrading your account today.
Upgrade Now