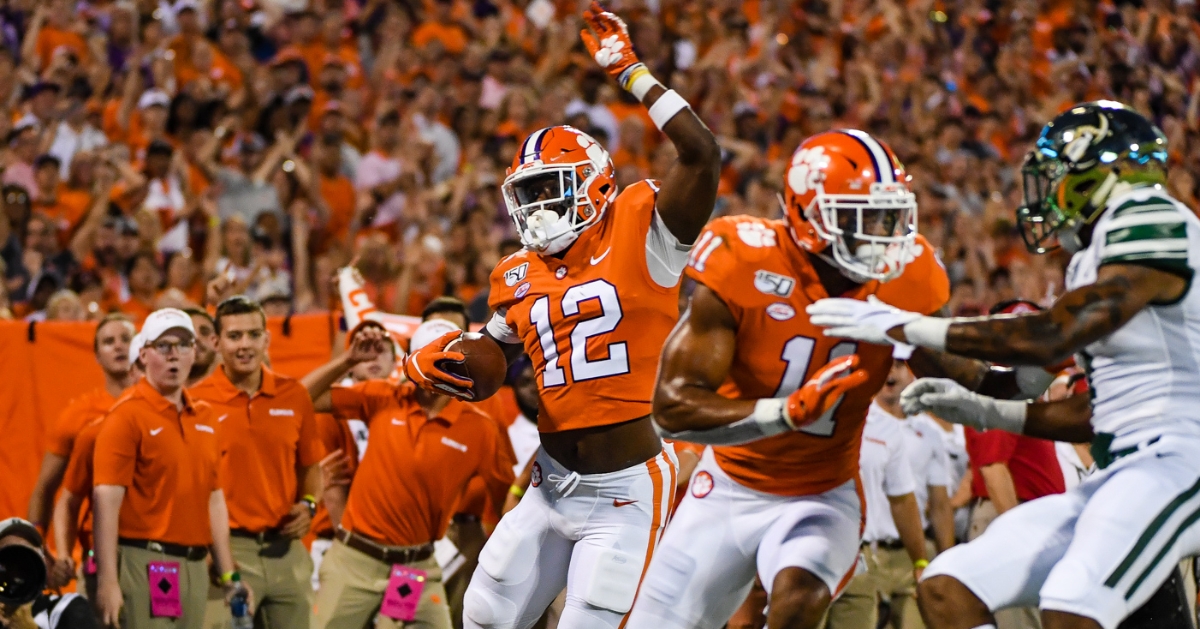 | | |
| --- | --- |
| Monday Insider: Wallace loves having the "mad scientist" on his side | |
---
| | | |
| --- | --- | --- |
| Monday, September 23, 2019, 1:28 PM | | |
CLEMSON – K'Von Wallace compares defensive coordinator Brent Venables to a mad scientist.
Clemson improved to 4-0 with last week's win over Charlotte and is preparing to take on UNC Saturday at 3:30 pm in Chapel Hill. The Clemson defense will face a stiff test in Tar Heel quarterback Sam Howell but Wallace, a starting safety, says Clemson has the mad scientist on its side.
"He is just a ball of energy. A ball of consistency. A man that is a scientist." Wallace said of Venables. "If you've ever seen any mad scientist, they go all out with anything they are trying to learn, anything they are trying to invent or plan or accomplish. He will stay up all night and all day to make sure that we understand the game plan. He knows every single position very well and he can teach every position very well. He does a great job of coaching all of us at once.
"He does it in practice and in the film room. He is a scientist to the game and knows that teams like to do. It's very encouraging to have a coach like that, that cares. Game in and game out, no matter who we play. Each game he treats it like it's his last. That type of energy is contagious and we go out there and try to dominate every opponent, no matter who we play. If they can't play at that level, that is on them. Everything is full speed with him and that is the way we like it. Sometimes it leads to confrontation between a coach and a player and we know he loves us and we love him. We know it's all love, and that is what happens when you have competitors trying to give it their all."
Wallace said he loves the energy that Venables brings to the defense.
"He is trying to pick the interception on the sidelines, he is trying to make the tackles, he is jumping and he is the first person that is yelling," Wallace said. "On my pick-six on Saturday, when I was watching the video, he was jumping up and down on the sidelines as soon as I got the ball. Just seeing that type of excitement from a grown man - it's a kids game - and just seeing him put all that work in and be happy for his players to make plays is great. Of course, he wishes he was out there, what coach doesn't? This game isn't something you can play forever. There is a 100-percent retirement rate. He plays through us and loves the game and he gets excited when we make plays."
Venables laughed when he was told that Wallace thinks he wants to be on the field.
"No," Venables said, shaking his head. "But I might be able to get a pick (interception). I know where to be."
Other Monday interview notes
*The Clemson coaches took notice of the Disney film crew shooting scenes for the movie Safety Saturday night in Death Valley. Tony Elliott said he was sitting in the coaches' box and looked over to the hill and saw the actors preparing to run down the hill.
He made the comment in the headset that everybody needed to look. "They have the guys at the top of the hill," he said.
Clemson head coach Dabo Swinney quickly chimed in. "The real Tigers are on the field and the Hollywood Tigers are at the top of the hill."
*Elliott said that defensive coordinator Brent Venables is always full of surprises, saying Venables brings exotics looks "on day one" of fall camp. Elliott said once the offensive coaches adjust to what Venables is doing, more adjustments are made.
"I have to tell the offensive coaches to be patient," Elliott said. "We have to put our heads together and work it out."
*Quarterback Trevor Lawrence was another player who liked seeing a movie shot on the Clemson campus.
"It was really weird watching it. We are standing on the sidelines and there is a whole other team at the top of the hill wearing the same uniforms," Lawrence said. "It was weird but super cool. We had an opportunity to go see the set."
Head coach Dabo Swinney has mentioned that if a movie was made about his life, he would want Matthew McConaughey to play him. Lawrence was asked who would play him in a movie.
"I guess it would have to be the dude from Remember the Titans. I don't know how old he is now," Lawrence said to the delight of the media.
Actor Kip Pardue played quarterback Ronnie Bass in the movie. Bass was known for his long, blonde hair.