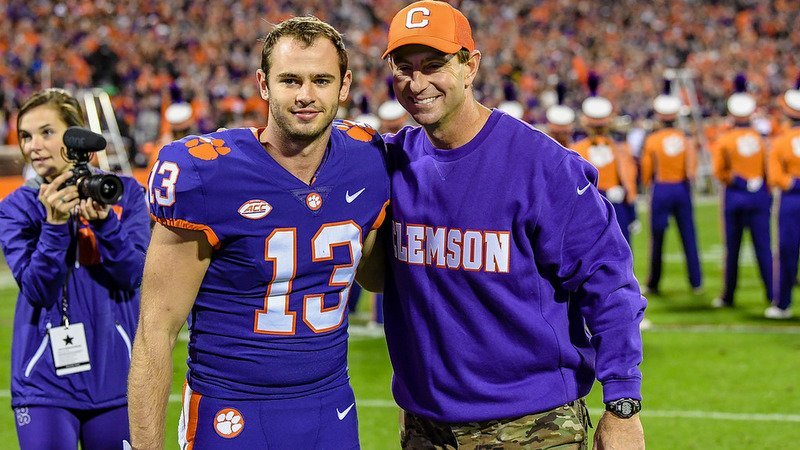 | | |
| --- | --- |
| Last Call, South Carolina: Another home football season is almost over | |
---
At some point late Saturday night, the light towers over Death Valley will dim, the taillights on the vehicles will recede in the distance and the home portion of the 2018 football season will end.
It seems like yesterday – and that's not just hyperbole – that we were standing on the grass at Jervey Meadows following a Clemson practice in August, with head coach Dabo Swinney giving us a tour of the cooling trailers. The day was hot and muggy, a rain shower had passed over an hour earlier and the season opener against Furman was merely a distant thought.
Swinney pointed out to us that the trailers were used to make sure the players (and coaches and staff) didn't overheat in the broiling August sun. We blinked our eyes, and the temperature of the trailers that day might be the temperature at kickoff tonight. An entire season has passed in an instant.
It's the last time we will see Christian Wilkins and Hunter Renfrow and Kendall Joseph and other Tigers players in a Clemson uniform, a bittersweet moment to be sure. However, I spoke with one of the parents of a senior last week, and she told me that while she's excited about the next step for her son, there will now be the worry of his new life.
"When I dropped him off here when he was a freshman, I didn't worry one second about it," she said. "I knew he was in good hands and I knew he would be taken care of. There wasn't a day when he was here that I worried about anything….but if he gets to play in the NFL I might have to move with him!"
That's the type of comment I hear over and over, but it's also a realization that as one group moves out, another group moves into leadership roles. For those of us who go to the game Saturday, at some point we will probably walk through the leaves – brittle in the late autumn air – and feel them crunch underneath. Season after season we walk through the leaves, mindful of the joy and the beauty that they've brought but also recognizing that their loss means something takes their place.
It's the cycle of life. And football.
Ok, enough with being sentimental and back to football. I've tried to convince all week that the Gamecocks have a good chance at pulling the upset. I've told myself they are playing well offensively and that Clemson hasn't had THAT game yet this season and that an upset can happen. Then I look at the numbers – something I've done all week – and I think about the quote in the movie Gettysburg where General James Longstreet wonders if Pickett's Charge would succeed.
He then shakes his head and says, "It's mathematical after all."
The numbers tell the story.
There is one person close to the program that I trust – they've always had the pulse of everything going on – and I texted them Friday to ask their thoughts. The answer was direct – "It's gonna be as brutal as the team wants it to be."
As brutal as the team wants it to be. Yikes.
My advice to any fan is to get there early, enjoy the cooler weather and take a walk around campus. As the leaves swirl around your feet and the day begins to fade, drink in every moment. Find your way to your seat early enough to witness the spectacle of a Clemson pregame, thrill in the moment of the team running down the hill, and never take your eyes off the seniors. We might never see a group like this again, so savor it, remember it, and bask in it.
Then, as the lights dim and Saturday turns to Sunday, and the depression of another long stretch of no games begins to set in, don't be sad that it's over. Be thrilled that it happened.

Upgrade Your Account
Unlock premium boards and exclusive features (e.g. ad-free) by upgrading your account today.
Upgrade Now