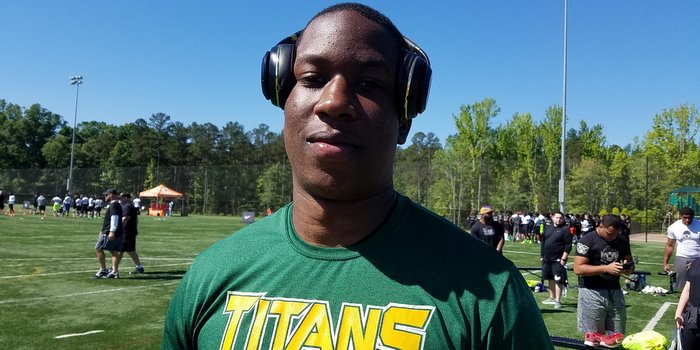 | | |
| --- | --- |
| K.J. Henry: Where do Tigers stand with 5-star defensive end? | |
---
| | | |
| --- | --- | --- |
| Tuesday, May 9, 2017, 8:01 AM | | |
CHARLOTTE, NC – K.J. Henry's recruitment is far from over, but Clemson couldn't be in a better position as things stand right now.
The 5-star Clemmons (NC) West Forsyth defensive end recently released a top 10 list of Alabama, Charlotte, Clemson, Georgia, Louisville, Ohio State, Penn State, Pittsburgh, South Carolina, and Virginia Tech.
Henry competed at Nike's The Opening Regional in Charlotte over the weekend and he told TigerNet his most recent visit to Clemson was to see the new Reeves Football Complex and for his family to get acquainted with the coaching staff.
"To be honest with you, I was there for the new facility," Henry told TigerNet Sunday afternoon. "I've been down there so many times. I'm a kid. I have no problem telling everybody that, so getting down the slide, bowling, playing basketball, all that good stuff, that was what I was there for. I was also letting my mom and dad meet coach (Dabo) Swinney, my sister, my little brother. It's a family thing, so I wanted them to meet the coaching staff and get acclimated with them and just make a relationship. That was the main goal, but for me, I've been down there so many times, I was just there to have fun."
Since Henry's last visit, Clemson has picked up commitments from defensive ends Xavier Thomas and Justin Mascoll, leaving the nation's No. 6 player to wonder where he fits in the Tigers' plans, but he said the Clemson coaching staff has done a good job of answering all of his questions.
"With all of these guys committing, there's still room for me and the depth chart isn't really what it says," Henry said. "They've had some guys they've had to move around lately to make ends meet. They just want to let me know that I'm still wanted. They're not a school that's going to make you wait two or three years. If you're meant to play you're meant to play, and they still see that in me as well."
What stands out about Clemson?
"Just playing in Death Valley, number one. The atmosphere there, you can't ignore it," Henry said. "Coming down the hill, it's one of the best college entrances in the game. Playing in front of the fans. It's not too far from home. Distance hasn't really been a thing for me, but if you think about it, it's not too far from home. Those two things and playing with a great team and a great coaching staff, that's just out there. Those are the little things that help as well."
While Clemson is currently high on Henry's list, he said no school is guaranteed to make the next round of cuts.
"Not too safe, they're big on me and I'm big on them, but you never know what will happen," he said. "I think it's safe to say that as long as they keep doing what they're doing they'll be fine."
So, what's next for the Henry and his family?
"I definitely want to visit Penn State. They're the only school in my top 10 that I haven't visited and then I'm just going to chill and I'll talk about which schools my family and I really like and the opportunities I have for myself, and then trim it down to a top five in the summer," Henry said. "Those top five will end up being the five that I take my officials on in the fall. I'm an early enrollee, so my thought is I'll be committing during the season, playoff time, and sign on December 20."
When the time finally comes for Henry to make a decision, the school of his choice will most assuredly have all of the following.
"I think all of the schools are treating my family the right way, so that's a good thing for them," he said. "Who is going to keep winning games? I don't want to be on a team that's losing all of the time. I'm a competitor, so I'm trying to get on the field. I don't want anything given to me by any means, but that's definitely what I'm going to try and do is get on the field as early as possible. So, the opportunity to do that is what I'll be looking for as well."