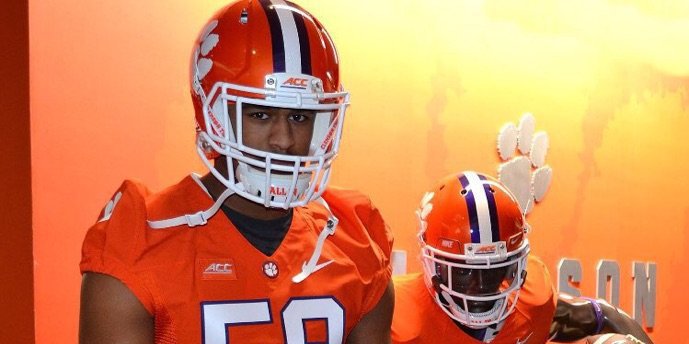 | | |
| --- | --- |
| Jordan Williams talks Cookout, says he's "still open" heading into decision date | |
---
| | | |
| --- | --- | --- |
| Monday, July 25, 2016, 7:01 AM | | |
Jordan Williams has a lot to think about, especially after a three-day visit to Clemson for the All In Cookout.
The 4-star 2017 defensive end out of Virginia Beach (VA) Cox recently narrowed his final list of schools to four with Clemson, Virginia, Virginia Tech, and Tennessee making the final cut. Clemson got the final visit, and Williams made the trip down from Virginia with his family for the Cookout, and he came away impressed with the entire visit.
"The whole visit was great. It was definitely great to be able to get around all of the commits and all of the recruits and all of the coaches and the different families" Williams told TigerNet. "It was great to get back on campus and eat all of the food and play all of the games and just be a part of everything. My visit the next day seeing all of the facilities and meeting with all of the academic people and spending time with people other than the football coaches that I see every day was definitely awesome. I was able to sit and listen to them talk about what I would be going through every day and different things they would have me going through with my parents."
One of the highlights for Williams was getting to talk to current Clemson defensive tackle Christian Wilkins and former Tiger defensive end Shaq Lawson.
"I talked to all of the commits and the recruits that were there. Player wise, I was able to talk to Christian Wilkins. I stayed the night with him," Williams said. "I was talking to Wayne Gallman, Sterling Johnson, but the one that actually stood out was being able to talk to Shaq Lawson. He was down there, so being able to talk to Shaq and being from the same position that he played at Clemson, he was able to tell me a lot of things about Coach (Marion) Hobby and different things they do in the system and just how it is to play on the defensive line and what it's like to play for Coach (Brent) Venables and Coach Hobby and Coach Swinney."
Williams said he and Lawson have a lot in common.
"He's a great guy. It's so different when you actually get to talk to him because you're used to seeing him on TV or watching his highlight tape or seeing him do interviews," he said. "It was definitely great to be able to talk to him especially because I'm a big film guy. When I play, I always like watching film and studying other guy's film. I actually like watching Shaq's film a lot because Shaq has that motor that I try to play with all of the time. It's great to spend time with him and take some advice from him and take tips on different things from someone who has already made it. It was great to be able to do all of that."
Both Williams and Wilkins are bright and extremely well-spoken, and Williams said he could see the similarities he has with Clemson's "Slash."
"Being able to get around him, it seems like we're both goofy and funny," Williams said. "We're both always laughing and joking around. It was just fun being around him all of the time. Coach V (defensive coordinator Brent Venables) actually mentioned it, too. He said I reminded him of Christian."
The only downside of the visit? Losing the doughnut eating contest with Marion Hobby and Austin Bryant.
"Me and Coach Hobby lost. I ate the powdered doughnut first and I was going slow," he said. "Everybody kept telling me to just eat all of the doughnuts at once, so I did. Coach Hobby went pretty quick and Austin Bryant was on our team. Austin did good and the last person slowed us up or we would've won it."
Next up for Williams is his commitment on August 6th, and he told TigerNet a few weeks ago that he had a pretty good idea about the school he would choose. However, he says recent events have him thinking hard about his decision.
"A little bit ago, I did have my mind pretty much made up. I was just going to go through the process and take my last couple of visits," Williams said. "A little bit before The Opening, I felt like I just opened everything up. I just wanted to keep evaluating all of the schools just to make sure that the decision I had at first was the right one. Right now, I'm still a little open. I have a good idea where I'd like to go, but nothing is set until August 6th. Being able to get down there was definitely great.
"I've visited Clemson before I went there to see all of the facilities and what the new facilities are going to be like, spend time with the coaches and other recruits and that was great. We didn't really hit academics hard on our last visit, so with us being able to do all of that and more was definitely great for me and my family to be able to hear all of that and to be able to go see the dorms and the different places. It was huge for me and my family. They loved the visit. They loved it down there."
He is the No. 238 player in the ESPN300 and has 28 offers including from Clemson, Florida, Marshall, Maryland, Nebraska, North Carolina, North Carolina State, Notre Dame, Penn State, Pittsburgh, Purdue, South Carolina, Southern California, Temple, Texas State, Tennessee, Vanderbilt, Virginia, Virginia Tech and Wake Forest.
The 6-5, 245-pounder had 39 tackles, 13 tackles for loss, five sacks, two interceptions, seven pass deflections, a forced fumble and recovered two fumbles including one returned for a touchdown.