| | |
| --- | --- |
| Jimbo Fisher talks Cole Stoudt, Deshaun Watson | |
---
| | |
| --- | --- |
| Friday, September 19, 2014 9:01 PM | |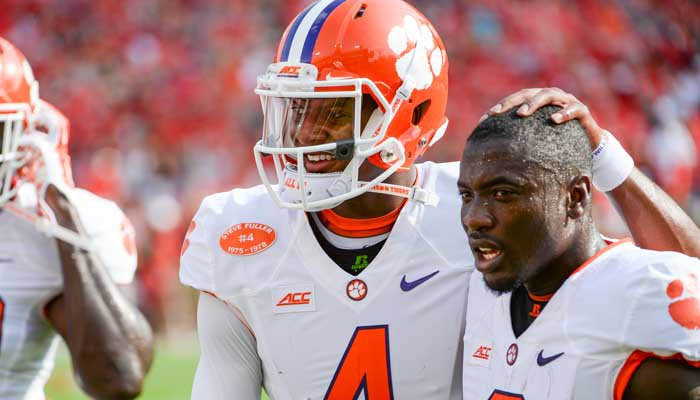 CLEMSON – Florida St. head coach Jimbo Fisher is busy preparing two quarterbacks for Saturday's primetime contest against Clemson, and he's also busy helping prepare a defense that will probably see two Clemson quarterbacks.
Fisher's Seminoles will start backup Sean Maguire in the first half against the Tigers, and reigning Heisman Trophy winner Jameis Winston will start the second half after serving his two quarter suspension for obscene comments made on campus earlier this week.
Clemson, however, is throwing freshman signal caller Deshaun Watson

Deshaun Watson
Fr. Quarterback
#4 6-3, 204
Gainesville, GA
View Full Profile into the fire and Fisher told the media this week he expects to see both quarterbacks play Saturday night in Doak Campbell.
"Clemson will have a ton of challenges. They're still very dynamic on offense – all the different formations and sets and the way they get the ball to people," Fisher said. "Their quarterbacks can run, there's nothing they don't do. They throw it deep, they throw it short, and they throw quick screens, (the) quarterback runs. They have two quarterbacks – (Stoudt and Watson both do an outstanding job. They have great skill guys out wide. Big, tall wideouts, fast wideouts, backs, good solid line – Chad Morris

Chad Morris
Offensive Coordinator / QBs
View Full Profile and Dabo Swinney

Dabo Swinney
Head Coach
View Full Profile , they do a great job. "
Fisher then said that each quarterback brings something different to the Clemson offense, saying that Watson is more of a threat with his legs.
"They're going to do what they do, but at the same time, you may have to feature on certain things when a guy gets into the game," Fisher said. You have to understand one thing, they know their own tendencies too so they can change it up. I think both guys -Watson is a little more dynamic with his legs but Stoudt is still a good runner. I think both guys can create a lot of problems in a lot of different ways the way Tajh Boyd

Tajh Boyd
Quarterback (2009 - 2013)
#10 6-1, 225
Hampton, VA
View Full Profile did. They did so many things with him, so there's tons of things (and) they're always adding a new wrinkle. Chad does a wonderful job. We're going to have our hands full. We're going to keep leverage on him enough to stay in the box, but still be able to play the pass. Sometimes you'll have to pick and choose and it becomes a chess match and a guessing game and sometimes, like I say, you just guess right."
Fisher said that the speed of Clemson's offense can cause problems.
"I think first of all it's no huddle. The key in no huddle is the speed in which they do it with," he said. "It's like - 'We do it so many times and you know we can do it but we can do it faster than you can get ready for it.' It's hard to simulate. That's the first thingwith no huddle. All those guys that do those offenses, there's not tons of complexity as far as other people may do more schemes but how fast they do them and how well they do them. I'm not saying they don't do a lot of things, but they're very multi-formational, very multi personnel based. All those different things factor in the speed of what they do and they're well-coached, they've got great athletes. They can catch it, run it, they can block and all combined is very effective."
He then said that juggling two quarterbacks can be a nightmare for coaches.
"I think that all depends on the team. I think it depends on the team dynamic and how the team accepts it and where the team is at that particular time, more than once you do it you get into it," Fisher said. "You have a guy with a hot hand and you're going to play him in the third series but that guy goes out there and goes six for six and you're going 'Man, I don't want to pull this guy out of the game." That always is a challenge. It's easy for people to sit back and say that but for a coach I think it's very tough because of the flow of the game. Other people do it very effectively. Chad and Dabo definitely know what they are doing. They've been effective with it so far.