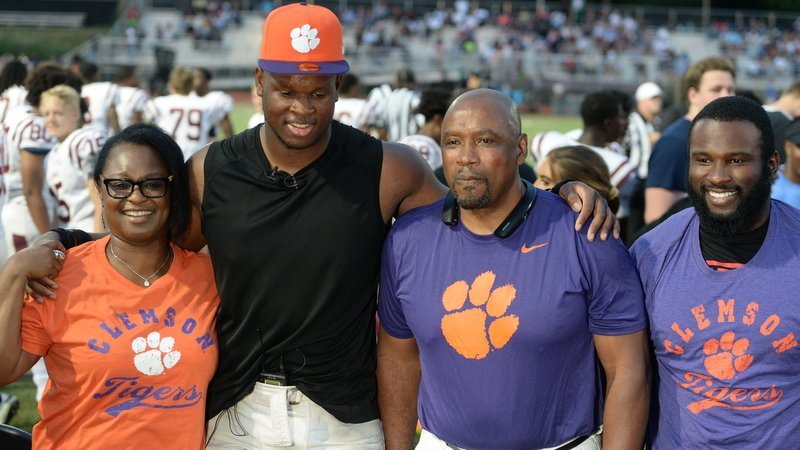 | | |
| --- | --- |
| How did Clemson pry 5-star DE Myles Murphy away from Georgia? | |
---
| | | |
| --- | --- | --- |
| Monday, May 20, 2019, 7:01 AM | | |
Five-star defensive end Myles Murphy comes from a family of Georgia Bulldogs, and he goes to school in Powder Springs, a little over 75 miles from Georgia's Athens campus. The Bulldogs were also Murphy's first offer, and because he grew up in the heart of Dawg country, many assumed Murphy would choose to attend Georgia.
How did Clemson pry Murphy away from family and tradition and geographic location? It comes down to more than just football.
Murphy unveiled his decision to attend Clemson during halftime of his school's spring game Friday night, choosing Clemson over runner-up Auburn. Georgia also coveted the Peach State's top-ranked prospect, as did Alabama, South Carolina, Tennessee, and Florida, among others.
The industry-generated 247Sports Composite ranks Murphy as the No. 8 overall prospect in the class and No. 2 defensive end.
Yes, Clemson sits atop the football world right now, winners of two of the last three National Championships, and yes, recruiting is at an all-time high. But Murphy's choice had just as much or more to do with education as it did football, according to his father, Willard Murphy.
"It's not just football, it's education, too. Football is a great opportunity for you to play, but at some point, football is going to be behind you, and you are going to have a lot more time to do other things," Willard Murphy told TigerNet. You have to have something else to fall back on, education-wise. We have always told our sons that football is good, but education is essential, too. So, we impressed upon him that if he wants to be an engineer, which schools are good engineering schools and which one would be a good fit if you're not playing football."
Willard played football at Chattanooga and the family's eldest son, Maxwell, plays football at NAIA Worcester Polytechnic in Massachusetts. However, the matriarch went to Georgia.
"My wife went to UGA, so she sort of had a favorite school. But for me, it was always about Myles, and I wanted him to make the decision that was best for him," Willard said. "We let him decide because the schools he was choosing all were great schools. But Clemson rose to the top."
Breyone Murphy graduated from Georgia and is a lifelong fan of the Bulldogs, but when it came time for her son to make a decision she had to put her fandom to the side and focus on helping Myles make the best decision.
"As a parent, you have to go in not as a fan but find the best fit for your son. And that's what we did. We would have loved for him to be a Bulldog, but at some point, we had to get over all of the excitement, and we sat him down, and we told him he needed to find the best fit for him," Breyone said. "We told him he needed to find the best place for him when it came to academics because the NFL means Not For Long, so he knows deep down that he had to choose a place that is interested in making him successful off the field when football is over. You can go into the recruiting process excited, and you can be a fan, but at some point, you have to slow it down and start thinking about how this is going to work for your kid."
Breyone said that Clemson's approach came across as a breath of fresh air, and it led her to do something she never thought she would do – don the Clemson colors.
"We have some disappointed people because we are in Georgia. I am a Georgia alumnus, and we have a lot of family that are alumni, but we aren't in it as a fan, we are in it as a family trying to make sure their son chose the right place," she said. "And he made the decision that was going to be the best fit for him. And every time we went to Clemson, it was very consistent, and it was like a breath of fresh air. The players were cordial, and Dabo has a great relationship with his players. It just worked out that way. I never thought I would be wearing orange and purple. Never thought that. But it's happened, and I am very excited for him."
Myles said he was happy that his parents let him choose his own path.
"It's very special to have parents like that, but my whole family is like that. My cousin went to Georgia, and he graduated from there not too long ago," Myles said. "They all wanted me to go to Georgia but told me to choose the school that was the best fit for me. They said to pick the school I wanted and not go off of their feelings. So, I chose Clemson."