| | |
| --- | --- |
| Herbstreit calls Watson a "lethal weapon" and holds key to a Clemson win | |
---
| | |
| --- | --- |
| Friday, January 8, 2016 8:01 AM | |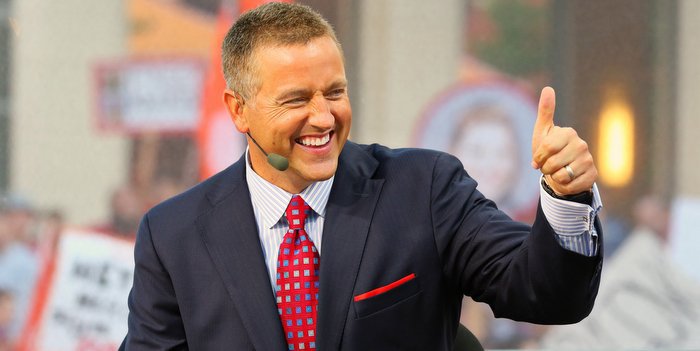 Kirk Herbstreit thinks Deshaun Watson holds the key to a Clemson win over Alabama in the College Football Playoff National Championship Monday night in Phoenix. He also thinks the two best teams in the nation are playing for the title.
The ESPN college football analyst will call the game – along with play-by-play man Chris Fowler – and has taken a look at both teams heading into the clash.
Clemson is 14-0 with the nation's longest winning streak (17) games and Alabama is 13-1 and has won 11 in a row since a September loss to Ole Miss.
"Both teams, based on the way they played in their semifinal game, are coming in heading in the right direction and feeling good about themselves," Herbstreit said Thursday. "At the end of the day I think it's the two teams that should be in the championship, and I think it should be a lot of fun. I think the Deshaun Watson factor against the Alabama defense is what everybody is most excited about."
Watson is just the third player in FBS history to pass for at least 3,500 yards and rush for at least 1,000 yards in the same season. He is also the only FBS quarterback to post a Total QBR of at least 70 in every game this season.
Herbstreit was asked if the Johnny Manziel factor – Alabama had trouble stopping the former Heisman winner – plays into Clemson's favor with Watson and Herbstreit said it has more to do with the style of offense.
"I don't think it's what Johnny Manziel did. I think it's what that type of offense does to every defense, including Alabama," he said. "What it does is it spreads the defense out. You have a quarterback with the ability to run and throw and when you include him in the running game he's essentially a tailback as a quarterback and the defense has to account for him. When you have to account for him, you have to bring another guy closer to the line of scrimmage, and so if they can get him running, it can set up a big opportunity in their passing game. If Alabama can negate Deshaun Watson from running the football, they'll put him in some obvious passing situations, and it would make it very, very tough for Clemson to move the ball consistently. To me, Deshaun Watson, not just his ability to throw but his ability to run the football Monday night is essential for the Clemson offense."
Clemson defeated Oklahoma 37-17 in the Orange Bowl and outscored the Sooners 21-0 in the second half, and Herbstreit said he watched how Clemson seemed fresher in the second half and dominated both lines of scrimmage.
"I've gone back and watched that game three or four times, and I was really surprised as the game went on to see Clemson getting stronger in the second half in the trenches and Oklahoma appearing to have fatigue," he said. "I think once fatigue set up that's when Clemson started to really take over at the line of scrimmage and Wayne Gallman running the football and what they're able to do with that system and what that offense can do. When you get Deshaun Watson and Wayne Gallman into the running game, it really can take a toll on the wear and tear on a defense, and I think that's what ultimately happened to Oklahoma. It set up big opportunities in the pass game. I was really surprised with Shaq Lawson out the game what Clemson was still able to do up front at the line of scrimmage against an Oklahoma team that really since the Texas game how they had learned so much from that game - Samaje Perine and Joe Mixon running the ball.
"I thought that would be a real factor in the game, but to the credit of Clemson and the linebacker play of Goodson and Boulware, they played with a lot of intensity and eventually they had a stronger will, and I think the success on the scoreboard helped to continue to build that confidence. When the dust settled, Clemson just had a much better performance where it mattered - up front at the line of scrimmage."
Can Clemson carry that into the game against Alabama? Herbstreit says Clemson runs the same offense as Ole Miss and could present problems.
"How that plays into Monday night - everybody in the world who has watched Alabama football would tell you this is probably Nick Saban's best front seven that he's had because of the depth and versatility," he said. "Right now, they've been as tough to move the football on as any defense I can remember. The last time a team moved the football it was Ole Miss and Ole Miss runs the exact same offensive system that Clemson runs. I think we're going to see how much Alabama has really improved against this kind of system with Deshaun Watson spreading them out using tempo. You would think on paper there would be an advantage to the Alabama defensive front on the line of scrimmage. Based on the way Clemson played against Oklahoma, I might say that Clemson's defensive line and linebackers have an advantage up front on the line of scrimmage against the Alabama offensive line. Maybe it's the two defenses instead of one team - that have the advantage on the line of scrimmage."
Herbstreit then added that Clemson's defensive line is playing with confidence and will present a challenge to the Bama offensive line.
"The defensive line is coming in with a great deal of confidence. I think we're all anxious to see how Shaq Lawson is able to bounce back from that injury. Early it sounds like it was a no brainer, and he was going to play. He came out on Tuesday and said it's going to be situational based on how much he'll be able to play," he said. "Obviously, that would be a setback when you have your alpha unable to play, but even with that being said I think that battle up front is going to be intense. I think Michigan St. sold out to stop Derrick Henry. They loaded the line of scrimmage with safeties and linebackers. They were determined to stop the run. It was very predictable going into that game that Calvin Ridley and Jake Coker would have chances on early downs on play action, and that's the way it turned out.
"To me, that will be a big factor - not just stopping Derrick Henry, it's being able to deal with Ridley and Stewart and the group of wide receivers they have and Coker playing with some confidence. I know Brent Venables very well and every time he puts a plan together the first thing he tells his guys we have got to stop the run. The fact that they are going up against Derrick Henry and Alabama, I've got to feel that their intent will be to stop the run and win the line of scrimmage. Which to me will come down to Tankersley and Alexander being able to hold up on islands because they will be playing a lot of man-to-man being able to get the safeties up to stop Derrick Henry."
Herbstreit finished by saying that Clemson – with its lethal weapon at quarterback – will be the Tide's biggest challenge in a championship game to date.
"Texas, if you remember the Colt McCoy injury, that really changed that game when they went to a freshman. Notre Dame, that game was obviously tough to watch," he said. "LSU, because it was a rematch and the teams knew each other so well. Looking back at it, I would say absolutely. And the team they are playing - there are two things. When you're 14-0 the confidence that this football team is playing with and if they are able to maintain that chip on their shoulder and play that disrespect card. For 18-22-year-old kids, when they all believe it then it can be a very powerful thing and right now they all believe it.
"Much like Ohio St. did a year ago. Clemson has that on its side right now. And then you have the x-factor in this matchup, and that's Deshaun Watson and this system that they run. It's a spread, tempo system that's been very difficult for Alabama to defend over the years. And with a quarterback that's a lethal weapon with his ability to run and throw, and not to mention that he's as calm and poised as any quarterback as I've seen in a long time. So you combine all of that - and as good as Alabama has looked since the Ole Miss game - this is the biggest challenge Alabama has faced in a championship game."