| | |
| --- | --- |
| Grady Jarrett says "Clemson is the total package" | |
---
| | |
| --- | --- |
| Tuesday, January 27, 2015 7:01 AM | |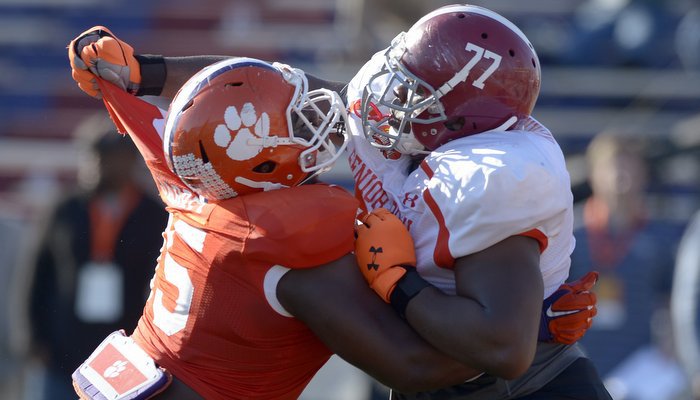 Grady Jarrett

Grady Jarrett
Sr. Defensive Tackle
#50 6-1, 290
Conyers, GA
View Full Profile and Stephone Anthony

Stephone Anthony
Sr. Linebacker
#42 6-2, 244
Polkton, NC
View Full Profile represented Clemson in the Reese's Senior Bowl last week in Mobile Alabama.
During the week, the two former Clemson standouts spoke candidly with Nick Trist, who worked with TigerNet during the Senior Bowl activities, about their time at Clemson, their former teammates and the future of Clemson defense.
Part one of this two part series is an edited transcript of the interview with former Clemson defensive tackle Grady Jarrett.
TigerNet: How has your week in Mobile has gone?
Grady Jarrett: "It's going really well. Just going out here and competing with some of the best in the country. We're both doing really well and just doing things that we didn't have any doubt that we could do. We're just trying to show everybody at the next level and our peers on this level."
TigerNet: Would you recommend other players participate in the Senior Bowl?
Grady Jarrett: "Absolutely. Especially the guys with similar circumstances like mine and Stephone to where we aren't respected to the point that we want nationally despite the season that we had and the defense that we played on. You get to come in here and prove yourself against some of the best talent in the country. Just coming here is a plus regardless of if you perform well or not. I definitely recommend coming. It's a great event put on by Phil Savage, his whole staff and the coaching staffs of the Jacksonville Jaguars and Tennessee Titans - just their energy and effort that they put into this is amazing. I'm really thankful for it and I'm trying to make the most of this opportunity."
TigerNet: The competition at the Senior Bowl has been very high. Can you talk about the South Roster and the talent you've been facing up front?
Grady Jarrett: "We have some of the top guards, tackles and centers in this years draft. Just going against guys like that and succeeding is really helping me right now. Just doing things I really never had any doubt that I could do it and it's just showing other people what I can do. Having a good week playing both the nose and the tackle spot. It's fun to see where you rank with the rest of the guys in the county."
TigerNet: Talk about getting to work with the Jacksonville Jaguars coaching staff.
Grady Jarrett:"The energy has been great - the enthusiasm and passion that they use when they coach us. The defense that they run, I really enjoy it. Having a 3-technique that attacks up field and disrupts in the backfield. Having them coach this game and the type of player I am and just being able to run a scheme like that is really helping me out."
TigerNet:What kind of player and teammate is Stephone Anthony? What is his best attribute?
Grady Jarrett:"Just an every down linebacker - big and strong enough to play the run, fast and athletic enough to play anything that the offense throws at him. He's extremely smart. His passion for the game. We've been playing with each other for the past four years and I feel like we've made each other better whether it's working out in the offseason or just being out there fourth-and-goal to win the game against Louisville. Just having guys like that behind you and knowing that they put the same work in that you have, care about the game as much as you do. It's just something special. I'm not surprised and I know Clemson Nation isn't surprised about the success that we're having this week. Having him here going through this with me and me being here with him, I'm sure it just gives us that extra boost."
TigerNet:Clemson loses a lot of talented players on defense and one of those is Vic Beasley

Vic Beasley
RS Sr. Defensive End
#3 6-2, 236
Adairsville, GA
View Full Profile . What kind of player was he at Clemson and what kind of player do you think he'll be on the next level?
Grady Jarrett:"I think Vic is a wonderful player. I don't know if there is anyone like him in the draft - just how athletic, powerful and explosive that he is. He's just a special talent. It's inevitable. He's going to make any team better no matter where he goes, whether he's still rushing from an end spot or from an outside backer spot or dropping into coverage. He's a player. He's an athlete and he's going to go in and work. He's determined to work."
TigerNet: What does the future hold for Clemson's defense with all of those young guys?
Grady Jarrett:"It's going to be a real challenge for them to replace what's leaving. We didn't even talk about guys like Robert Smith

Robert Smith
Sr. Safety
#27 5-11, 211
St. George, SC
View Full Profile , DeShawn Williams

DeShawn Williams
Sr. Defensive Tackle
#99 6-1, 292
Central, SC
View Full Profile , Tony Steward

Tony Steward
Sr. Linebacker
#7 6-1, 236
Hastings, FL
View Full Profile , Garry Peters

Garry Peters
RS Sr. Cornerback
#26 6-0, 194
Conyers, GA
View Full Profile . We had a really talented defense and that's why we ended up number one in the country. We definitely have the players behind us to step in to fill the void - D.J. Reader
D.J. Reader
Jr. Defensive Tackle
#48 6-2, 322
Greensboro, NC
View Full Profile , Carlos Watkins

Carlos Watkins
RS So. Defensive Tackle
#94 6-3, 294
Mooresboro, NC
View Full Profile , Ben Boulware

Ben Boulware
So. Outside Linebacker
#10 5-11, 235
Anderson, SC
View Full Profile , B.J. Goodson

B.J. Goodson
RS Jr. Linebacker
#44 6-1, 240
Lamar, SC
View Full Profile . It's their time. They're going to be good with Shaq Lawson

Shaq Lawson
So. Defensive End
#90 6-3, 269
Central, SC
View Full Profile on the end and Ebo Ogundeko on the other side. We've still got our safeties on the back end - Jayron Kearse

Jayron Kearse
So. Safety
#20 6-4, 215
Fort Myers, FL
View Full Profile and Jadar Johnson

Jadar Johnson
So. Defensive Back
#18 6-1, 207
Orangeburg, SC
View Full Profile . Everybody knows who Mackensie Alexander

Mackensie Alexander
RS Fr. Cornerback
#2 5-11, 190
Immokalee, FL
View Full Profile is. Cordrea Tankersley

Cordrea Tankersley
So. Defensive Back
#25 6-1, 195
Beech Island, SC
View Full Profile . They'll be fine especially with a coach like Coach V coaching them and Coach Swinney. They'll be challenged during the offseason and that will be good. It's going to be fun to see who steps up and who the leader is. We don't expect any drop off."
TigerNet: What are you going to miss most about Clemson?
Grady Jarrett:"Clemson is as advertised as the total package - great fan support, played at a lot of stadiums throughout my college career and there's not one place in the country like Death Valley. We have a great head coach in Coach Swinney. There's not a guy like that. I was fortunate enough to have a guy like Coach Dan Brooks

Dan Brooks
Assoc. Head Coach / Def. Tackles
View Full Profile coaching me on my technique. We have really, really good professors and have a really, really good academic advisor, Wayne Coffman - we like to call him Cheech. It was just perfect. Clemson is two hours away from my hometown and my family made it up to every game. Fan support is second to none. It was a really special place that made me into the man I am today. I feel like I made the most out of my opportunity and I would never take that decision back. I'm thankful for my opportunity."

Tags:
Vic Beasley
,
Garry Peters
,
Grady Jarrett
,
Robert Smith
,
DeShawn Williams
,
Tony Steward
,
Stephone Anthony
,
B.J. Goodson
,
Carlos Watkins
,
Shaq Lawson
,
Cordrea Tankersley
,
D.J. Reader
,
Ben Boulware
,
Mackensie Alexander
,
Jayron Kearse
,
Jadar Johnson
,
Dan Brooks