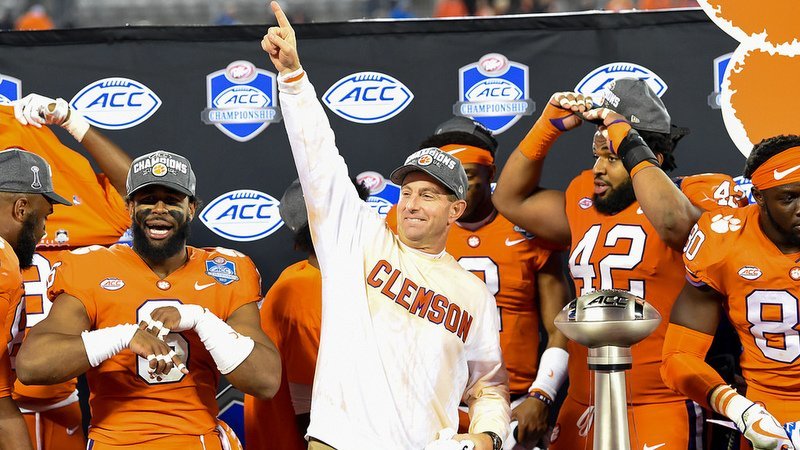 | | |
| --- | --- |
| From underdog to national power, Clemson is the "dream school" for today's prospects | |
---
| | | |
| --- | --- | --- |
| Monday, May 14, 2018, 8:07 AM | | |
The evolution of Clemson's football program, from wanna-be national power to contender to national elite, is best viewed through the prism of recruiting. Not with the recruiting rankings, but with the recruits themselves.
Six years ago, I made the trip down to Buford (GA) High for the annual Nike Combine and came away with a better understanding of how the Tigers were perceived by high school coaches and players across the region.
Clemson was seen as the underdog, the school with unlimited potential but still scratching for a spot in the college football hierarchy. A few years later, the view had changed, and the Tigers were seen as one of those second-tier schools, not quite on the level of Alabama or Ohio St. or Florida St. when it came to national brand recognition on the recruiting trail, but close.
That leads us to today. When Clemson played for the National Championship in 2015, many thought that making the College Football Playoff and playing for a title would pay immediate dividends on the recruiting trail. But, when a kid grows up watching another program or seeing what certain programs have done over a period of time, one game or two games don't move the needle as much as you would think.
Now, however, I am starting to see how three consecutive trips to the College Football Playoff, a National Championship, two title game appearances and 10 or more wins in seven consecutive seasons is paying off. The 15 and 16 and 17-year-old prospects I am talking to these days all seem to have a similar refrain – Clemson is listed as a "dream school." I've had several others tell me that they grew up watching Clemson compete in the post-season in some of the year's biggest games. They've seen the big games in Death Valley, they've seen the multiple College GameDay visits and they recognize the Paw as a national brand.
If a prospect is 16 today, a rising high school junior, he was just 11 when Tajh Boyd beat Ohio St. in the Orange Bowl. He was just 11 when Chandler Catanzaro kicked the game-winning field goal against LSU, and might not have been in high school when Clemson played Alabama in the first matchup between the two at the end of the 2015 season.
In other words, they've all grown up watching Clemson compete not as an up-and-comer, but as a national power. I had one tell me last week that, "Clemson and Alabama and Ohio St. are the three big boys, so it's been amazing to get an offer from those three."
I spoke with a former player at the spring game, and he marveled at the parade of prospects.
"Things are different now," he said. "Now, they pick their recruits. They are having to turn down good players. They really just pick the guy that they think best fits what they are trying to do. It's incredible."
Recruiting coordinator Brandon Streeter agrees with that assessment.
"I think we just believe in going to get the right people, first, and we know that if we go get the right people, whether they're two, three, four, five stars, when they get here they're going to be developed and they're going to be successful," Streeter told TigerNet in an exclusive interview. "There are too many examples of guys that have done that, and we've proven that. The reason I say that is if we just do the best job we can and go find those right guys, things will fall into place like they're supposed to and we'll fill those gaps as need be."
In other words, the Tigers don't have to offer 400 players in order to find the right fit.
"I know every coach manages it a little different. Like Coach (Swinney) was saying about Coach (Tony) Elliott, he's really slow to offer guys and I'm very similar. I only offered Trevor (Lawrence) in that class," Streeter said. "Then there are some guys who may have offered five or 1000000 guys at their position and manage it a little different. I couldn't even begin to tell you how many guys we offered but I can tell you it's a lot less than the majority of teams. That's part of our recruiting schpiel. When we talk to recruits, we can say, 'Look, we're doing it a little different than most people. We're going to be later to offer and when we offer, it means something.' Kids realize that and it helps that you're winning a lot of games."
The strategy has worked – Clemson was named the nation's number one recruiting brand in a recent survey and it led to the 2018 recruiting class hailing from different parts of the country.
"It just shows that our brand is getting stronger and stronger," Streeter said. "I know I mentioned last year that we're getting guys here and there from different states that are a little bit further away. Like we had Kansas with Isaiah Simmons and a couple other guys, and then Missouri this year. And then getting the No. 1 guy in six different states? I don't know if anybody else can say that, but that's strong. It's a tribute to the people here, and to the brand of Clemson University. It's exciting, it really is. Fired up about it."

Upgrade Your Account
Unlock premium boards and exclusive features (e.g. ad-free) by upgrading your account today.
Upgrade Now