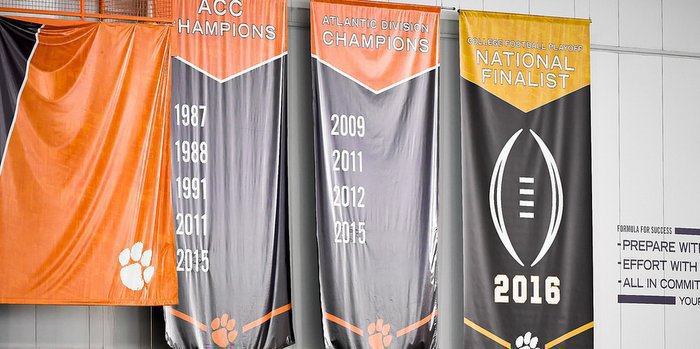 | | |
| --- | --- |
| "Finalist" banner serves as angry reminder of second place | |
---
| | | |
| --- | --- | --- |
| Thursday, January 5, 2017, 1:03 PM | | |
CLEMSON – Hanging in Clemson's indoor practice facility is a banner celebrating Clemson's spot in the 2016 College Football Playoff National Championship, and while Dabo Swinney meant the banner to commemorate his team's accomplishment, he singlehandedly gave the 2017 team its biggest motivation to finish the task they started the year before.
The large banner says '2016 National Finalist' and serves as a daily reminder that last year's team didn't finish the job they set out to accomplish.
The 2016 squad went 14-1 and played for its first national championship since 1981, a feat Swinney told the media he felt like should be honored.
"I hung it up as a means of celebration. There are 120-something teams, that's a big deal to get to the national championship," Swinney said Tuesday in the WestZone. "We won 14 games and I think that should be honored. We won the playoff game to get in that position. We won the ACC Championship. We've got division trophies, ACC Championship trophies. We're going to have semifinal honors as well. I think all of that is important but we want to finish. That's the bottom line. There's one goal and that's the one trophy they're going to hand out after the game. There is no next game. This is it. We all understand that and look forward to it. This is what you dream about to coach in games like this and play in games like this."
Many of the leaders on this year's team disagree, however, including senior linebacker Ben Boulware who told TigerNet that every time he walks into the indoor practice facility and sees the banner it makes him that much angrier about the 45-40 lost to Alabama to end last season.
"It just pisses me off every day seeing it, but at the end of the day we earned that role. We earned second place last year," Boulware said. "We're going to do everything in our power to make sure there's a different banner come Tuesday. It's a daily reminder to us that we finished second last year. I think Coach Swinney has done a good job of putting that in our face every day whether it be in the practice fields or in our meeting rooms. It's something we want to change.
"It leaves a chip on your shoulder and adds a little fuel to the fire. We went out there and did it to ourselves. We went out there and lost that game, so we want to do everything in our power to change that. It's left a chip on our shoulder for about a year now."
Defensive back Ryan Carter feels the same as Boulware, but knows the experience from last year will pay dividends when the Tigers and Tide meet Monday night in Tampa, Florida.
"Definitely. I feel like last year, we got to the national title game but now that we've had that experience we have to build on it and go into the game with a chip on our shoulder and be able to prove that we can beat Alabama and be the team that we want to be," Carter said.
For junior wide receiver Artavis Scott, the banner serves as a reminder of the pain and hurt he felt when he walked off the field at University of Phoenix Stadium.
"It's really aggravating knowing that we were a few plays away from winning it, but we know what we have to do to win the game," Scott said. "Just having that still in our head and what I felt after that game, we're using that as motivation."
While all of the players see the banner as a symbol of unfinished business, Christian Wilkins may have put it best when he said it gives him and the rest of the team that extra chip on their shoulder – that little bit of extra motivation – to do everything in their power to make sure there are no regrets when they walk off the field late Monday night at Raymond James Stadium.
"No one is ever satisfied with second place. Just looking up every day, we have our ACC banners and division champion banners and stuff and you see that one, and there's a feeling of incompletion," Wilkins said. "You work so hard and you grind all last year and get to the national championship game and you lose it. It's obviously a tough pill to swallow. I use it as motivation. It's right there on our practice field, so you look up at it and we know what we're capable of and what we can do. We have the guys and the coaching and the team to do it, so why not go out there and do it."

Upgrade Your Account
Unlock premium boards and exclusive features (e.g. ad-free) by upgrading your account today.
Upgrade Now