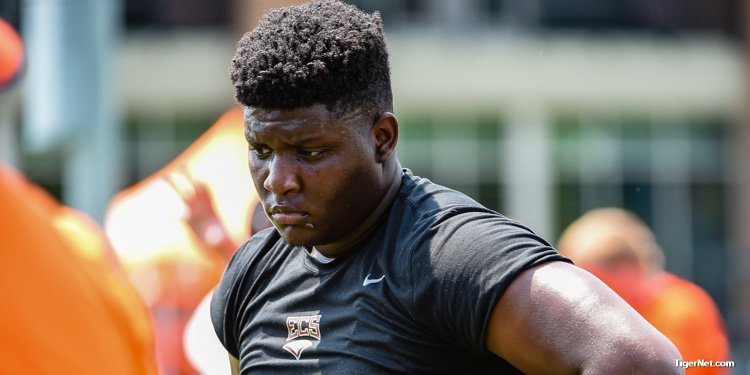 | | |
| --- | --- |
| Evening Camp Insider: Day one ends with coaches doing their best to motivate | |
---
| | | |
| --- | --- | --- |
| Tuesday, June 4, 2019, 9:04 PM | | |
CLEMSON – Day one of the Dabo Swinney high school camp is in the books, and we have plenty of intel to pass along after a warm evening session.
I will start with running backs coach Tony Elliott, who has a knack for needling the players as they go through drills. It's hot, and some of the drills are repetitive, so Elliott likes to keep it light-hearted when he can to take a bit of the edge off.
Tuesday evening was no exception. One of the young running backs hails from Virginia Beach, and when he messed up on a drill Elliott said, "You guys are crazy around there. Now get back here and do it again." A few minutes later a kid from New Jersey drew Elliott's needle when Elliott said, "Man, you guys dress crazy up here. You like lululemon." The kid pointed to the Nike logo on his shorts and just grinned. Another camper is from Oklahoma and Elliott said, "Man, there is no good football in that state."
The tight ends never escape the pearls of wisdom from coach Danny Pearman. Pearman was putting the group through a blocking drill and he told them, "Think about what you hate most in the world. Whatever it is, an ex-girlfriend or a teacher or whatever. Think about that thing you hate the most and move it."
As for the tight ends…..
In the afternoon session recap, I told you that the most impressive prospect might have been Trey Boll out of Richmond, Va. He is a Virginia baseball commit but is beginning to pick up steam on the football front. He was once again the most impressive one we saw in the evening session.
Another tight end on hand was Jacksonville (FL) Episcopal School 2021 prospect Nick Elksnis. Elksnis is scheduled to be on campus all three days this week. He's tall and rangy, runs good routes, and shows good hands. He has all the tools.
Georgia Tech, Florida State, Miami, South Carolina, Tennessee, Penn State, and Michigan have all offered.
A thicker tight end on hand is Diego LaMonica, who hopes to earn a Clemson offer. After watching LaMonica both sessions today, he comes across as more of a blocking tight end or H-back should the Tigers want to move in that direction.
We spent the majority of the evening session on the defensive side of the ball. Earlier today we briefly watched Brentwood (TN) Ravenwood 2021 linebacker Junior Colson. Colson is lean and reminds me of a younger Isaiah Simmons. Clemson has not offered.
I spotted Cordova (TN) Evangelical Christian 2021 lineman Dietrick Pennington (6-5, 330) from across the field as I moved towards the defensive side. Pennington is listed as an offensive tackle by the recruiting sites and has offers from Georgia, Ole Miss, Miss. St., and UofSC.
Pennington was the biggest player on the field and drew the attention of Swinney. While working with grad assistant Miguel Chavis, Chavis implored Pennington to get lower (hey, it's all about leverage at this level) and Pennington accepted every challenge.
After watching his bend and flexibility, however, I would agree that he projects more on the offensive side of the ball.
*Clemson grad assistant Xavier Brewer, a former defensive back, is going to be one heck of a coach. He's spent the last few years coaching at a big program in Florida, and he knows his stuff. He was explaining drills to the prospects in a way that even I could understand, and he knew when to back off on the pressure and when to push someone's button.
If he keeps up with it, he will be a secondary coach at a big-time program sooner rather than later.
*Clemson linebacker commit Bryton Constantin is also working the camp. Most of the players – especially the young ones – have difficulty "coaching" guys who are so close to their own age. Not Constantin – he gets right in the middle of the fracas and even spent 1-on-1 time showing a linebacker how to run a drill.
As for the linebackers, and the close of day one, Nikki says that Salem (VA) 2021 linebacker Isaiah Henderson was the best in drills. He has length and agility and was the most impressive prospect working in Brent Venables' group.