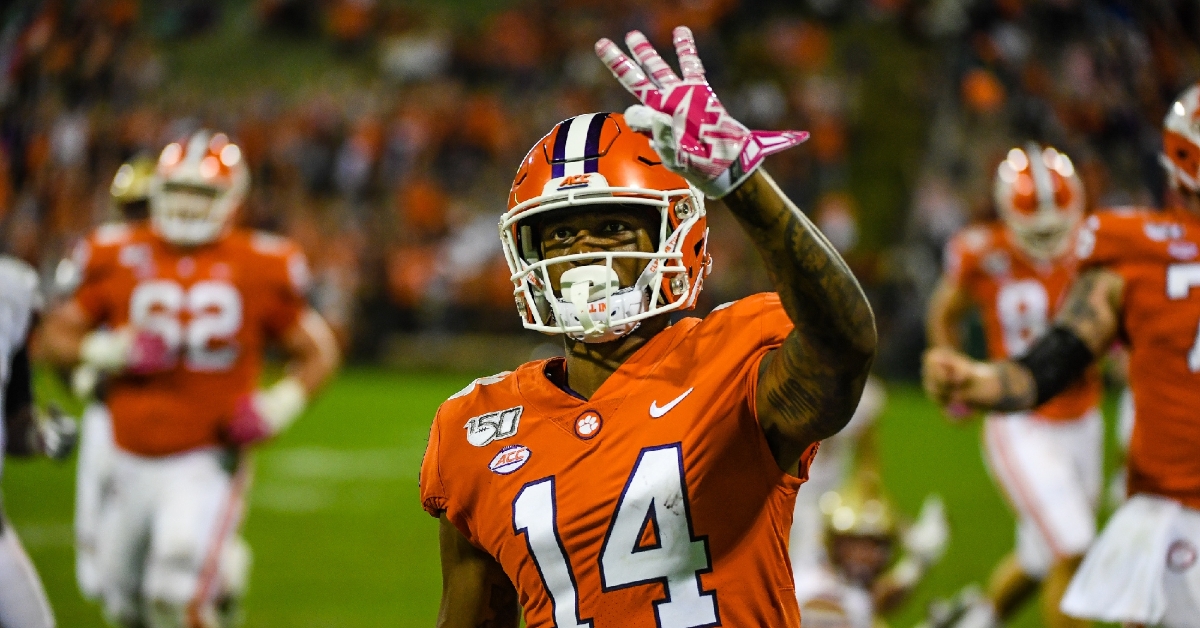 | | |
| --- | --- |
| Diondre Overton ignores transfer portal, has career day against Boston College | |
---
| | | |
| --- | --- | --- |
| Sunday, October 27, 2019, 12:01 PM | | |
CLEMSON – Diondre Overton had chances to enter the transfer portal and maybe find a new home with less competition at the wide receiver spot, but decided to follow his original path. It worked out in a big way Saturday night.
Overton entered Saturday's Homecoming contest with four career touchdown receptions but tallied three (for 119 yards) in the Tigers' dominant 59-7 victory over the Eagles
His teammates and coaches were happy to see the North Carolina native have some success.
"I'm really happy for Diondre Overton. I think that was awesome for him to have three touchdowns, and he's a guy that has worked extremely hard," wide receivers coach Jeff Scott said. "Like I said many times before, he had every reason to look to get in the transfer portal and go somewhere [else], and he decided that he wanted to stay here and continue to work. It was awesome to see him get rewarded."
"Diondre has been doing a great job in practice. He's one of the most consistent, hardest working guys that we have. It's just kind of that some games the ball finds you and if you're doing what you're supposed to do and the ball finds yo, then you've got a chance for some big plays. I think it was really special and very rewarding for him and for all of the hard work he's put in."
Overton is, in many ways, a jack of all trades in the wide receivers room.
"He's really the only guy in our wide receiver group that every week has to know all three positions because I consider him one of those four players that could be a starter, so that requires a lot of attention to detail. Those other wideouts were very happy for him. It's very rewarding. I think it's a great message that it's easy to jump in the portal when you're not starting or not getting opportunities that you want and I think this is a pretty awesome example of a guy being rewarded for sticking it out and really working hard to improve and making the most of the opportunities that the got."
Overton was the game's MVP and said he was happy to see his hard work pay off.
"It's just a blessing. I've put in a lot of work and kept the faith. I'm just happy to have come out with it. It's great to see it pay off. It's been a long time coming," Overton said. "I could have transferred, could've left and let my team down, but I just kept the faith and pushed through. I'm just glad that it's all working out and showing now. I just knew that there was nowhere else like this. I knew that this was the best decision for me and I couldn't see myself anywhere else.
"I knew I needed to stay on this path. It was kind of tough but all I can tell you is that it's been patience and having faith and having conversations with God every day. I knew my time was going to come one day. I just try to stay humble about it. Like I said, I just try to make the best of my opportunities and whenever I touch the ball, get is as many yards as I can get and make sure that I catch the ball."
Quarterback Trevor Lawrence was happy to see Overton rewarded for his patience.
"It was awesome. That's a guy that goes to work every day," Lawrence said. "This is his fourth year, and maybe he hasn't gotten as much attention and as many catches and stats as some of the other guys. He's had opportunities to leave and play somewhere else, and he's stuck it out. He's a great person, and I couldn't be happier for him."