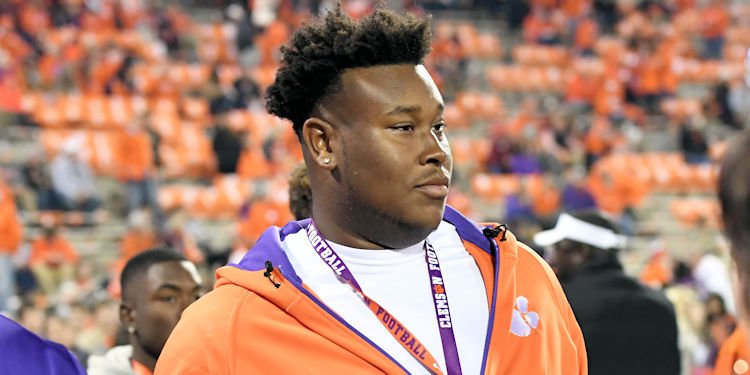 | | |
| --- | --- |
| Clemson visit gives Virginia Tech commit a lot to think about | |
---
| | | |
| --- | --- | --- |
| Tuesday, September 12, 2017, 10:17 AM | | |
Jordan McFadden committed to Virginia Tech back in July, but the thoughts of playing for Clemson was always in the back of his mind.
The possibility of becoming a Tiger became real when Clemson offered in early August, however the Roebuck (SC) Dorman offensive lineman's pledge to the Hokies remained strong. McFadden chose the Hokies in July over his finalists Duke, Rutgers and Michigan State.
N.C. State, Mississippi State, Wake Forest and Virginia had also offered. McFadden has been on Clemson's campus multiple times – he was a visitor to head coach Dabo Swinney's high school camp in June of 2016 and attended several games last fall during the Tigers' national championship run.
McFadden made his first visit to Clemson in nearly a year for Saturday's 14-6 win over Auburn and he came away impressed with everything about the visit – the facilities, the atmosphere, the coaches, and the 2018 Clemson commits who were on campus.
"It was crazy. I had a good time," McFadden told TigerNet Sunday evening. "A lot stood out to me. I enjoyed seeing the new facility, just visiting campus and everything about the visit. Seeing the nap room was probably my favorite.
With a plethora of four and five stars on campus for the game, McFadden fit right in with guys like Trevor Lawrence, Jake Venables, and Xavier Thomas among others.
"I was with the Clemson commits a good bit. They just told me I would not regret coming to Clemson," McFadden said.
The 3-star prospect had a chance to sit down with the Clemson coaches and have a face-to-face conversation about the recruiting process and delayed offer.
"Yes, I did get to spend time with the coaching staff," he said. "They just told me how much they liked me and why it took them a while to offer me. Coach (Robbie) Caldwell and I have a good relationship. I like him a lot. They have some linemen who might go to the draft a year early, so now they're taking more linemen this class. They want me to know I was the first one on their list."
In addition to Virginia Tech and Clemson, McFadden owns offers from Appalachian State, Charlotte, Duke, East Carolina, Georgia Tech, Indiana, Michigan State, Mississippi State, North Carolina State, Rutgers, Syracuse, Virginia and Wake Forest.
However, McFadden said Saturday's visit gave him plenty to think about, including his commitment to the Hokies.
"Ummm...maybe a little bit. Yes, I do plan on coming back to Clemson for another visit this season," he said.
For those that haven't seen McFadden and Dorman play, he said one of his best strengths is playing in space.
"I am a pretty athletic tackle who is pretty good in space," he said.