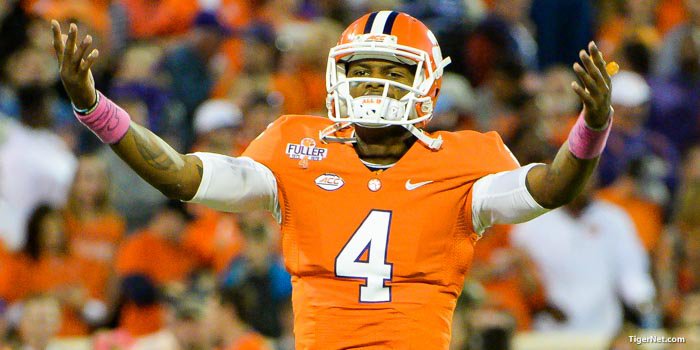 | | |
| --- | --- |
| Clemson offense has a chance to be all-timer | |
---
| | | |
| --- | --- | --- |
| Sunday, August 21, 2016, 10:16 AM | | |
For most of my life of watching Clemson football – let's just say around 40 years – the program has been known more for its defensive prowess than offensive success.
But there have been very good offensive players who have come through the program, and that didn't just start in the past 15 years or so.
For every Tajh Boyd, Woody Dantzler or Charlie Whitehurst there was a Homer Jordan, Mike Eppley or Steve Fuller. For every C.J. Spiller or James Davis there was a Terry Allen, Terrence Flagler or Kenny Flowers. And for every Sammy Watkins, DeAndre Hopkins, Martavis Bryant and on and on with the recent receivers group, there was a Perry Tuttle, Jerry Butler or Dwight Clark.
That said, those players, even the recent ones mentioned, would be envious of this year's offense. In short, this is the most talented Clemson offense I've seen on paper, and it has a real shot at being the best Tigers offense ever.
That starts at quarterback. When Boyd finished at Clemson my thought was he was the best quarterback the program has and that it would be hard to top him. Well, it didn't take long, did it?
Deshaun Watson probably won't surpass Boyd's numbers, especially if he jumps to the NFL after this season, but it's hard to argue that Watson is not Clemson's best-ever quarterback. Boyd was terrific and helped lift the program to another level and get it going on the right track, and he should be forever remembered and praised for that.
Watson, however, has built on that and gone to an even higher level. He's poised, smooth, smart and supremely talented. That's a tough combination for any defense to have to deal with.
But this offense is not a one-man show. The running back stable is the deepest I can remember at Clemson, led by Wayne Gallman, who has worked and worked and worked to become a terrific player. With another strong year, he will be right there with the program's all-time greats (if he's not already there). In fact, he has a real chance to be the best ever. I know that's hard for folks who saw Spiller to comprehend, but Gallman has been that good.
And he has plenty of help with Adam Choice, Tyshon Dye, C.J. Fuller and scary-good freshman Tavien Feaster.
Think that group is deep? What about the receivers? Last week, a story of mine mentioned all the talented receivers, and I somehow forgot Hunter Renfrow. But with Mike Williams, Artavis Scott, Deon Cain, Trevion Thompson, Ray-Ray McCloud and on and on, it's kind of understandable that someone got left out, right?
And don't forget Jordan Leggett at tight end and everything he has accomplished and still can this season. He's another player who can go down with the greats at his position.
But the biggest difference between the offense now and when Boyd, Spiller and the other recent offensive stars played is the group up front. When Tommy Bowden was the head coach, the program would land standout skill position players but never really seemed to focus on the line. Those skill position stars can't do much without the players in the trenches doing their job. Well, they can still do some great things (see: Spiller) but maybe won't win as many games as fans would like (see: Bowden's dismissal and a stronger focus on the line in recruiting by Dabo Swinney's staff).
The Clemson line now looks like a Clemson line of old. It's big, physical and mean, and while the offense had to do things with some smoke and mirrors and scheme in previous years because of a so-so line, that wasn't the case last year. It won't be the case this year, either.
That group up front has a chance to be special, and because of that, this offense can be an all-time great.
Daniel Shirley is the sports editor of The Telegraph in Macon, Ga., and co-host of The Midday Sports Zone on Middle Georgia's ESPN, 93.1 FM and 99.5 FM. Follow him on Twitter at @DM_Shirley and read his blog at macon.com/peachsports.

Tags: Clemson Football
,
Deshaun Watson
,
James Davis
,
Tajh Boyd
,
C.J. Spiller
,
DeAndre Hopkins
,
Martavis Bryant
,
Jerry Butler
,
Charlie Whitehurst
,
Sammy Watkins
,
Mike Williams
,
Tyshon Dye
,
Wayne Gallman
,
Jordan Leggett
,
C.J. Fuller
,
Trevion Thompson
,
Artavis Scott
,
Adam Choice
,
Hunter Renfrow
,
Ray-Ray McCloud
,
Deon Cain
,
Tavien Feaster
,
Tommy Bowden