| | |
| --- | --- |
| Christmas Eve in Orlando: Bowl practice observations | |
---
| | |
| --- | --- |
| Wednesday, December 24, 2014 12:52 PM | |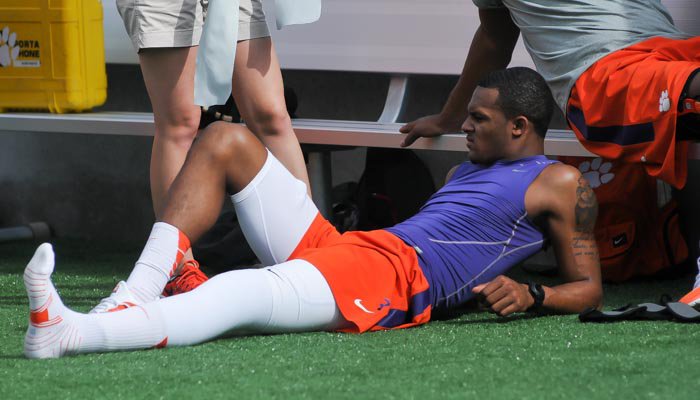 ORLANDO, FL – Russell Athletic Bowl practice got underway Wednesday afternoon in balmy 80-degree conditions and with Santa Clause is Coming to Town blaring from the Citrus Bowl Stadium speakers.
The Clemson football team reported to Orlando Tuesday evening and the Tigers were quick to get to work with an early Wednesday afternoon practice inside of Orlando Citrus Stadium, home of the Citrus and Russell Athletic Bowls.
TigerNet was on hand to observe the first few periods of practice as the Tigers prepare to face Oklahoma in the Russell Athletic Bowl in a 5:30 p.m. game on December 29th.
Notes and observations
Jay Jay McCullough

Jay Jay McCullough
RS So. Tight End
#89 6-3, 248
Fort Mill, SC
View Full Profile
The redshirt sophomore tight end has been suspended since the Georgia Tech game in November and did not travel with the team to Orlando.
Deshaun Watson

Deshaun Watson
Fr. Quarterback
#4 6-3, 204
Gainesville, GA
View Full Profile
As expected, freshman quarterback Deshaun Watson made the trip to Orlando and was as fully involved in the practice as possible. Watson spent the first part of the practice session stretching out his left leg - the one with the torn ACL - and then walked over with the quarterbacks and new quarterbacks coach Brandon Streeter. Watson flipped a football in his hands and leaned in to listen to everything Streeter had to say. He had a slight limp, but otherwise looked good.
Practice time is rehab time for tight ends
Tight ends Stanton Seckinger

Stanton Seckinger
RS Jr. Tight End
#81 6-4, 241
Isle of Palms, SC
View Full Profile (torn PCL against South Carolina) and D.J. Greenlee

D.J. Greenlee
RS Fr. Tight End
#87 6-1, 240
Clemson, SC
View Full Profile (torn ACL in practice) were both on the sideline as practice began doing leg lifts and various other exercises to strengthen their knees.
Junior tight end Jordan Leggett

Jordan Leggett
So. Tight End
#16 6-5, 251
Navarre, FL
View Full Profile was in shorts Wednesday as he was working with the athletic trainers to rehab a knee injury. He was jogging to try and loosen up his knee as practice got underway.
Because of the injuries at the position, senior Sam Cooper was the only healthy scholarship tight end practicing.
Quarterbacks
As for Streeter - we've heard that he has already had a positive influence on Cole Stoudt

Cole Stoudt
Sr. Quarterback
#18 6-4, 231
Dublin, OH
View Full Profile and it showed early in the session. Streeter sought out Stoudt during the flex session for a pep talk, and then spent 1-on-1 time with his quarterback going through drills. It's obvious that this is Stoudt's game, and Streeter is doing everything in his power to get the senior ready. Stoudt struggled during the season, but new offensive coordinator Tony Elliott

Tony Elliott
Assistant Coach / Running Backs
View Full Profile told us last week that sometimes a new voice can be a good thing. From all appearances, it looks like Stoudt and Streeter have a strong relationship.
Streeter had his group working out with medicine balls that are the size of beach balls for a couple of practice periods. Streeter uses the medicine balls to teach balance and help build strength. At one point, he had the quarterbacks throwing the medicine balls like they would a football.
Just from watching the quarterbacks for about 10 minutes, it appears that Stoudt's footwork has gotten better and he also appears to be throwing the ball with more zip.
Running backs working hard
Junior running back Zac Brooks

Zac Brooks
Jr. Running Back
#24 6-1, 199
Jonesboro, AR
View Full Profile is continuing his rehab in Orlando, and much like he was in Clemson he jogged around the stadium. He continues to smile and say everything is going good, and he looks like he is jogging without pain.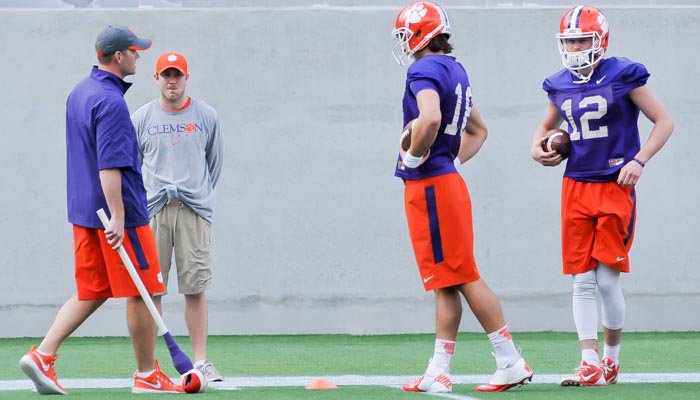 Running back
Adam Choice

Adam Choice
Fr. Running Back
#26 5-10, 211
Thomasville, GA
View Full Profile
- another one recovering from a torn ACL - was also working out with the strength and conditioning staff and the trainers. He's another one that looks like he is moving around without much of a limp.
Interested spectators
2015 quarterback commit and early enrollee Tucker Israel out of Orlando (FL) Lake Nona and his father were on hand to watch Clemson's practice. Israel spent much of the time talking to 2016 offensive line prospect Parker Boudreaux from Bishop Moore.
Boudreaux currently has 58 offers and is one of the most highly sought after offensive line prospects in the country. He visited Clemson in September and said that he had an "unbelievable visit."
GG Galloway
Former Clemson defensive tackle G.G. Galloway – who played for the Tigers in the 70's – spent the early part of practice talking with Woody McCorvey.