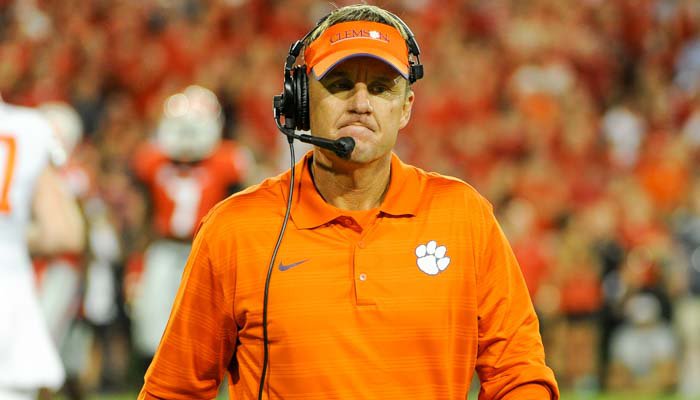 | | |
| --- | --- |
| Chad Morris on Clemson's title: "I wish I could have been standing on that sideline" | |
---
Chad Morris watched the 2016 National Championship Game, saw quarterback Deshaun Watson lead Clemson down the field and into history with a title-winning drive. For a moment, Morris wished he was on the sidelines to celebrate with his former players and the coaches he loves.
Morris was one of the key players in helping Dabo Swinney bring Clemson to its current status as one of the nation's top programs. Morris served as offensive coordinator and quarterbacks coach from 2011 to '14. The following season, Morris took over an SMU program that was in major need of an overhaul and led the Mustangs back to bowl contention in 2017. He spent 15 years as a Texas high school coach before being hired at Tulsa as an assistant.
It was his time at Clemson, however, that he thought about as he watched the Tigers' 35-31 win over Alabama.
"Of course, you know the relationship of Deshaun and me, and still to this day how close he and I are, but all of those kids we signed and had been a part of. It was very gratifying," Morris said. "It was very rewarding. I'm not going to lie, I wish I would've been standing on that sideline, too. I'm human. I was extremely excited for Dabo and the staff. Anytime you move on, and you've done a good enough job that you give other people opportunities to succeed or better themselves - we did a good enough job offensively that it allowed Tony and Jeff both an opportunity to advance their careers even more. That's rewarding for me as well. Those are things that I was so proud of and excited about. Still to this day, in a recruiting spiel to a parent, it's very rewarding to be able to talk about those times."
Morris took over at Arkansas in December after the Razorbacks fired Bret Bielema and when he arrived in Fayetteville, he saw something familiar.
"It's been obviously very flattering, but the similarities of what Arkansas looks like right now to what Clemson looked like six or seven years ago when I got there, it's very, very eery. It's very similar," Morris said. "Very eery. The facilities are on par, and they've got some of the best facilities in the country. We've got to upgrade some things inside the buildings. The fan base is extremely passionate and very similar to Clemson. The dynamics of the vision of the program from when Dabo took over to where we are right now, there's a lot of similarities. What's that going to parlay into and what's that going to look like? I don't know, but to me, I believe it's a sleeping giant. It just needs to be woken up."
Morris feels like he is a natural fit at Arkansas.
"I think, absolutely. You were probably thinking the same thing I was thinking," Morris said. "Just from the footprint of what it's going to take for Arkansas to be successful, especially when you go back and look at the history of Arkansas football and when you look at when they were successful, they had an incredible mixture of kids from the state of Arkansas. Much like South Carolina, there's not but a handful that truly can come out and play SEC football out of the state of Arkansas each year. Anywhere from five to seven, so you've got to make sure you get those kids, and in the past, they've had a great mixture of getting kids out of Texas and Tulsa and Memphis areas. Then, you can scatter that with my relationships in the Southeast."

Upgrade Your Account
Unlock premium boards and exclusive features (e.g. ad-free) by upgrading your account today.
Upgrade Now