| | |
| --- | --- |
| Beasley eyes Clemson sack record this weekend | |
---
| | |
| --- | --- |
| Thursday, October 2, 2014 9:01 PM | |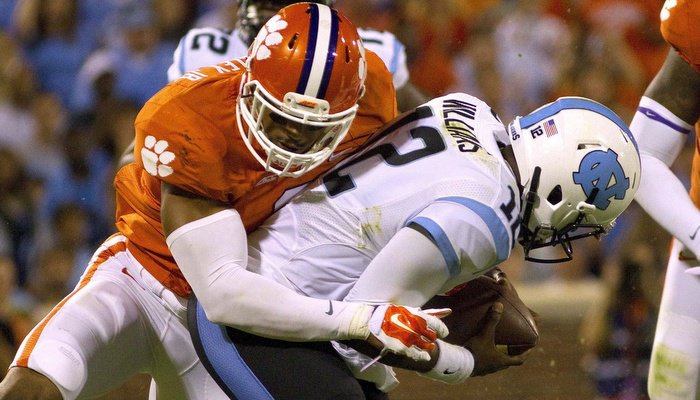 CLEMSON — The names of the great defensive linemen that have worn Clemson's signature burnt orange and tiger paw are easily recalled by Clemson fans. Names like William Perry, Michael Dean Perry, Gaines Adams

Gaines Adams
Defensive End
# 6-5, 260
Greenwood, SC
View Full Profile and Jeff Bryant have a special place in Clemson lore.
Defensive end Vic Beasley

Vic Beasley
RS Sr. Defensive End
#3 6-2, 236
Adairsville, GA
View Full Profile hopes to add his name to that list this weekend. Beasley has six sacks through four games for a second consecutive season, and the Adairsville, Georgia, native heads into the weekend one sack shy from tying the Clemson career record, shared by Michael Dean Perry and Adams (28).
Beasley sat in front of a screen this week that honored the Perry brothers and said that he was thrilled to be mentioned in the same breath as those Clemson greats and hopes he can leave the same kind of legacy.
"It's just an honor to be considered with guys like Michael Dean Perry and Gaines Adams," Beasley said. "It's a blessing to actually accomplish a goal many people dream of. After my redshirt sophomore year, I had eight sacks. I knew then that I had the ability to accomplish that goal. This year when I decided to come back I obviously wanted to accomplish that goal. Leave a legacy."
Beasley was asked if he considers himself the best defensive end in the country, and he was quick to answer.
"I do. I know I am going to get a lot of heck for that answer," he said with a smile. "But that's my answer. I feel like when I go out on the field I am the best. I feel like my production can speak for itself. My mindset when I'm out there is 'he can't stop me and he can't block me.' When I have that mindset coming off the ball that gives me the ability to beat the tackle."
Beasley has gotten his six sacks despite drawing extra attention from opposing offenses.
"I have been drawing a lot of double teams," he said. "It's been really tough for me to adapt to. But I think I've done a good job of adapting to it. I am not surprised by the double teams I have been receiving. It's definitely frustrating, but you just keep playing and go onto the next play. That's the way I look at it."
Once he leaves Clemson, Beasley will have his own special way of remembering each and every one of his sacks – he told the media he has a snapshot of every sack he has achieved on his wall.
"I just try and look at that and say, 'I've got to get some more.' I want to fill up my whole wall," he said. "I actually started that last year. It's not too difficult (to get the pics). Just go on Google. There are a lot of cameras, and that is beneficial."
However, there is one that stands out.
"My first one against Auburn," he said. "That really skyrocketed my faith and my thought process that I could be a dynamic pass rusher."
However, he now believes he is now more than just a pass rusher and he hopes it pays off in the NFL Draft next spring.
"I've progressed over the summer and the spring and gained a lot of moves and a lot of critiques in my game," Beasley said. "I've definitely got better as a pass rusher. I've developed in the run game over the last couple years. I've tried to develop my game as a run stopper and tried to be more-dimensional instead of one-dimensional."