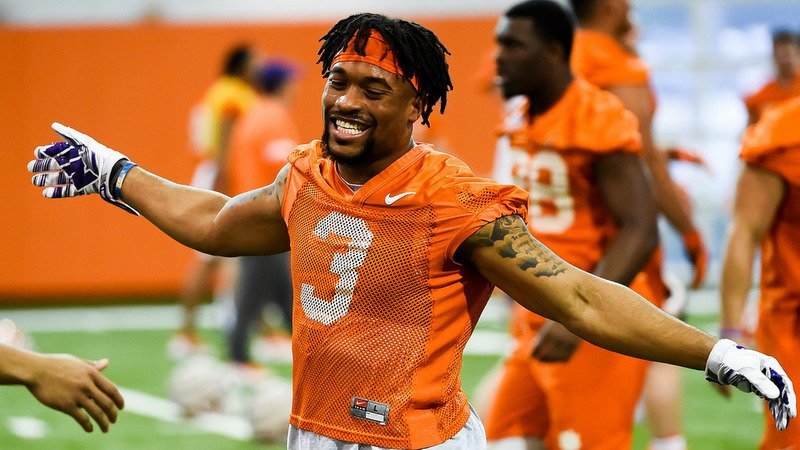 | | |
| --- | --- |
| Amari Rodgers says Kelly Bryant has the support of his teammates | |
---
| | | |
| --- | --- | --- |
| Wednesday, August 29, 2018, 12:46 PM | | |
CLEMSON- Kelly Bryant officially has the support of his teammates.
Following Monday's release of the 2018 depth chart, quarterback Kelly Bryant was the talk of the press conference held in Clemson's indoor practice facility and sophomore wide receiver Amari Rodgers took a minute to discuss the rally behind Bryant from his teammates.
"You know Kelly, he's a leader of the team. I wasn't surprised," Rodgers said. "He's been in that role before. I'm happy for him. I'm happy for this whole team. We've all been behind all of these quarterbacks as they've been going through this competition. We're confident in whoever steps out there to take care of business."
Bryant's leadership has grown tremendously according to the sophomore.
"He's done a great job with that. When I first got here it was his first year of being a starter, so he kind of had to warm up, but now that he has a year under his belt I feel like he is the guy that people look up to," Rodgers said. "I feel like he has that voice on the team that people look up to when he has something to say. He's a great leader and he's a great teammate. I love playing with him."
Rodgers' return to Death Valley as a sophomore comes after his 19 receptions in 14 games played as a freshman. Many believe Rodger's increased playing time came after fellow wide receiver Ray-Ray McCloud was out due to injury. Rodgers is excited about his potential playing time this season.
"You know, during all of the preparations phase I really just focused on myself, and doing the best that I can, and letting the coaches make the best decisions they can. I wasn't really stressing out about being a starter or not. I was just out there being a great teammate and doing the best that I could, and hopefully when the time came, no matter if it was last week or a couple hours before the game, I would be ready when my time came to step out on the field and give this team everything that I have," Rodgers said.
Coming in as a freshman requires patience in knowing your time will come, according to Rodgers, and he has his family to thank for instilling that mindset in him even before his time at Clemson.
"No, definitely, I was prepared," Rodgers said when asked if patience was a hard virtue to learn after arriving at Clemson. "My family did a good job of preparing me for that. Growing up I was always the guy, in high school, everyone says you're the guy. But in college, you're going onto a team of guys that have always been "the guy" too so you have to adjust to that. I feel like my family did a good job of preparing me for that and being able to learn from the older guys."
Rodgers, a Knoxville (TN) native, came to Clemson with fellow Tennessee native, Tee Higgins. Clemson fans could have Rodgers to thank - according to him he planted the Clemson seeds with Higgins all throughout recruitment.
"Definitely, when we went through recruitment I kind of had to get him on board. I was selling him pitches. I was saying we could be two Tennessee guys that go somewhere else and start something new," Amari told TigerNet. "So we came here and we've been grinding it out and we have always been telling each other that we want to do something great here for this program. Now that we have the opportunity we are going to take full advantage of it and hopefully, God will bless us with accomplishments."
From the basketball courts of their AAU teams in Tennessee to Death Valley, the two have come a long way since meeting in the fifth grade.
"I think we met my junior year, but I knew of him because when we were little I used to play him in AAU basketball, but we didn't actually meet until high school. When we were in 5th grade, he beat my team. I'm not really a hooper, I see myself as a football player so he can have that," Rodgers said.