| | |
| --- | --- |
| All In Cookout recap: Talent on hand breaks the sound barrier | |
---
| | | |
| --- | --- | --- |
| Saturday, July 27, 2019, 7:01 AM | | |
The All In Cookout is in the books for another year, and we can say for certain that it had a certain Flowe to it.
The Clemson coaching staff held its signature recruiting event of the summer Friday evening at the football operations center, with five prospects and almost all of the commits on hand for a relaxed evening of food, games, and family.
The good news? Car trouble didn't keep any of the prospects away. Five-star linebacker Justin Flowe made the trip from California with his family, as did 5-star defensive lineman Jordan Burch and 5-star tight end Arik Gilbert. Four-star receiver EJ Williams and 3-star receiver Ajou Ajou also made the trip.
Linebacker commit Kevin Swint said the Cookout was a rousing success – especially a game of dodgeball.
"We went against the skill guys - Fred Davis, Tyler Venables and all of those guys," Swint said. "Bryan Bresee, Myles Murphy, Jordan Burch and a few others were on my team. I think the funniest moment was when the o-line went against the skill guys. It was like some big old targets. They can move but it's kind of harder for them."
Swint said the no-pressure event was all about family, reinforcing the fact that he made the right decision.
"I think it's just like a regular family cookout. You greet and eat. You hang out and play the games. We had pizza, fries, chicken tenders; there was just a lot of food for everybody," Swint said. "I felt even happier once I came up here. It never gets old once I come up here.We did a whiffle ball home run derby. We had our teams and then each player would get a few swings and then there were the semifinals and the finals to see who won the home run derby. My team ended up winning the whole thing. Justin Flowe, Tyler Venables and Sergio Allen were tied for the best hitters."
Defensive end commit Myles Murphy posted a photo of the defensive players at the Cookout, and Swint said it would be amazing if they could all play together in college.
"I think that would break the sound barrier. Not too many places have done that in the fashion we're doing it with a whole bunch of 5-stars," Swint said. "Not only that, it's the place we're coming to play. It's not Florida or other schools like that. No shots at them, but there's just something different about Clemson. We've got the same mindset - winning a championship."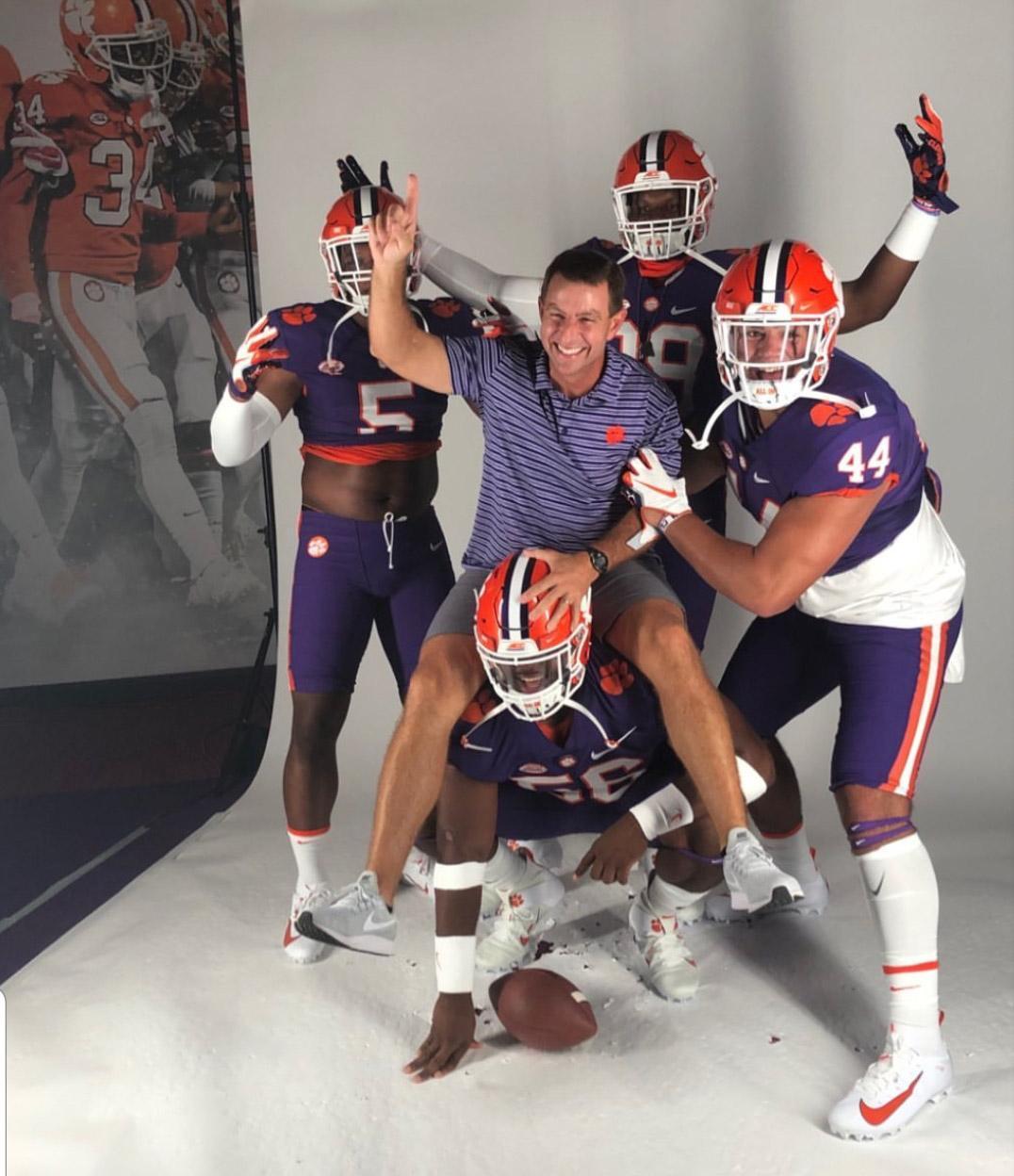 Of course, all eyes were on Flowe and Burch. From the reports we've heard, both prospects and their families enjoyed the outing and had a great time, but both remain tight-lipped about where they stand.
Swint enjoyed his time with both.
"I think Justin really enjoyed himself. Me and Sergio got to talk to him and got to know him more as a person," Swint said. "The media kind of hypes things up about him being a cocky player but it's totally the opposite. He's really laid back. He's really confident in himself but you have to confidence to play the game. Jordan really didn't talk that much but once we started to talk to him, he started opening up more to us."
And now you know where home is!?? https://t.co/SZyrpvsjQ8

— Bryan Bresee (@bryan_bresee) July 27, 2019
:triumph:?? pic.twitter.com/aMPtXqWphd

— M Y L E S M U R P H Y:100: (@BigMurphy_25) July 27, 2019