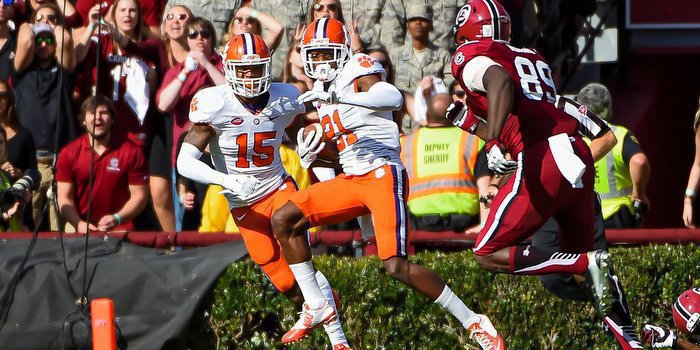 | | |
| --- | --- |
| Adrian Baker: Ready For a Return to Primetime | |
---
SCOTTSDALE, AZ – The toughest part about being sidelined with an injury is seeing your brothers and teammates battle on the field without you, but Adrian Baker was able to see a lot of positive in 2016.
The junior defensive back tore his ACL during spring practice, forcing him to miss the entire 2016 season, including Clemson's championship run. However, all was not lost for Baker.
Baker told TigerNet during Clemson's Fiesta Bowl media day that while he did miss playing, the injury allowed him to be home for the birth of his daughter – a moment he wouldn't want to miss for anything.
"It's been tough to watch. The toughest thing was having to watch every game and not being able to help my teammates, especially after last year with the way we lost to Alabama," Baker told TigerNet last month. "However, I had a daughter that was born, so if I weren't hurt, I wouldn't have been able to be there for that. I look at it like that sometimes, too."
The Hallandale (FL) native was next in line to start at cornerback before the injury, and he said knowing he missed out on the opportunity to stake his claim is what hurts the most when he looks back at the entire experience.
"I look forward to that. When I got hurt, the thing that hurt me most was that I felt like I was finally starting to turn as a player and I felt like I was going to have a good year," Baker said. "Next year, I feel like I'm going to have a good year."
After the injury and surgery, Baker was able to lean on teammates and former Tigers, many of whom had been through similar injuries.
"I talk to Deshaun (Watson) about it sometimes," he said. "I talk to Travis Blanks the most because he was a defensive back. They give me pointers and stuff like that to keep me motivated."
Nearly 10 months after his surgery, Baker said he feels like he's nearing 100-percent and is excited to get back on the field for spring practice.
"I feel like it's getting stronger every week, honestly. I feel like every week I'm able to do something different that I wasn't able to do the week before, like cutting and stuff like that," he said. "It's gotten a lot better. I think I'm ready to turn it loose. I'm cleared, but I think by the springtime when I finally get the brace off, I'll be ready to go and compete with some of my teammates and help the team the best way I can."
When Baker takes the field for his final season as Tiger, he'll be playing for more than just himself.
"It (seeing the birth of his daughter) was a great experience. That's a once in a lifetime experience. It's a moment that I will never forget," he said. "It's probably the best moment of my life. Before it happened, I told everybody that I was going to be nervous and that I wouldn't look, but in the moment I was just looking and when I saw her head, it was a feeling that I can't really explain. I would say it's my biggest motivation because I found out my long-time girlfriend was pregnant two days after my surgery, so throughout my rehab, I used that to push me. Seeing her born was crazy.
"It's just little things. Even though I'm not playing and am just on the scout team, I know that I have to do the rep harder or do this snap harder because I have someone depending on me and in the future she'll be looking up to me. I don't want to take any shortcuts in life."

Upgrade Your Account
Unlock premium boards and exclusive features (e.g. ad-free) by upgrading your account today.
Upgrade Now