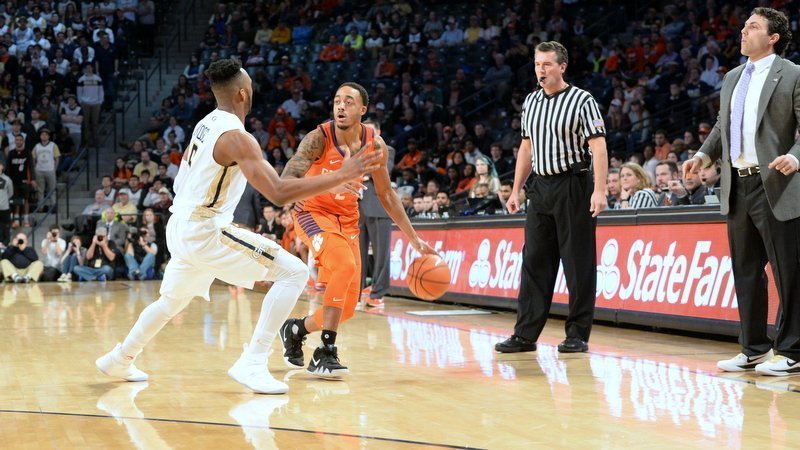 | | |
| --- | --- |
| Valentine's Day matchup: Three keys to beating Florida St. | |
---
| | | |
| --- | --- | --- |
| Wednesday, February 14, 2018, 12:01 PM | | |
Clemson (20-4 overall, 9-3 ACC) travels to Tallahassee to take on Florida State (17-8, 6-7) in a Valentine's Day matchup Wednesday evening at 7:05 at the Donald L. Tucker Center.
The Tigers enter the matchup ranked No. 11 in the country and on a four-game winning streak – the longest in the ACC – but if Clemson is to continue its winning ways they will have to break a three-game skid to the Seminoles.
The Seminoles defeated the Tigers at both sites of the home-and-home series last season and defeated the Tigers in the second of the two meetings between the teams two seasons ago on Jan. 20, 2016. Florida State's game against the Tigers is the first of two meetings between the two teams this season and the first of two meetings in the next 14 days.
Clemson is just 31-40 all-time against Florida State and 8-21 in Tallahassee. The last time Clemson entered a matchup ranked ahead of the Seminoles was in 2008-2009.
Senior guard Gabe DeVoe has been on a tear recently, and topped his career-best with seven made 3-pointers in a 25-point performance against Pittsburgh on February 8. DeVoe became just the second player in Clemson history to achieve four consecutive games with at least five made threes in each contest. He tied Michael Tait (1986-87).
Florida State plays Clemson looking to gain its fourth win of the season over a nationally ranked team. The Seminoles count victories over No. 5 Florida (83-66, Dec 4), No. 10 North Carolina (81-80, Jan. 3) and No. 24 Miami (104-93 in overtime, Jan. 27) on the resume this season.
GAMEDAY SETUP
No. 11/12 CLEMSON (20-4, 9-3 ACC) vs. FLORIDA STATE (17-8, 6-7 ACC)
Date: Wednesday, Feb. 14
Tipoff: 7:05 p.m. ET
Arena: Tucker Center (12,100)
Radio: CTN (Don Munson-pbp; Tim Bourret-color)
TV: RSN (Wes Durham-pbp; Mike Gminski-color)
THREE KEYS
*Handle the adversity – Winning on the road in the ACC is as difficult as it comes in college basketball. Clemson has won its last two on the road against Georgia Tech and Wake Forest – but dropped the game at Virginia in late January 61-36.
Brad Brownell will surely remind his team of their last trip to Florida State when the Seminoles blew out the Tigers 109-61. This Clemson team is a year older and playing together, but they'll need to handle the crowd and weather the storm.
*Perimeter shooting – Florida State made nine 3-point field goals in its game at Notre Dame on Saturday and enters Wednesday's game against Clemson ranked fourth in the ACC in 3-point field goals made per game. The Seminoles have made at least five shots from distance in each of their 25 games this season and have made in double figures in 3-point shots three times (and have made at least nine in three more games.
Clemson will need to continue playing stingy defense and guard the perimeter while making outside shots of their own throughout the game, something the Tigers are plenty capable of doing.
DeVoe made 5-8 three-pointers on the way to scoring 25 points in a Clemson win at Georgia Tech on Jan. 28. He then made 5-8 again on the way to scoring 17 points in Clemson's victory over North Carolina on January 30. On Saturday, Feb. 3, DeVoe made 5-7 three-pointers on the way to a 24-point performance in a win at Wake Forest. So he is 15 for his last 23 on three-point shots and has scored 66 points over the last three games.
*Size disadvantage – Florida State has two players who are 7-0 or taller. Junior Christ Koumadje is 7-4, while freshman Ike Obiagu is an even 7-0. Koumadje is averaging just over eight points, almost two blocks and five rebounds a game in almost 20 minutes of action.
Florida State enters Wednesday's game against Clemson ranked third in the ACC in rebounding with a 39.2 rebounds per game average and fourth in the ACC with a positive rebounding margin of +4.0 rebounds per game. The Seminoles have earned a positive rebounding margin in four of their last five games and have not lost the rebounding battle since Jan. 24 against Georgia Tech.
Brownell will lean on Aamir Simms and Malik Williams to give valuable minutes and use their length to help inside.