| | |
| --- | --- |
| Players only meeting fuels win over Syracuse | |
---
| | |
| --- | --- |
| Sunday, January 18, 2015 7:01 AM | |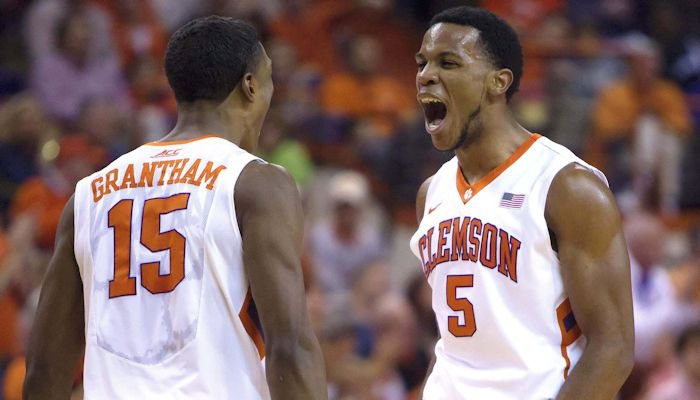 CLEMSON - Zig Ziglar once said, "it's not how far you fall, but how high you bounce that counts" – a saying that has never been so true for a Clemson basketball team that has experienced the highest of highs and lowest of lows.
One of those lows came last Tuesday night when the Tigers lost 65-42 at Virginia in a game that was never really that close in the second half, but instead of just taking the loss head coach Brad Brownell

Brad Brownell
Head Coach
View Full Profile took the time to teach his team – mainly his starters – a lesson that translated into a 66-53 victory over Syracuse at Littlejohn Coliseum Saturday evening.
Brownell told the media that he wasn't pleased with his starters' effort and focus, thus he put them on the bench so they could have time to think about how they were going to respond to the adversity.
"I made a smart decision in the second half at Virginia to put some guys on the bench and we got beat worse," Brownell said after Saturday's win. "We weren't going to win when it was 15 but we got beat by 25 or whatever it was, but a message was sent to my team. Sometimes you do that as a coach. In the South Carolina I put some guys on the bench when we were getting smashed for a little bit. I knew the game was out of reach so I let them sit there and feel what that feels like a little bit, to understand that we've got to do better. The guys who play 30 minutes per game, it's more of your responsibility. They have to own those types of things and sometimes they don't always understand that."
The starters and team leaders – Rod Hall

Rod Hall
Sr. Guard
#12 6-1, 205
Augusta, GA
View Full Profile , Landry Nnoko

Landry Nnoko
Jr. Center
#35 6-10, 255
Montverde, FL
View Full Profile , and Jaron Blossomgame

Jaron Blossomgame
RS So. Forward
#5 6-7, 215
Alpharetta, GA
View Full Profile – really took that time to reflect on where they are as individual players and as a team, realizing that something needed to change if they were to have a successful campaign.
A players only meeting was called so that each player could talk about the highs and lows and how to move on. Freshman Donte Grantham

Donte Grantham
Fr. Forward
#15 6-8, 205
Martinsburg, WV
View Full Profile said that the players needed to decide if they were going to give the maximum effort that it will take for the Tigers to win.
"Landry Nnoko and Rod Hall kind of led it," Grantham said. "Everybody stated their opinion - what we can do to get better, be better, and do better as a team. It was just effort, us putting in the extra time and wanting to win - going 110-percent for 40 minutes of the game, instead of 35 or 32."
Blossomgame said that he and his teammates needed to find a way to stick together in the face of adversity – something they did Saturday night when Syracuse opened the second half by going on a 14-6 run.
"We got a lot done in that meeting and we got some solutions on how to fix some things," Blossomgame said. "During adversity and we wouldn't play so well, we would kind of separate as a team. Today they made a run and we came together as a team. Guys were always being positive and everybody kept together and that really helps with the offense.
"Everybody was focused before the game. All of the players, we had a meeting after the last game and we just talked some things out. One of the things we talked about was being focused and being collectively together as a group. Before the game, everybody was really focused on getting the win and that's what we did."
Clemson responded by opening up the lead to 19 points with just under five minutes to play and Hall said that it was the focus and attention to detail that was the difference in the second half.
"In the second half, it was just toughness and details," Hall said. "We paid attention to the toughness and details that we had in our gameplan and we stuck to it. In the Virginia game, everybody wasn't into the details and we kind of got lost. I feel like in this game we stayed focused and played aggressive the whole game.
"I think most of it was. We talked about all of the things that we need to do to improve. It just worked for us. We played hard and that was one of the best things that we talked about - everybody just playing hard and sticking to the details and the plan."
Brownell said that while might not agree that the players only meeting was the sole reason for Clemson's victory, he is happy that his team is coming together and learning to bounce back when they fall.
"I'm sure in the players' minds, the players only meaning was the reason we won. I'm glad that the guys got focused," Brownell said. "It was just a bad half at Virginia and I was upset with a couple of players. There are a couple of starters that have gotten to play a lot of minutes that when they aren't making shots their defense gets away from them, so I'm sure that carried over. Our guys had to learn how to play through adversity better."