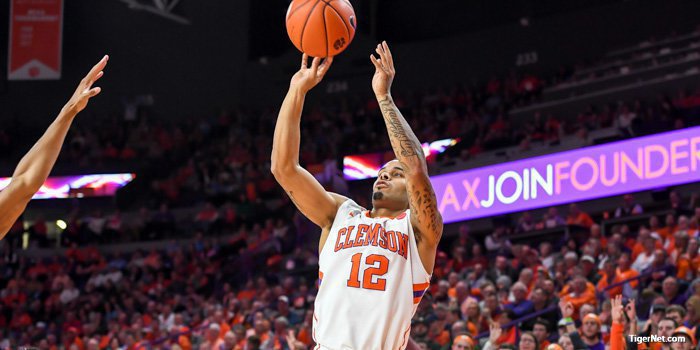 | | |
| --- | --- |
| Holmes scores 18 as Tigers sting Yellow Jackets | |
---
| | | |
| --- | --- | --- |
| Wednesday, February 1, 2017, 9:19 PM | | |
CLEMSON – Wednesday's game between Clemson and Georgia Tech was a game of runs, and the Tigers had more than the Yellow Jackets.
Clemson used a nine-point run in the first half and a 12-point run midway through the second half in defeating Georgia Tech 74-62 in Littlejohn Coliseum Wednesday night. Clemson improves to 13-8 overall and 3-6 in the ACC, while Tech falls to 13-9 and 5-5.
The victory broke a three-game winning streak by Tech, and it gave head coach Brad Brownell his 55th ACC win, moving him ahead of Oliver Purnell and into sole possession of second place in Clemson history. Clemson has won two in a row after a six-game losing streak.
"Good win for us. I thought we played really well for most of the game. We had some stretches where we really played well, especially defensively," Brownell said. "I know we had seven or eight straight stops early in the second half. I thought we did a great job on (Quinton) Stephens and (Josh) Okogie. That was key for us. Offensively, I thought we were a little anxious in the first half. Both teams seemed a little bit nervous. We both had some turnovers, but once we settled into the game, I thought we were pretty efficient offensively and obviously played well, even with Jaron (Blossomgame) dealing with foul trouble. So that was good to see, as well."
Avry Holmes led four Clemson players in double figures, scoring 18. Shelton Mitchell scored 15, Donte Grantham added 11 and Jaron Blossomgame scored 10. The Tigers were 21-32 (65.6%) from the free throw line.
Clemson took an early 11-8 lead, but Tech went on an 8-0 run and led 16-11 with just over nine minutes to play in the half. The Tigers responded with a 9-0 run of their own, a run capped by a tip-in from Sidy Djitte that put Clemson on top 20-16 barely three minutes later.
Tech came back to tie the score at 20-20, but Clemson ended the half on a 12-4 run. That included a 3-pointer from Holmes with 47 seconds to play in the half and a layup from Shelton Mitchell with two seconds remaining that gave Clemson a 32-24 advantage at intermission.
The Jackets scored the first points of the second half, but Clemson went on a 7-0 run that gave them the biggest lead of the night to that point at 39-26. The run was over a two-minute span, but Tech battled back to within nine just two minutes later. However, Grantham hit two free throws and Holmes hit a trey from the left win that put Clemson ahead 46-32 with 12:15 to play, forcing a Tech timeout.
Holmes hit another bucket coming out of the timeout, Marcquise Reed completed a 3-point play a minute later for a 51-32 lead, and Mitchell forced another Tech timeout with a layup in the lane that4-62 made 53-32, completing a 12-0 Clemson run over a span that lasted 4:23.
Tech didn't go away, however, and used three Clemson turnovers and three-minute scoring drought to go on a 7-0 run of their own, cutting into Clemson's lead and trailing 64-52 with just over four minutes to play. A Djitte free throw snapped the run and Clemson's scoring drought.
Tech continued to take advantage of Clemson mistakes, and finished the 13-1 run that brought them to within seven at 65-58 with just over two minutes to play. Blossomgame missed two free throws, but Tech failed to convert on the other end, and when Eli Thomas came down with the defensive board he was fouled.
Thomas hit one free throw, and Clemson led 66-58 with 90 seconds to play. Tech was then called for a travel, and elected to wait until nearly 20 seconds elapsed before fouling Mitchell. He hit both, and the Tigers were back up by ten with a minute to play. The Tigers were able to hit their final free throws and run out the clock.
"We've worked on our defense a lot. We went twice on Monday and twice on Wednesday and Thursday of last week," Brownell said. "I just think that this team needs to continue to take strides in that area. We certainly can be better, and we are working toward it."
Clemson goes back on the road Sunday, playing at Florida St. in a game set for 12:30 p.m. Clemson returns home next Tuesday, hosting Syracuse at 8 p.m.
Postgame Notes
* Clemson's 74-62 win over Georgia Tech was the program's 12th straight at home over the Yellow Jackets; the streak is Clemson's longest over another ACC foe in history at home.
* The victory was Clemson's first ACC win in the newly renovated Littlejohn Coliseum. Prior to Wednesday, the Tigers were 0-3 with the losses by a combined eight points.
* Wednesday's win was the 55th ACC victory for head coach Brad Brownell, moving him ahead of Oliver Purnell as the second winningest coach in terms of total ACC wins in program history. Cliff Ellis holds the mark with 59.
* The Tigers won the rebound margin 36-34 on Wednesday; it broke Tech's three-game winning streak in the series in which the Yellow Jackets had out-rebounded Clemson by a combined 38 caroms.
* Clemson's defense held Tech to just 1-11 three-point shooting. The 9.1 percent mark was the lowest by a Tiger opponent all season.
* Jaron Blossomgame started his 113th game Wednesday, moving into sole possession of fourth in Clemson history behind only Trevor Booker, Cliff Hammonds and Greg Buckner.
* Blossomgame was named one of 10 finalists Wednesday for the Julius Erving Award, presented by the Naismith Memorial Hall of Fame to the nation's top small forward.
* Blossomgame reached double figures in the scoring column for the 20th time in 21 games this season, and for the 75th time in his career.
* Blossomgame needs just four points to pass Vincent Hamilton for 10th place in Clemson history in career points, now with 1,527 over his tenure.
* Avry Holmes reached double figures for the 13th time this season, with 18 points. He is 7-11 from three-point range in two games against the Yellow Jackets this season.
* Holmes set a new mark of three-pointers made without a miss against an ACC team under Brownell, going 4-4 on Wednesday. He is shooting 24-47 from long distance in league play this season.
* Elijah Thomas scored double figures for the third time as a Tiger, his first against an ACC team. He posted 12 points and added a career-best 10 rebounds, collecting his first double-double on the college level.
* Shelton Mitchell reached double figures on the scoreboard for a second straight game, the first time that has occurred since Dec. 13 and 18 against SC State and Alabama.