| | |
| --- | --- |
| Controversial calls lift Duke over Clemson in ACC Tourney | |
---
| | |
| --- | --- |
| Friday, March 14, 2014 11:36 PM | |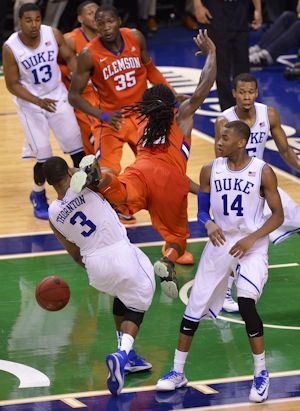 Rod Hall

Rod Hall
Jr. Guard
#4 6-1, 210
Augusta, GA
View Full Profile was knocked to the Greensboro Coliseum floor late Friday night.

Trailing 63-62 with 3.8 seconds on the game clock, Clemson head coach Brad Brownell

Brad Brownell
Head Coach
View Full Profile drew up a play designed to Hall the ball in the hopes that Hall could drive the lane or kick it out to an open teammate, but Hall lost the ball as he was knocked to the floor as the final second ticked off the clock.
The final buzzer sounded, the officials' whistle suddenly silent after making a similar call at the other end of the court, and the Tigers were left to ponder the no-call and their post-season tournament destination as Duke held on for a 63-62 victory in the quarterfinals of the ACC Tournament.
Clemson (20-12) will wait for Sunday's post-season selections to find out where they will be headed, most likely in the NIT.
Hall told the media after the game that he had no doubts he was fouled on the play.
"It was the same play and I thought they were going to call the foul, but they didn't," Hall said. "There was contact going up and when I was driving to the basket, but they didn't call it. He knocked me down. I was between two defenders and they hit me on both sides. They hit my legs and pushed my arm up. We weren't getting calls during the entire game, so I didn't know how it was going to go. I was just trying to make a play."
The series before that final possession, Duke's Rodney Hall fell to the floor, and Clemson's K.J. McDaniels

K.J. McDaniels
Jr. Forward
#32 6-6, 200
Birmingham, AL
View Full Profile was called for the foul. Trailing by one, Hood hit both free throws for the winning points.
"We did exactly what we want and what we practice," Brownell said. "As it was unfolding, I thought we were going to win the game. We run K.J. as kind of an initial cutter and get him in a spot to where he's open and hit him to make a play. And, then we have Rod – our fastest player with a full head of steam taking the ball to the rim to either score or pass it to somebody. It was exactly what we wanted. I haven't seen the replay. I don't know how much contact there was. "
Individually, four players reached double figures in the scoring column led by Hall's 13. McDaniels added 12 in a valiant effort despite obvious shoulder pain, while Jordan Roper

Jordan Roper
So. Guard
#20 5-11, 165
Columbia, SC
View Full Profile posted 11 and Landry Nnoko

Landry Nnoko
So. Center
#35 6-10, 245
Montverde, FL
View Full Profile chipped in 10. Nnoko added eight rebounds and three blocks.
The Blue Devils threatened to run Clemson out of the building early in the first half, taking advantage of a shaky Clemson offense to open a 13-6 lead after a 3-pointer by Rasheed Sulaimon at the 13:24 mark. The Tigers responded with an easy dunk by Landry Nnoko to end Duke's streak, and then Roper scored seven points on two possessions – he hit a 3-pointer and was fouled on another made 3-pointer and hit the foul shot – to pull Clemson to within one at 15-14.
Two free throws by Roper four minutes later gave Clemson its first lead at 19-17, and the teams were tied at 25-25 with just over a minute remaining. However, two careless turnovers turned into four easy Duke points and the Blue Devils led 29-25 at the break.
Duke took advantage of a series of plays early in the second to jump out to a double-digit lead. Trailing 35-27, Hall drove into the lane and appeared to hit a tough shot, but was called for a charge and the basket was waved off, much to the ire of Brownell. The Tigers were then called for a touch foul on the other end of the court, and Duke hit two free throws to go up 37-27, and the Devils then went up by 11 at 40-29 at the first media timeout of the second half.
Duke's lead eventually climbed to 13 points, but McDaniels hit a 3-pointer and Nnoko had two plays inside that brought the Tigers to within six at 50-44 at the 8:56 mark. Austin Ajukwa

Austin Ajukwa
Fr. Guard
#1 6-5, 190
Columbia, SC
View Full Profile then missed an open 3-point attempt that would have cut into the lead even more, but he one free throw on the next possession that made it 50-45.
Duke managed to jump back out to a nine point lead at 56-47, but consecutive 3-pointers by Harrison and Hall made it 56-53 at the 3:50 mark, forcing Duke to call a timeout. The teams traded baskets on two consecutive possessions, and following Nnoko's layup at the 2:16 mark, Brownell called his own timeout with Duke leading 60-57.
The Tigers forced the Blue Devils into a long shot that was off the mark, and Harrison took the rebound and went the length of the court for an easy two points that made it 60-59 with 1:43 left. However, the Blue Devils forced a Clemson foul on the other end, but only hit one foul shot for a 61-59 lead.
McDaniels was fouled on Clemson's ensuing possession, but hit just one foul shot that made it 61-60 with 48 seconds remaining, and Duke then missed a shot on the other end. Hall drove it the length of the court and made a tough shot in the lane that made it 62-61 Tigers with nine seconds left.
However, the Devils got the ball in quickly and McDaniels fouled Hood on the other end, and Hood hit both free throws with 3.8 seconds left on the clock and Duke had a 63-62 lead, setting up the final play.
The play that we drew up was one that we work on all the time in practice. Coach got the ball in my hands and I just tried to make a play. The ref didn't call a foul. I did get hit, but I guess it was just too late in the game and he didn't want to go through it and they didn't make the call.
If you can't see the PDF below, click here to open it.