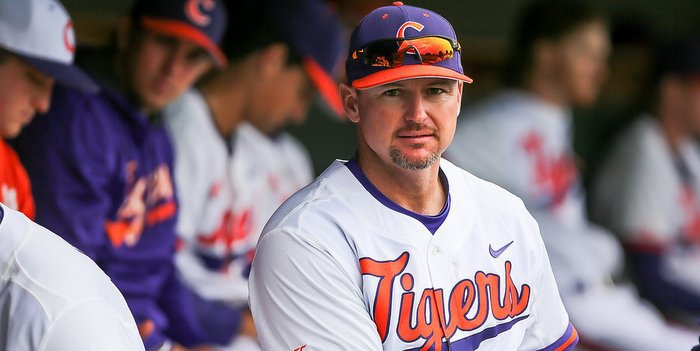 | | |
| --- | --- |
| Monte Lee: "We are fighting for our lives at Notre Dame" | |
---
| | | |
| --- | --- | --- |
| Thursday, May 19, 2016, 1:12 PM | | |
The postseason begins tonight.
The ACC Baseball Tournament doesn't begin until next Tuesday, and the NCAA Regionals will start nine days after that, but Clemson's postseason begins with a critical three-game series at Notre Dame that begins tonight.
Clemson (35-18, 13-14 ACC) takes on Notre Dame (27-24, 11-14) for a three-game set Thursday through Saturday at Frank Eck Stadium in South Bend. Clemson currently sits sixth in the seeding for the ACC Tournament, the last spot that avoids Tuesday's play-in games.
Clemson is currently in sixth place in the seeding for the ACC Tournament, which guarantees three games in ACC tournament pool play and avoids next Tuesday's play-in games between seeds seven thru ten. Wake Forest has the same league record as the Tigers, who hold the tiebreaker with the Demon Deacons after taking two of three earlier this season. Georgia Tech and Duke each have 12 wins and hold tiebreakers over the Tigers., while North Carolina and Notre Dame have 11 wins each.
Head coach Monte Lee knows the importance of the three-game set and says he will do whatever it takes to win each game.
"We've just got to try to win every single game," Lee said. "We can't look ahead to the next game, so the decisions that we make have to be based on trying to win that game. That's going to be tough, but if that means we have to extend a pitcher to win that game, we will, even if it means we've got to burn him.
"We're going to do everything we can to win game one. Then we'll worry about game two when we get there. We can't control what happens around us. We can't control any of that. The only thing we can worry about is what we do. We are fighting for our lives at Notre Dame, and so are they, and we have to be prepared for that. We know we are going to get their best effort."
The Irish have lost their last three ACC series and have lost eight of the last ten games, but the Tigers are just 10-11 on the road this season and will likely need to take two of three against the Irish to avoid playing next Tuesday.
"Overall, I feel really good going into this Notre Dame series," Lee said. "Just based on the fact that we've thrown the ball really well the last several games, defensively we seem to be getting better and offensively we've shown we have good offensive approaches. We just have to put it all together against a really good club that will be ready to go. They are fighting for their lives, too, and it will be a tough task, but I think we'll be ready for this series."
Lee then said that while Tigers are not a lock to make the NCAA Tournament, they have a chance to host a regional with a strong end-of-season showing that begins with the Irish.
"We all know the most important part of the year is coming in front of us now. We need to finish strong on the road to put ourselves in a good position going into the ACC Tournament and make the best run we can in the postseason" Lee said. "There are no guarantees we are in the postseason right now. I know if you look at the RPI we are sitting in really good shape, but I want us to make sure we put our stamp on that resume and when the NCAA Selection Committee is looking at it, it's a no-brainer for Clemson. I know hosting is not out of the realm of possibility."
SERIES SETUP
• Who - Clemson (35-18, 13-14 ACC) vs. Notre Dame (27-24, 11-14 ACC)
• Rankings - CU - No. 23 BA, No. 18 USA; UND - NR
• When - Thursday (6:05 p.m.), Friday (6:05 p.m.), Saturday (1:05 p.m.)
• Where - Notre Dame, Ind. (Frank Eck Stadium)
• Watch - WatchND (Thursday, Friday), ESPN3 (Saturday)
• TV Announcers - Sean Stires, Nik Valdisarri
• Listen - TigerCast, Clemson Tiger Sports Network
• Live Stats - ClemsonTigers.com
• Social Media - Twitter/Instagram (@ClemsonBaseball)
SERIES HISTORY
• Overall Record - Notre Dame leads 5-2 (1994-15)
• Record at Notre Dame - Notre Dame leads 2-1 (2014)
STARTING PITCHERS
• Thursday - LHP Charlie Barnes (CU) vs. RHP Brandon Bielak (UND)
• Friday - TBA (CU) vs. LHP Michael Hearne (UND)
• Saturday - TBA (CU) vs. TBA (UND)
CLEMSON OVERVIEW
• Clemson edged Charleston Southern 3-2 on Tuesday night after beating Georgia Southern twice in three games on the road last weekend.
• The Tigers are averaging 6.9 runs per game and hitting .275 with a .386 on-base percentage and 50 steals.
• The pitching staff has a 4.41 ERA, .265 opponents' batting average and 2.13 strikeout-to-walk ratio and Clemson is fielding .961.
NOTRE DAME OVERVIEW
• Notre Dame is led by sixth-year head coach Mik Aoki.
• The Fighting Irish won one of three at North Carolina last weekend. They are hitting .263 and have a 4.22 ERA and .978 fielding percentage.
• Cavan Biggio is hitting .315 with four homers, 28 RBIs, and 14 steals, while Zak Kutsulis is batting .313 with 11 steals.
QUICK HITS
• If Clemson plays all three games at Notre Dame, it will mark the 15th straight year the Tigers play a full 56-game, regular-season schedule.
• Clemson has the third-best overall winning percentage (66.0) in the ACC, trailing only Louisville and Miami (Fla.).
• Clemson's 22-4 record in non-conference games was its best mark since 2011, when it also had a 22-4 record in non-conference games.
WILLIAMS ADDING POWER
• Sophomore infielder and catcher Chris Williams has seen action at first base, third base and catcher, and has added a power dimension.
• He is batting .238 with five homers, four doubles, one triple, 27 RBIs, 23 runs and two steals in 46 games (41 starts).
• He has started 36 games at first base and five games at third base.
• He hit two three-run homers in the Georgia Southern series from May 13-15 and has hit three home runs in the last eight games.