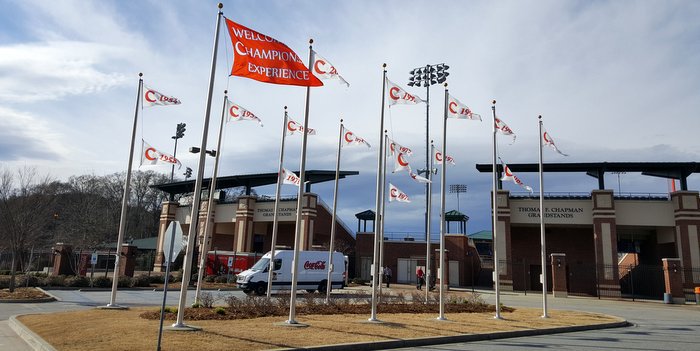 | | |
| --- | --- |
| Lee sets rotation and bullpen duties ahead of opener | |
---
| | | |
| --- | --- | --- |
| Tuesday, February 16, 2016, 4:38 PM | | |
CLEMSON – The pitching rotation is set. The lineup is set and will depend on matchups. All that's left is to play ball.
Monte Lee and the Clemson baseball program will open the Lee era and the 2016 season Friday, hosting Maine in the first game of a three-game series at Doug Kingsmore Stadium. Friday's game starts at 4 p.m., Saturday's first pitch will be at 2 p.m. and the finale on Sunday will start at 1 p.m.
Lee told the media prior to Tuesday's practice that lefty Charlie Barnes will get the nod on Friday, right-handed veteran Clate Schmidt will start Saturday and freshman Jake Higginbotham will pitch the finale.
"That's the way it's going to go. We're going to go with Barnes in game one. I think Barnes is a tremendous competitor," Lee said. "Nobody likes facing a left-hander, typically, and Barnes is one of those guys that has a lot of pitching ability. We know he's going to go out there and pound strikes and compete as hard as he can. He's one of those guys that gives us a great chance to get a quality start in game one, so we're going to go with Charlie in game one. We're going to go with Clate in game two. We could've gone either way - Clate in game one and Charlie in game two and I don't think it would've been that big of a difference.
"We wanted to try and split the lineup a little bit and go left and then righty and then we're going to go with Jake Higginbotham on Sunday. He's a very talented freshman. We feel like for him to be where we want him to be we have to throw him in the fire and start him. I think it really sets up our bullpen very well. It gives us multiple options - left handed and right handed out of the pen. I think that could be a strength of our's early as these guys continue to develop and get more comfortable pitching out of the pen. These three guys starting really set up our bullpen nicely."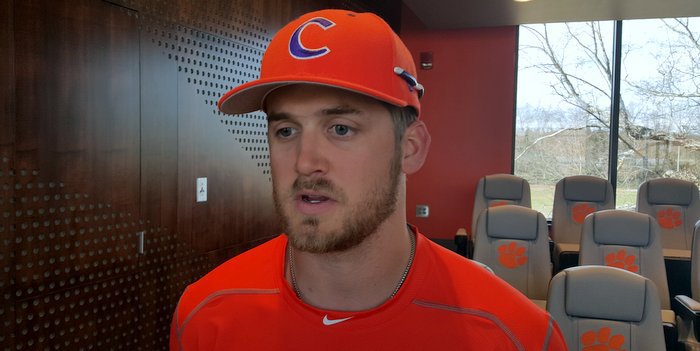 Lee said that people shouldn't try and read too much into the rotation this early in the season.
"We debated a little bit about which way we wanted to go. I think all of us felt pretty good either way," he said. "I didn't think there was necessarily one reason to go with Clate over Charlie or vice versa. I think when you set up for the weekend, if you're facing a lefty, then a righty and then a lefty as opposed to a righty, lefty, lefty. I think it can do some things to the lineup a little bit. It gives them a little bit of a different look from one game to the next and then back to the lefty. We could've gone either way. I thought they were 1A and 1B so to speak, and we just decided to go with Barnes in game one just to potentially flip the lineup and give an opponent different looks each day."
The closer will be junior lefty Alex Bostic, who posted a 0-2 record and a 5.25 ERA in 15 relief appearances last season.
"We're going to go with Bostic. He will be our closer," Lee said. "We'll go to him in the ninth inning. You want power stuff at the end of the game and Bostic gives you a guy who has been up to 93 or 94 mph. He's left handed. He's got a plus breaking ball. He's an experienced guy, so we feel very good about going with Bostic at the end."
One of the first arms out of the bullpen will be redshirt freshman Alex Eubanks, who played his high school ball at Byrnes.
"I would say the first guy - and we debated starting him on Sunday because he's so been so good for us - is Alex Eubanks. He's a guy who's a right-handed version of Barnes," Lee said. "He just pounds the strike zone with three pitches. He's a great competitor. He doesn't have an overwhelming fastball, but a really good breaking ball. He throws two breaking balls so he can get swings and misses. He has sink on the fastball and makes you put it on the ground. Euby is a guy that we're going to throw a lot out of the pen; that's why we wanted to keep him in the pen so we can use him twice in a weekend as a opposed to just starting him on a Sunday. (Alex) Schnell has thrown extremely well. He was in the mix of starting, but he could be a guy we use in long relief or pitch in the middle of the week.
"Another guy who has thrown very, very well is Garrett Lovorn. He has flashed some low 90s with three pitches. I think Garrett is going to throw a lot of innings for us. Riley Gilliam - we look at him as our eighth-inning guy and Bostic as our ninth inning guy. Gilliam has the best breaking ball on the staff. He can really spin a breaking ball. He's a little guy. Think Daniel Gossett - he's a really twitched-up athlete with an explosive fastball and really, really wipeout breaking ball. Pat Krall is a very, very valuable piece to this bullpen. I think Krall and Eubanks will be the first two out of the bullpen depending on the lineup and on who they're following to give the lineup a different look."
*Part two of the interview with Lee will focus on defense and the lineups.

Tags: Clemson Baseball
,
Daniel Gossett
,
Clate Schmidt
,
Garrett Lovorn
,
Alex Bostic
,
Charlie Barnes
,
Alex Eubanks
,
,
Pat Krall
,
Jake Higginbotham
,
Monte Lee