| | |
| --- | --- |
| Swinney says Tigers only have to look at 'Noles to know what could happen | |
---
| | |
| --- | --- |
| Tuesday, May 27, 2014 9:41 AM | |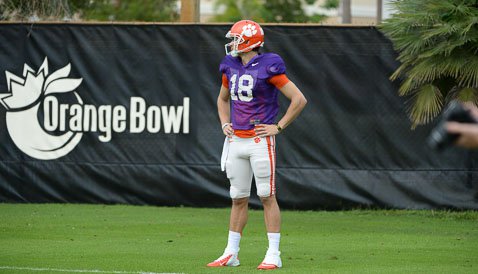 In 55 days or so, the Atlantic Coast Conference media will converge on Greensboro, N.C. for the annual ACC Football Kickoff, and most of the attention will deservedly go to the defending national champion Florida St. Seminoles.
In truth – they deserve the attention. They rolled undefeated through the 2013 campaign, including a 51-14 steamrolling of Clemson in Death Valley last October. They have the Heisman Trophy winning quarterback in Jameis Winston, and several strong recruiting classes have the Seminoles poised to make another title run.
On the flip side, the Tigers lost two offensive line starters, All-American wide receiver Sammy Watkins

Sammy Watkins
Wide Receiver (2011 - 2013)
#2 6-1, 205
Fort Myers, FL
View Full Profile and playmaker Martavis Bryant

Martavis Bryant
Wide Receiver (2011 - 2013)
#1 6-5, 200
Calhoun Falls, SC
View Full Profile , starting running back Roderick McDowell

Roderick McDowell
Running Back (2009 - 2013)
#25 5-9, 195
Sumter, SC
View Full Profile and a three-year starter in quarterback Tajh Boyd

Tajh Boyd
Quarterback (2009 - 2013)
#10 6-1, 225
Hampton, VA
View Full Profile .
However, Clemson head coach Dabo Swinney

Dabo Swinney
Head Coach
View Full Profile told 1010 XL in Jacksonville late last week that all he has to do is look at last year's Florida St. team to realize the Tigers have an opportunity to make the same kind of run.
"You never know," Swinney said. "If you look at Florida State, they lost E.J. Manuel, a first-round draft pick and excellent player, and here comes this freshman that wins the Heisman and the national championship. You just never know. But I like our team. I love the personnel we have. I'm really excited to see Cole Stoudt

Cole Stoudt
Sr. Quarterback
#18 6-4, 205
Dublin, OH
View Full Profile and Deshaun Watson

Deshaun Watson
Fr. Quarterback
#4 6-3, 190
Gainesville, GA
View Full Profile and see how this thing plays out throughout the year. Cole Stoudt played three years for us and has performed well as a backup in every situation. He has to go and do it as a starter."
Swinney said that with talented players like Boyd, Watkins and Bryant the Tigers were more of a passing team in an effort to take advantage of those player's talents. He thinks this year's team will be more balanced.
"I think we'll be a more balanced team. Everybody knew the ball was going to go to Sammy, but I think we're going to be a little more diverse, with the use of our tight ends and especially our running backs," he said. "I'm very excited about the personnel that we have at running back. I think that can really be a big factor. We've had a 1,000-yard rusher three years in a row, but, this year, I think we've got the potential to be pretty special in the backfield. Every year, it's different, but we'll be about seeing how your personnel shakes out, doing what's best for your team and whatever gives you the best chance to win on game day."
Swinney then said that the Seminoles have "set the standard" for the rest of the conference.
"They went out and earned it on the field last year," Swinney said. "I was really happy for Florida State, proud of them for getting it done. We take pride in our conference as well. It's great to have a national champion in our conference and to have two BCS winners. I think that's only happened maybe one other time.
"It was a good year for the ACC, and certainly Florida State has set the standard for all of us. Jameis Winston winning the Heisman as a freshman, that's obviously a guy we have to deal with when we go down to Tallahassee. Hopefully Vic Beasley

Vic Beasley
RS Sr. Defensive End
#3 6-3, 225
Adairsville, GA
View Full Profile can get after him and keep his production to a minimum. We certainly didn't play well against them last year. We're going to have to play a whole lot better."
The Tigers are coming off an 11-2 campaign –the first time in school history the program has had back-to-back 11-win seasons – and Swinney said it is just all part of the process of building a consistent winner.
"That was my goal when I took this job, was just to be a consistent winner," he said. "In order for that to happen, we had to have the right things in place in our program. And from a program standpoint we have to win those big out of conference games – we've beaten LSU and Georgia and Ohio St. Great national programs. It certainly has helped us. We think we have positioned ourselves as one of those programs people think about when they think of Top 10 programs. But last year's touchdowns won't win games for us this year. We have to regroup and refocus and pay the price again."