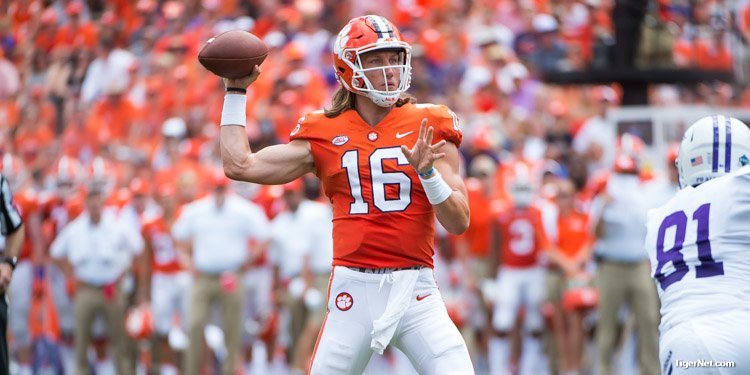 | | |
| --- | --- |
| Advanced outlook: Tigers offense with Lawrence, Clemson-Syracuse projections | |
---
| | | |
| --- | --- | --- |
| Thursday, September 27, 2018, 2:22 PM | | |
Clemson looks to build on its improvements as a big-play offense this Saturday against a team that's been prone to giving up that kind of action.
The downfield passing game, with solid efforts from both new starter Trevor Lawrence and departed senior Kelly Bryant, has taken a giant leap forward from a final ranking of 124th in passing explosiveness last season to 12th in efficiency there this season (SBN). Clemson ranks second nationally in completions of 40 (8) and 50 yards or more (5), with Lawrence holding the edge with four connections of over 40 yards (three for touchdowns).
The Orange defense holds the distinction of somehow being No. 1 in defensive success rate* (28.2) yet 128th in opponent explosiveness allowed, having surrendered six plays of 50 yards (122nd) and 10 of 30 yards or more (94th). The highest-ranked offense Syracuse has faced was in the opener at Western Michigan (38th in efficiency per ESPN), which posted 42 points in a loss.
Once again, the projections are heavily in the Tigers' favor - taking Clemson to cover another large spread. As of Thursday afternoon, Dabo Swinney's group is a 25.5-point favorite, which is their largest spread versus a Power 5 team since hosting Boston College last season (32.5-point opening line; won 34-7).
Advanced metrics profile
Clemson
ESPN efficiency rank: Offense – 20. Defense – 3. Special teams – 43.
Football Outsiders efficiency rank (S&P+): Offense – 9. Defense – 9. Special teams – 52.
Success rate (Per SBN): Offense – 21 (49.8). Defense – 6 (31.3).
Syracuse
ESPN efficiency rank: Offense – 50. Defense – 30. Special teams – 3.
Football Outsiders efficiency rank (S&P+): Offense – 49. Defense – 61. Special teams – 2.
Success rate (Per SBN): Offense – 47 (45.1). Defense – 1 (28.2).
--
With the two Football Outsiders metrics, FEI is picking a 42-8 Clemson win (99 percent projection), while the S&P+ takes the Tigers 42-17 (93 percent projection).
TeamRankings sees a score similar to last week with a 47-20 Clemson victory (91.5 percent projection).
With a new QB dynamic, the spread for the game has only increased in Clemson's favor, which gives us an interesting point to stop and assess where the offense is going into the remainder of the schedule. Here are some interesting figures to track going forward:
- Clemson drives with Lawrence as quarterback have ended in a score or a scoring opportunity (at least a missed field goal) 69.6 percent of the time, scoring a touchdown on 56.5 percent of all drives. Bryant drives finished with a 33.3 TD percentage this season.
- Half of Lawrence's completions of 15-plus yards have been for touchdowns (5), averaging 21.1 yards per pass on those attempts (ESPN).
- Lawrence has yet to take a sack with 60 pass attempts on record plus more calls that turned into scrambles (SBN).
- Clemson ranks second nationally in explosiveness in passing-down** situations but has some room for improvement overall there, ranking 57th in efficiency (SBN).
- Clemson ranks 81st in success rate on plays termed as blitz downs (27.3), but following the theme of the season thus far, the Tigers are 17th in big-play rate on blitz downs (15.2) (SBN).
- On third down, Clemson is 11th-best in third-and-short efficiency (17.4) but 95th in third-and-long situations (54.4) (SBN).
- Around the red zone, Clemson is 30th in points per scoring opportunity (5.38), 20th in success rate from the opponent 21-30 yard line (55.6), 53rd from the 11-20 (44) and 26th inside the 10 (62.5) - rated 62nd in goal line success rate however (66.7) (SBN).
- Clemson ranks 21st nationally in adjusted pace, which is up currently from a 36th-best finish in 2017 (SBN).
- FBS defenses the Tigers have faced are currently rated 71st in efficiency on average. By the numbers, Syracuse is rated the best yet on the schedule (30th) and Duke (13) is the highest-rated left on the regular season schedule (ESPN).
- A product of the defensive effort as well, Clemson ranked in the top-5 nationally in success-rate margin back-to-back weeks versus Georgia Southern (36) and Georgia Tech (28.5).
While the offense has shined and Clemson's defense has lived up to the hype in performances, the year-to-year improvement on kickoffs also stands out a third into the regular season.
Largely thanks to freshman BT Potter, Clemson leads the nation in kickoff success rate (100), with 21 touchbacks in 27 kickoffs and four returns going just 14 yards per. On its returns, Clemson is up to 13th in efficiency (75 percent success rate) after ranking 92nd in the stat last season (38.5).
Metrics outlook: Clemson-Syracuse
FEI: Clemson 42-8
SBN: Clemson 42-17
TeamRankings: Clemson 47-20
numberFire: Clemson 48-19
(S&P+ is a SB Nation/Football Outsiders metric that combines ratings for the five factors of efficiency, explosiveness, field position, finishing drives and turnovers.
* Success rate is determined by gaining 50 percent of the necessary yardage on first down, 70 percent on second down and 100 percent on third and fourth down.
** Passing downs are defined as second down with eight or more yards to go or third or fourth down with five or more yards to go. All other situations are "standard" downs.)
Drive by drive breakdown of Kelly Bryant vs. Trevor Lawrence. Kelly's been good. Trevor's been… real good. pic.twitter.com/6O6HDN3vRC

— A David Hale joint (@DavidHaleESPN) September 24, 2018