| | |
| --- | --- |
| Tigers not overlooking Syracuse despite the record; updates on Watson, Dye | |
---
| | | |
| --- | --- | --- |
| Tuesday, October 21, 2014, 1:03 PM | | |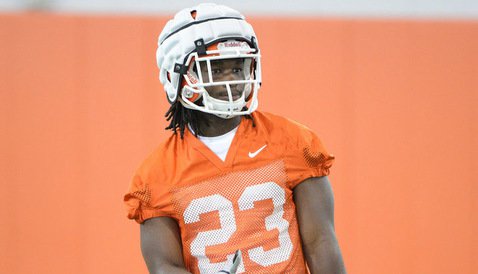 CLEMSON – Syracuse may be coming to Clemson with a losing record, but Clemson head coach Dabo Swinney

Dabo Swinney
Head Coach
View Full Profile says the Orange are playing their best football of the season.
Syracuse has a 3-4 record, but defeated Wake Forest 30-7 last week in Winston-Salem. Clemson defeated Boston College 17-13 in Chestnut Hill, and Swinney said during his Tuesday morning press conference that he's happy to be facing Syracuse in the friendly environs of Death Valley.
"It's good to be back home, coming off a good trip to Boston. I always enjoy Homecoming. It's always a special time. Looks like we've got good weather all week," Swinney said Tuesday morning in the WestZone. "Syracuse has had some tough losses to good teams. They've lost to Louisville, Maryland, Notre Dame and Florida State. They are coming off their best game of the season."
Syracuse is in a similar situation to Clemson having to play their backup quarterback A.J. Long after Terrel Hunt was injured against Florida State.
"They've had some injuries. They lost their starting quarterback, but it seems like they have found their guy at quarterback in that freshman," Swinney said. "The more I watch him, the more I am impressed. He's got a gunslinger's mentality to him. He's really confident. He's really stone-faced. He's made some big-time throws. He's accurate. He's not a big guy. He plays big. He does not seem to have a hard time seeing through the line of scrimmage. He's made some nice deep throws and they've made some outside, one-on-one, competitive plays. We've got to do a great job in the secondary this week. The ball comes out quick. They do not hold the ball. When the ball goes up and it's a one-on-one situation, someone has to make a competitive play. Our team will be challenged with that this week."
With the Orange's aggressiveness on defense, the Tigers will need a great effort from the offensive line.
?"They're just very aggressive. That's their mentality. Defensively, three of their four starters are back up front," Swinney said. "I think they're better defensively this year. They're going to force the issue. If you're not dialed in and do not have all 11 on the same page, your QB will get hit. They scored twice on defense at Wake Forest. You better be on your A-game as far as targeting guys and communication. They bring pressure from all over the place. They're aggressive with how they call things."
Swinney was asked if he was worried about a let down after back-to-back emotional victories and he answered a resounding, 'No!'
"For us, it's about us. It's not about who we play," he said. "It's about how we play. How we play is based on how we practice and prepare during the week. Our focus is on keep improving, building momentum and trying to treat each game as a one-game season. That's the approach we are taking. We'll see where we are at the end of the season. Today and tomorrow are critical days from a physical standpoint in seeing where our team is."
Other notes
On Tyshon Dye

Tyshon Dye
RS Fr. Running Back
#23 5-11, 214
Elberton, GA
View Full Profile
"When you're ready, you're ready. No matter if you're out three years. At some point you have to go play. The doctors determine when a guy is ready to go back to competitive practice. He was back in practice last week and looked good as far as just moving around and inside drills. We didn't tackle him. He just got back into the groove of football. He has been grinding and doing a lot of things. This week they have cut him loose. That was the plan coming into this week. Timing couldn't be better for us because we lost Adam Choice

Adam Choice
Fr. Running Back
#26 5-10, 211
Thomasville, GA
View Full Profile who was coming on for us.
"Now Tyshon can pick up those reps (in practice). He's not a guy who will be ready to go and execute the entire package because he is a freshman who has not played. He practiced a few days in fall camp last year and he's been out. He missed all season and the spring. He's been in meetings and understands concepts, but doing it is a different deal. I have to see him today and tomorrow in pads. If we don't have any setbacks, the next step is for him to play. That's where he's at. We've been cautious and patient with him. I think he's in a good spot right now."
On Deshaun Watson

Deshaun Watson
Fr. Quarterback
#4 6-3, 204
Gainesville, GA
View Full Profile 's role when he returns from injury
"He's the starter. Whenever he's healthy, he'll be back out there. That's standard for any of our positions."
On Watson's rehab
"He looks good. He was out there yesterday throwing a nerf ball around. He's much better this week than he was last Monday. We feel good about his future this season. We're fortunate that we have a little bit of time and an open date coming. We'll see where he's at."
On playing close, low scoring games
"We still plan on scoring a lot of points. We expect our offense to produce. Teams have to win. The defense put us in a good position the other night, but the offense had to do its job, too. We created field position, too. We did an excellent job of creating and winning that field position battle. We're not changing our standard offensively. The fact is we've played some pretty good people on defense. We've competed our tails off. We've transitioned some this year offensively, as we knew. Obviously we've had injuries but our job is to win. We've got plenty. We've got all we need to be successful and produce at a high level offensively. We want to score. We want to win."
On the offensive line
"They're competing. They're having fun. We're getting a lot out of some of those guys. I'm really proud of Isaiah Battle

Isaiah Battle
Jr. Offensive Tackle
#79 6-7, 285
Brooklyn, NY
View Full Profile and David Beasley

David Beasley
RS Sr. Offensive Guard
#68 6-4, 323
Columbus, GA
View Full Profile as far as how they competed this past week. Reid Webster

Reid Webster
RS Sr. Offensive Tackle
#77 6-3, 300
Woodstock, GA
View Full Profile has done a little bit of everything for us. Tyrone Crowder

Tyrone Crowder
RS Fr. Offensive Guard
#55 6-2, 322
Marston, NC
View Full Profile is a guy who is improving. We just don't have a bunch of people right now. We've got help on the way. I love our guys. They're competing their tails off. They've played some really good people. They're battle-tested."
Has he seen the amount of injuries and attrition in 2014
"Oh yeah. Lots of times. UGA lost about half of their offense after our game last year. That's just football. That's why we go recruit. That's why we spend a lot of time developing our roster. That's why in the spring, practice and in the winter bowl practice, that's important. Even though guys aren't going to play at times, we have to develop them. The cumulative effect of that at some point will pay off for you. We're good enough with what we've got to win."
On freshman wide receiver Artavis Scott

Artavis Scott
Fr. Wide Receiver
#3 5-11, 190
Oldsmar, FL
View Full Profile and what sets him apart
"His commitment, his focus. All great freshmen, that's usually the common denominator. They're usually focused and serious about their craft. He's dedicated on and off the field, very serious about preparation and weight room work. He just gets it. He came in January and saw quickly what he'd have to do to have a chance. He studies film, he practices hard, he wants to be a great technician at his position. He's trying to be a great player. He's strong mentally and physically. I'm very proud of him. Just a productive player. He's 190 pounds right now. He may be a 200-pound guy in time. He reminds me a lot of [former Clemson wide receiver] Jacoby Ford

Jacoby Ford
Wide Receiver (2006 - 2009)
#6 5-9, 175
Royal Palm Beach, FL
View Full Profile . He's bigger and taller. He's not as fast, but I think he is a much better receiver as a freshman. His transition is much better than Jacoby was."
On improving kickoff returns
"We have to get better. That's definitely an area where we need to improve. We have to look at some things schematically and personnel-wise. I feel really good about T.J. Green

T.J. Green
So. Safety
#15 6-3, 205
Sylacauga, AL
View Full Profile . I think he's excellent and will be outstanding, but we have to make sure we have the right people in the right spots."
On the relationship with Syracuse head coach Scott Shafer
"People made a big deal out of that because it got caught on T.V. A lot of people do that in the stands to me every week, but they don't get caught on T.V. He was embarrassed by it and came over and apologized. We've had some good laughs about it. I saw him at the ACC meetings and met his wife. He's just a competitive guy."

Tags: Clemson Football
,
Dabo Swinney
,
Jacoby Ford
,
David Beasley
,
Reid Webster
,
Isaiah Battle
,
Tyshon Dye
,
Tyrone Crowder
,
T.J. Green
,
Deshaun Watson
,
Artavis Scott
,
Adam Choice