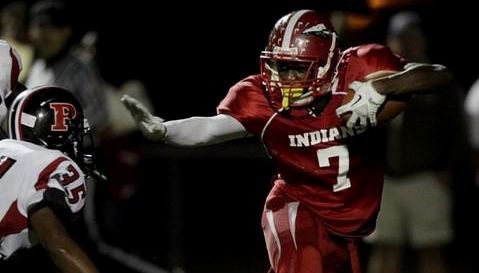 ---
| | | |
| --- | --- | --- |
| Tuesday, February 5, 2013, 7:29 PM | | |
National Signing Day approaches.
The faxes will start rolling into college football offices bright and early Wednesday morning, with Loganville (GA) Grayson's Robert Nkemdiche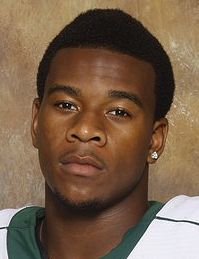 Robert Nkemdiche
Defensive End
6-5, 275
Loganville, GA
View Full Profile getting the ball rolling at 7:35 a.m.
Clemson commit and defensive tackle prospect Scott Pagano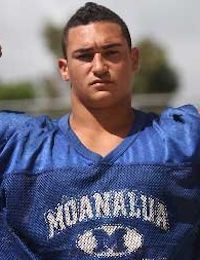 Scott Pagano
Defensive Tackle
6-4, 280
Honolulu, HI
View Full Profile might have everybody beat – he lives in Hawaii and is five hours behind the rest of us, so Pagano is getting up at 5 a.m. his time in order to get his signed National Letter of Intent into Clemson in a timely manner.
Will there be surprises? Where will everybody wind up? This year's recruiting cycle has taken some strange and dramatic turns, and we don't expect that to change in the hours leading up to tomorrow.
Here is a primer on what to look for on NSD, taking a look at the recruits Clemson will be watching tomorrow.
* MacKensie Alexander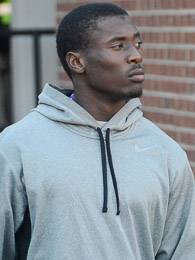 MacKensie Alexander
Defensive Back
5-11, 175
Immokalee, FL
View Full Profile , 5-star CB, Immokalee (FL) – The good news is that Alexander appears to have Clemson in the lead. I'm told he has been in contact with defensive coordinator Brent Venables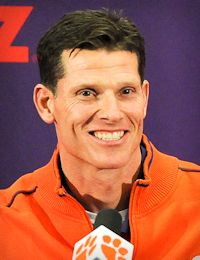 Brent Venables
Defensive Coordinator / Linebackers
View Full Profile a good bit over the last nine days. A Clemson student tweeted earlier Tuesday that he has class with Sammy Watkins and he had spoken with Alexander, and Alexander said he was coming to Clemson. Another recruit has said that Alexander is a lock for the Tigers.
However, Alexander has changed course several times during his recruitment, and his leader sometimes appeared to be whatever school the person he was talking to represented.
I've talked to several other recruits who have spoken with Alexander, and the general feeling is that he will announce he is headed to Clemson. I briefly exchanged texts with Alexander Monday evening, and while he didn't exactly say that Clemson was the leader, that is the feeling I get. Again, he knows who I work for, so……..
I still feel good about Alexander, despite his past, and wouldn't be surprised if he heads to Clemson. He announces at 11:15 a.m. on ESPNU.
* Montravius Adams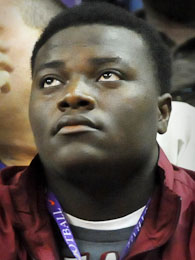 Montravius Adams
Defensive Tackle
6-3, 281
Vienna, GA
View Full Profile , 5-star DT, Vienna (GA) Dooly County – Unlike a lot of other people, I started getting the impression that Clemson was slipping with Adams late last week and posted that on the board. Sunday, I posted again that it appeared that Adams was leaning elsewhere. However, I felt for nearly two weeks that Adams would head to Georgia, just based off of conversations with his coach and those close to the situation.
Early this week, it appeared that Adams' late visit to Auburn and the commitment of his buddy Carl Lawson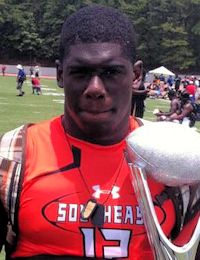 Carl Lawson
Defensive End
6-3, 251
Alpharetta, GA
View Full Profile to Auburn turned the tide. Remember, Clemson offered Adams first, and he had Clemson on top early. However, Auburn was also right there in the mix, and he spoke highly of both programs when the two teams played at the beginning of the season. That changed with the firing of Gene Chizik, and Adams appeared to be looking elsewhere. However, he has found that comfort zone again with Auburn, it's close to home and mom and his mentor seem to approve. He's headed to Auburn, even though I would love to see a surprise here. He announces at 9:45 a.m. on ESPNU.
* Adrian Baker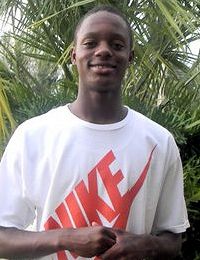 Adrian Baker
Cornerback
6-1, 170
Hollywood, FL
View Full Profile , 3-star DB, Hollywood (FL) Chaminade Madonna – Baker told me Monday morning that he had made his decision, and said the school he chose showed consistency in the coaching staff and made him feel at home. That first part gave me pause – he had told me late last week that he was still getting to know new secondary coach Mike Reed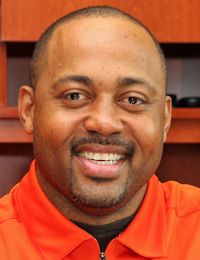 Mike Reed
Defensive Backs Coach
View Full Profile , and was still in the process of building that relationship. But we also know he feels at home in Clemson, has a great relationship with Venables, and might have a pretty good chance of playing early. He took his official visits to Clemson and Oklahoma – his final two choices - back in November and December. He will decide at 10:45 a.m. in the library at his school. My gut says he is going to Clemson.
* Korrin Wiggins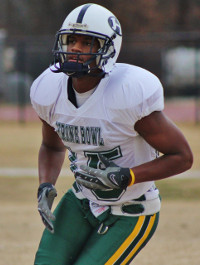 Korrin Wiggins
Safety
6-1, 190
Durham, NC
View Full Profile , 3-star DB, Durham (NC) Hillside – Wiggins has appeared to be a lock for North Carolina for a while now. But he has had a great relationship with Reed for a while, and Reed coming to Clemson only helped the cause. Clemson's coaches have been in contact with Wiggins, and this might be one of the surprises Clemson fans are hoping for. He announces at 9 a.m. in his high school gym. I still think this one is UNC, but don't be surprised if he pulls the switch.
* Tyrone Crowder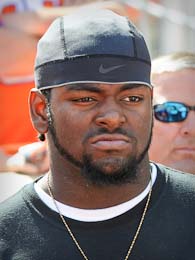 Tyrone Crowder
Offensive Guard
6-2, 315
Rockingham, NC
View Full Profile , 4-star OL, Rockingham (NC) Richmond County – Crowder will be choosing between Clemson and Georgia at 4:05 p.m. on ESPNU. I've been in constant contact with Crowder's brother – Charles McManus – and he said late last week that Clemson had a "pretty good lead" on Georgia. I don't think that's changed. Crowder will be headed to Clemson.
Signing times for some of Clemson's current commits
RB Wayne Gallman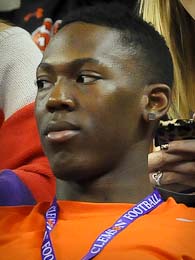 Wayne Gallman
Running Back
6-1, 195
Loganville, GA
View Full Profile 7 a.m.
RB Tyshon Dye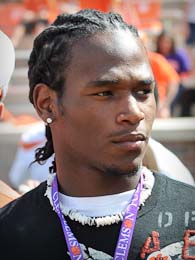 Tyshon Dye
Running Back
6-1, 210
Elberton, GA
View Full Profile 7:30 a.m.
LB Dorian O'Daniel
Dorian O'Daniel
Outside Linebacker
6-1, 205
Olney, MD
View Full Profile 9 a.m.
LB Ben Boulware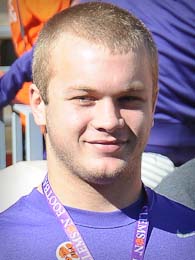 Ben Boulware
Outside Linebacker
6-1, 230
Anderson, SC
View Full Profile 9 a.m.
DB Jayron Kearse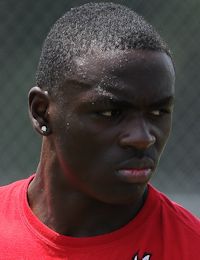 Jayron Kearse
Safety
6-4, 205
Fort Myers, FL
View Full Profile 9 a.m.
DE Dane Rogers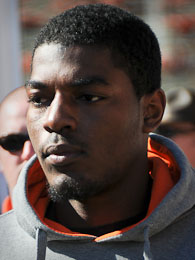 Dane Rogers
Defensive End
6-3, 245
Shelby, NC
View Full Profile 10 a.m.
DB Marcus Edmond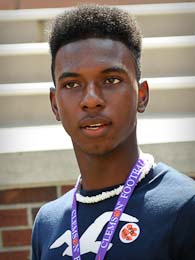 Marcus Edmond
Cornerback
6-1, 175
Hopkins, SC
View Full Profile 10 a.m.
WR Mike Williams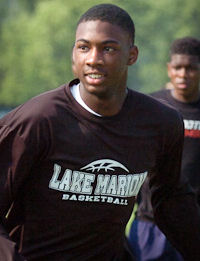 Mike Williams
Wide Receiver
6-5, 205
Holly Hill, SC
View Full Profile 10:15 a.m.
LB D.J. Greenlee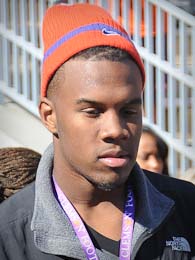 D.J. Greenlee
Linebacker
6-2, 210
Central, SC
View Full Profile 11:45 a.m.
DT Scott Pagano 2:30 p.m.
WR Kyrin Priester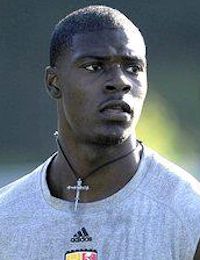 Kyrin Priester
Wide Receiver
6-2, 190
Snellville, GA
View Full Profile 2:30 p.m.

Tags: Clemson Football
,
Adrian Baker
,
Ben Boulware
,
Brent Venables
,
Carl Lawson
,
D.J. Greenlee
,
Dane Rogers
,
Dorian O'Daniel
,
Jayron Kearse
,
Korrin Wiggins
,
Kyrin Priester
,
MacKensie Alexander
,
Marcus Edmond
,
Mike Reed
,
Mike Williams
,
Montravius Adams
,
Robert Nkemdiche
,
Scott Pagano
,
Tyrone Crowder
,
Tyshon Dye
,
Wayne Gallman