| | |
| --- | --- |
| Scott Pagano: Three things you might not know | |
---
| | | |
| --- | --- | --- |
| Friday, January 22, 2016, 7:01 AM | | |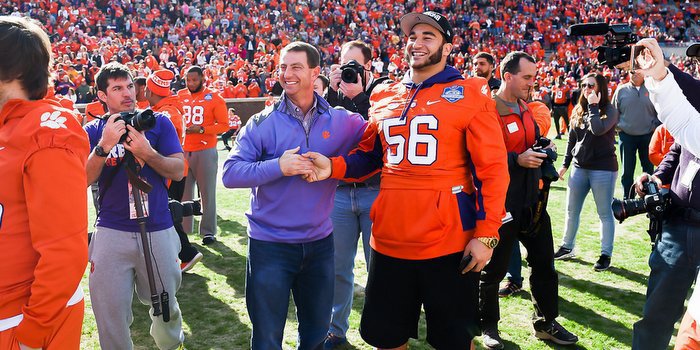 CLEMSON – There are two or three things you might not know about Tiger defensive tackle Scott Pagano, and that's okay because the quiet and reserved sophomore saves his talking for when he's on the field.
The 6-3, 295-pounder was a mainstay in Clemson's defensive tackle rotation this past season, and his true worth can't be measured in stats even though he wound up with 18 tackles and two tackles for loss. Pagano would occupy more than one blocker, allowing linebackers Ben Boulware and B.J. Goodson to get up the field and make plays.
It's the warrior mentality Pagano was instilled with in Hawaii and it's something Pagano had to learn to harness before he could be effective at Clemson.
"Growing up in Hawaii since I was seven years old and being raised in that culture and also having the coaches there - the coaches are a lot different there," Pagano said. "They are different in how they teach and how their mindsets are. In high school we wanted to go out there and kill everybody and I try to carry that mindset here except now it's been a bit more toned down and mature."
Pagano committed to the Tigers in late July of 2012 out of Moanalua High School in Honolulu, Hawaii. Many Clemson fans were excited to have a Hawaiian on the roster, but that's the first thing you might not know about Pagano – he isn't native to Hawaii and doesn't have an ounce of Polynesian blood coursing through his veins.
People are saddened when they learn the truth.
"I get it so much, and people get so heartbroken when they find out I'm not Hawaiian," Pagano said. "They get so sad. They get depressed about it. I am black, Italian and white - nothing too special. Just a normal person."
Normal isn't the word used to describe Pagano's high school career – he was rated as the No. 104 player in the nation by Rivals, and Rivals named him the Lombardi Award winner as the top defensive lineman in the Western region of the United States. ESPN had him rated as the No. 23 defensive tackle nationally and he was part of the annual ESPN 300.
As a result, Pagano had offers from all over the country and it was on a particularly grueling recruiting trip – his family had flown with him from Hawaii to see LSU and Alabama – that he met Crimson Tide head coach Nick Saban.
That brings us to the second thing you might not know – his younger sister Ryenn fell asleep on the couch in Saban's office..
"It was a long day. We drove from LSU and we got there late, about 2 p.m. and took the tour," Pagano said. "Finally, we wound up in Coach Saban's office and ten minutes into it she almost started snoring on. We looked and she was just knocked out. Coach Saban started laughing - but he was cool about it. He offered her a pillow and a blanket. It was pretty funny that she did that."
Pagano was ready to commit to Alabama then and there, but that brings us to the third thing you might not know about him – his mother wanted him to see Clemson before he committed and she is the one that Clemson fans can thank for him being a Tiger.
"For Alabama, it was very close. I was close to committing right then and there," he said. "When we got here I was exhausted from all the trips. I told my mom, 'I don't wanna go anywhere. I just want to relax and sleep.' She said no, get up, this school may be the school that you end up going to. And I ended up going here. I loved Clemson and I loved the coaches and the family atmosphere. A few days later I committed. It just kept coming back to Clemson and my last day here is when I ended up committing to Coach Swinney. So yes, it's true. She can take the credit."
Pagano redshirted his first year on campus, and played just 54 snaps in 2014. Last winter, however, he found the key to getting on the field.
"I've matured physically and mentally, and preparing myself in the off-season," he said. "I felt like last off-season I had tremendous growth. I study more. And it's staying healthy and eating right and listening to (trainer) Danny (Poole) and getting in the cold tub."
Helping Pagano's cause is that his family has moved closer – from Hawaii to Central.
"It's been really big. It's been a blessing, just to go home and get a home-cooked meal," he said. "It's nice to just go four miles down the road and see my family. I can go home and see my sisters and catch up with them. It's nice to have them close."