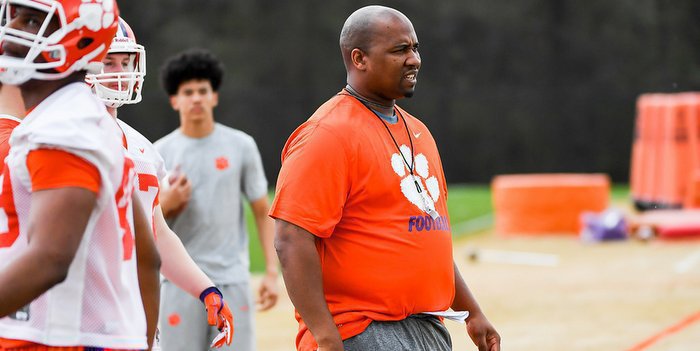 | | |
| --- | --- |
| DL, Freshmen, Special Teams, GT, 2-Way DK | |
---
| | | |
| --- | --- | --- |
| Tuesday, August 27, 2019, 9:34 AM | | |
Email Bag
In this format, we will publish your comments and answer your questions. To submit a comment or questions, please email me at mickeyplyler@hotmail.com.
Mickey,
I have missed your email questions and hope you start them back soon. If so I have four for you:
1-what kind of drop off do you expect on the defensive line?
2-which freshmen do you expect to play this season?
3-I haven't heard too much about special teams. What do you expect from the special teams?
4-it feels weird to face GT without the option. What can we expect from their new offense?
Thanks! Brad
Brad,
Thanks for the email. We had a baby boy in February and I keep him after my radio show, so I have taken some time off from the emails and ave enjoyed our son. I plan on answering these emails a few days a week throughout the season.
To answer your football questions, first I think there has to be a drop off on the defensive front. Players like Wilkins, Lawrence, Ferrell, Bryant and Huggins made up the best defensive line in the country last season. I think there will be a significant drop off in experience, but there is talent here. The staff really likes Pinckney, Williams, and Kelly. They love Tyler Davis, a true freshman at defensive tackle. There is more depth at defensive end where they feel like Thomas, Rudolph, Foster, Henry and Mascoll are talented. My guess is there will be growing pains, but this unit will play much better in November after gaining some experience. I think the major storylines to follow are the roles of each player and how those roles change as the season progresses.
Dabo has been asked about the freshmen and he says it's too early to name specifics, but it is clear some have made a huge impression. Ngata, Davis, Jones and Booth are future stars. I think Phommachanh will play in at least the allowed four games. Dukes may be ahead of Mellusi at running back, but both may get a chance to see time this season. Ladson has been banged up, but I think he plays. My guess is both Lay and Allen play because tight end is thin at this point. I am not sure any offensive linemen play more than the four allotted games, but Putnam and Rayburn would be the best bets. Reuben, Johnson and Orhorhoro have a chance, but I am not sure at this point. Special teams will need linebackers and safeties, so Patterson, McGuire, and Phillips have a good chance to avoid a redshirt. I also think Swanson may see more than four games.
Dabo and Danny Pearman have been very complimentary of B.T. Potter as a placekicker. He excelled as a kickoff specialist last season and signs are encouraging for his place-kicking. I do have concerns on the punting. I went to practice twice and both times the punting was inconsistent. I do expect good things from the cover teams and the return teams. When Rodgers gets healthy, he can be a weapon. Kendrick could have a big year as a kick returner too.
Finally, GT is a big mystery offensively. Dabo has said they are watching a bunch of film from Temple, but he doesn't know what to expect. The last two seasons at Temple his offenses were balanced. The Owls averaged about 150 yards a game in the ground and 250 through the air. Temple passed the ball 39% of the time last season, while Tech threw it about 14% of the time. It will be completely different than what we saw under Paul Johnson, but I don't have a great feel for the specifics heading into Thursday. Wednesday at 8:05 am we will have their play-by-play announcer, Andy Demetra, on with us to tell us more about what to expect from GT.
Mickey,
Great to see you at the Charleston event last week. I didn't get a chance to ask you there but wanted to know if DK will play both ways this year? I understand his value at corner but I think he can make a big difference on offense too. Any chance he plays both ways? Hope you had a great trip and can't wait to get back into the Valley this week!
Chucktown Tiger
Chucktown Tiger,
In the spring when the move to corner was announced I expected to see DK some at wide receiver. That expectation was increased when Rodgers went down with his knee injury. But a couple of things have happened this camp to lower that expectation. First, DK hurt his hamstring and missed several practices. I think they want him focused on corner now and the injury may have set back his snaps at receiver. Second, the emergence of a Ngata and Overton at wide receiver means fewer opportunities for DK at wide out. I do think we could see him a few snaps later in the season on offense though and I do see Dabo using that as a recruiting tool for future two-way players.
The Brad Hughes All-State Insurance
Agency