---
| | |
| --- | --- |
| Saturday, February 4, 2012 8:04 PM | |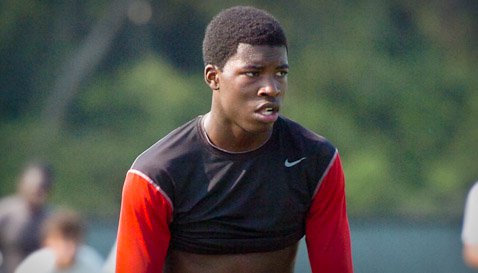 The 2012 recruiting class is in the books, and it's never too early to start taking a look at the 2013 class, a class in which the Tigers already have two commitments on board ( D.J. Greenlee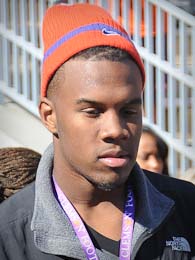 D.J. Greenlee
Linebacker
6-2, 210
Central, SC
View Full Profile and R.J. Prince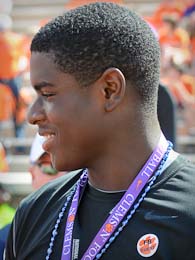 R.J. Prince
Offensive Tackle
6-6, 285
Albemarle, NC
View Full Profile ) and a few more that could commit in the spring.
Considering that both head coach Dabo Swinney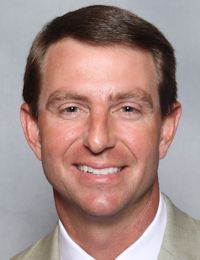 Dabo Swinney
Head Coach
View Full Profile and recruiting coordinator Jeff Scott have said that next year's class will be smaller in number [Scott said anywhere from 11-to-16], the coaches have to be picky on who they offer.
Here is an early look at a few members of the 2013 class that would be a nice fit for the Tigers, and we will have more stories on this list as the spring progresses. Call this one – which isn't in-depth to be sure – an early wish list of players the Tigers have a legitimate need for and a shot at signing.
*DE Robert Nkemdiche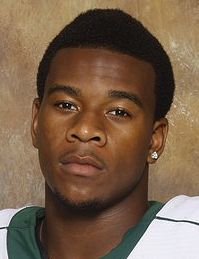 Robert Nkemdiche
Defensive Line
6-5, 265
Grayson, GA
View Full Profile – This Loganville (Grayson) Ga. defensive end prospect is being hailed as the best prospect to come out of the state of Georgia since Herschel Walker, high praise for the 6-5, 271-pounder. He doesn't have a Clemson offer, but Alabama, Southern Cal, South Carolina, Georgia, Georgia Tech, Oregon, LSU, Florida and BYU have already offered. The biggest surprise on Nkemdiche is his speed – he recently ran a 4.56 40-yard dash at a recent combine. He was also the leading rusher on his high school team.
*WR Ahmad Fulwood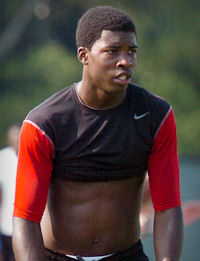 Ahmad Fulwood
Wide Receiver
6-4, 200
Bishop Kenny, FL
View Full Profile – This WR out of Jacksonville's Bishop Kenny visited Clemson last weekend, and he has already been to Dabo Swinney's camp, and will probably be on campus again this spring. He has already said that he loves Clemson's small-town atmosphere and the Tigers are in his top 5 as of this weekend. As a junior, he had 43 catches for 1,100 yards and 22 touchdowns.
*OG Cameron Dillard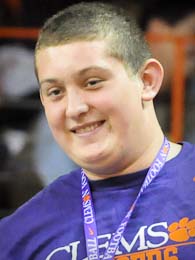 Cameron Dillard
Offensive Guard
6-3, 295
Canton, MI
View Full Profile - This Canton, MI offensive guard recently made ESPN's Top 150 for next year. He attended Clemson's first Junior Day last weekend and had a great time on the visit. He hopes to make it back down for the South Carolina game. He has picked up offers from Missouri, Indiana, and Arizona in the past week and will start getting attention from the major programs this spring. He looks like a road-grader on his film, and in talking with him on the phone, he certainly has the attitude to be a great offensive lineman. Getting in early on this guy will only help.
*CB Nick Washington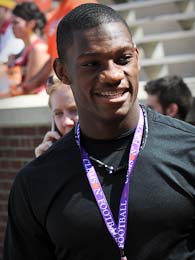 Nick Washington
Defensive Back
6-1, 180
Jacksonville, FL
View Full Profile - This five-star cornerback from Jacksonville has offers from almost every major school in the southeast. Clemson defensive coordinator Brent Venables and recruiting coordinator Jeff Scott visited him in January at his high school. He lists his favorites as Florida, Florida State, Clemson, South Carolina, Alabama, and Auburn in no particular order. As a running back, he rushed 47 times for 509 yards and eight touchdowns last year. And at cornerback he tallied 32 tackles, 2 interceptions and a sack.
*DT Montravius Adams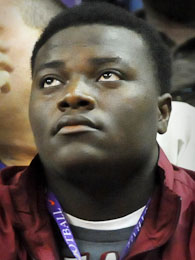 Montravius Adams
Defensive Tackle
6-3, 281
Vienna, GA
View Full Profile – This big (6-3, 290) DT out of Vienna (Dooly County) Ga. also visited the Clemson campus last weekend. The usual suspects have already offered – Clemson, Alabama, Florida, Miami (Fla.), Auburn, Georgia and even an offer from Michigan St. The good news for the Tigers is that Adams already has the Tigers at the top of his list, and loved spending time with line coach Dan Brooks last week. The Tigers are pitching early playing time for Adams, who turned in a solid junior season – 85 tackles, 45 of which were for a loss – and 10 sacks. His high school coach says he wreaks havoc in the backfield, and he is also a part of ESPN's Top 100 for 2013.
*ILB Ben Boulware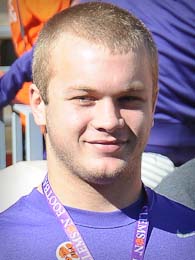 Ben Boulware
Outside Linebacker
6-1, 220
Anderson, SC
View Full Profile – Many will be surprised to see Boulware, an inside linebacker prospect out of T.L. Hanna on this list. Don't be. I watched him play twice last season, and this kid is a tackling machine. Against Byrnes, even when his team got in a BIG hole early, kept playing. He had 151 tackles as a sophomore, and 181 as a junior. He has the size (6'1, 225) to be a player on the next level, and he already has offers from Stanford and South Florida. Expect more in the future, especially after being named to the ESPN Top 100. He already has a family connection to Clemson – his brother Garrett is a freshman on the Tiger baseball team.
*DE Greg Gilmore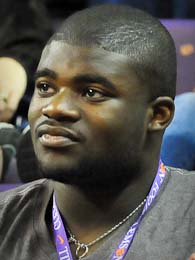 Greg Gilmore
Defensive Tackle
6-4, 285
Hope Mills, NC
View Full Profile – Gilmore is another prospect that has Clemson high on his list, was at junior day, boasts an offer from the Tigers and made the ESPN list. He has already said he enjoyed meeting new defensive coordinator Brent Venables, and has a great relationship with Dan Brooks. The 6-4, 275-pound defensive end out of Hope Mills (South View) N.C. recorded 79 tackles, two sacks, five forced fumbles, two fumble recoveries, a safety and a blocked field goal as a junior. As a result of his strong play, he now boasts a dozen offers, including Clemson, Ohio St., California and Virginia Tech.
*WR Uriah Lemay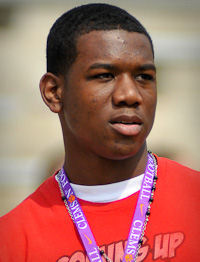 Uriah Lemay
Wide Receiver
6-1, 194
Matthews, NC
View Full Profile – This WR out of Matthews (Butler) N.C. has camped at Clemson, but he has offers from every major player in this part of the country. He has no problem making catches in traffic, and goes up for the jump ball as well as any player I've seen recently. He has good bloodlines – his brother is Christian Lemay, the University of Georgia quarterback. I talked to Lemay this past weekend, and he says he is wide open and isn't ready to name his top schools or trim his list. He said Clemson is still a major player, and would be a nice fit in Chad Morris' offense.
*DE Isaac Rochell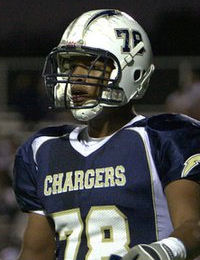 Isaac Rochell
Defensive End
6-5, 245
McDonough, GA
View Full Profile - The 6-5, 240-pounder out McDonough (Eagles Landing Christian) Ga. is a 4-star prospect that has offers from almost every major school east of the Mississippi River. He told TigerNet last Sunday that Clemson sits atop a list of favorites that includes Florida St., Georgia, Georgia Tech, Alabama and Oklahoma.
"Clemson is very, very, very high," he said. "They are pretty much at the top. At Clemson, it's just one of those things where you don't understand it unless you experience it. It's everything overall – the campus, the atmosphere, the football program and lots of different things."
As a junior, Rochell recorded 97 tackles, seven sacks and 25 tackles for loss at defensive end, and he said he hopes to make a decision before the start of football season.
*WR Tramel Terry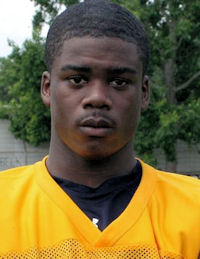 Tramel Terry
Wide Receiver
5-11, 170
Goose Creek, SC
View Full Profile – This 6-0, 190-pounder out of Goose Creek boasts 13 offers, including the Tigers, and camped at Clemson last spring. He committed to Georgia earlier, but withdrew his commitment so he could look around. Many believe he is headed for an SEC school, but in recent conversations with Terry I know he still has Clemson high on his list. High enough that the Tigers can still close strong.
*WR Mike Williams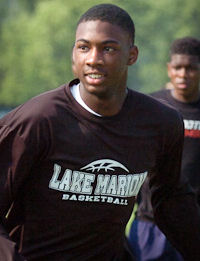 Mike Williams
Wide Receiver
6-5, 205
Holly Hill, SC
View Full Profile – Williams is another in-state wide receiver who camped at Clemson last year, visited the campus this past weekend and has launched himself onto the ESPN list. As a junior, he had 61 receptions for 1141 yards and 10 touchdowns. As a sophomore, he had 42 receptions. He prefers to play football close to home, and Clemson's recruiters of record are Jeff Scott and Marion Hobby. The Tigers offered Williams as a sophomore – back in May of last year – and he will more than likely visit Clemson again in the spring.
*OL Tyrone Crowder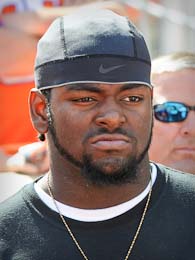 Tyrone Crowder
Offensive Line
6-2, 315
Rockingham, NC
View Full Profile – Crowder is one of the top offensive line prospects in North Carolina for 2013. He has the size (6-2, 315) that will probably see him playing guard at the next level. He has been on the Clemson campus many times, and once lived in Greer. Clemson, Duke, North Carolina, East Carolina, South Carolina and Tennessee have offered.
As I said earlier, this is an incomplete list and I went a little heavy on the defensive line and especially defensive end where the Tigers are a little thin at this point. We will continue to update this series and in the next one will go a little heavier on the offensive line and skill players.

Tags:
Ahmad Fulwood
,
Ben Boulware
,
Cameron Dillard
,
D.J. Greenlee
,
Dabo Swinney
,
Greg Gilmore
,
Isaac Rochell
,
Mike Williams
,
Montravius Adams
,
Nick Washington
,
R.J. Prince
,
Robert Nkemdiche
,
Tramel Terry
,
Tyrone Crowder
,
Uriah Lemay