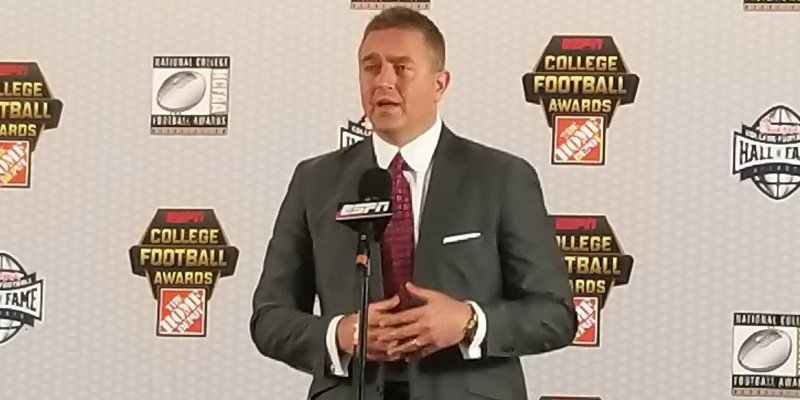 | | |
| --- | --- |
| Herbstreit 'incredibly thrilled' for sons ahead of Clemson official visit | |
---
| | | |
| --- | --- | --- |
| Friday, January 4, 2019, 3:05 PM | | |
ESPN lead college football analyst Kirk Herbstreit will spend the next two weekends around the Clemson football program - and have a vested interest moving forward in the upcoming seasons.
Herbstreit's twin sons Jake and Tye Herbstreit will enroll this summer at Clemson as preferred walk-ons for Clemson football. After spending time around the Clemson program into Monday for the national championship call, the elder Herbstreit will be in Clemson next week for an official recruiting visit with Jake and Tye.
"I'll be a part of that just like a normal dad and get a chance to be a part of seeing the boys have a final opportunity to talk with Dabo and Jeff Scott and all the coaches and we'll go from there," he said on an ESPN teleconference Friday. "I'm incredibly thrilled for them to have a chance to go there be a part of that."
Out of Montgomery Bell Academy (Nashville, Tn.), Jake is a 6-foot and 175-pound defensive back and Tye is a 5-foot-11 and 160-pound receiver.
Herbstreit says Swinney's story about his walk-on journey at Alabama is what sealed the deal in two diehard Ohio State fans becoming Clemson Tigers.
"They didn't really know anything about his time at Alabama," Herbstreit said, "and how he grew up and how he showed up at his first practice and he was 15th-string or whatever it was and how discouraged he was and how he worked his way up and eventually got to play and went on to be a part of a national championship team. How he has friendships for a lifetime and he talked about he runs his program - the Trevor Lawrences of the world or a preferred walk-on, he treats everyone the same.
"I could tell as he was telling this story and looking over at my boys - it's weird being in that room after years of talking to Dabo as a guy getting ready for a game - I could tell my boys were just more and more drawn into what he was saying. When they left, it was over. 'I want to go play for that guy. I want to go be a part of that program and be a part of that culture.'
"Because as much as respect as I have as a dad for that program, when they said that's what they wanted to do, I was excited for them to have that opportunity."