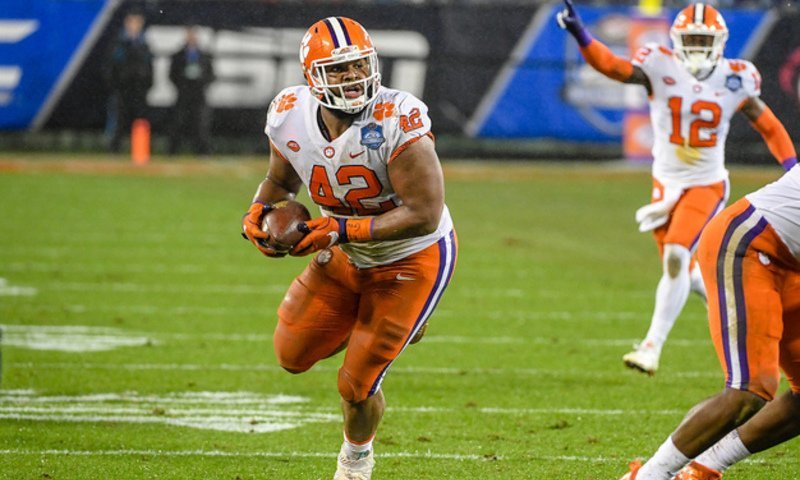 | | |
| --- | --- |
| Wilkins on Trevor Lawrence: "He's beyond his years definitely" | |
---
| | | |
| --- | --- | --- |
| Wednesday, January 2, 2019, 12:18 PM | | |
Clemson senior defensive end Christian Wilkins spoke with the media Wednesday previewing the upcoming National Championship game against Alabama.
"It's a little different because you know you it's definitely the last game and you have a shorter time," he said. "You don't have a month to prepare. It's easier to stay locked in a little more and focused. It feels almost more like a normal game week almost. It's easier from that standpoint. We don't have as much free time as a bowl trip, so it is easier to get locked in and put your all in this week."
Wilkins spoke highly of Trevor Lawrence's poise throughout the year including his offensive MVP performance in the 30-3 win against Notre Dame in the Goodyear Cotton Bowl Classic.
"I knew he would be able to handle the big stage just because he didn't really have any responses," he said. "As much as I may have gotten in his face or said this or that, just me being who I am doing the things I do, he never really responded. He would just shrug it off. So I kinda got a sense of his poise and how calm and cool of a person he is just from experiences like that. He was never really rattled, never got in his head. It's not a surprise that he is able to handle the big stage and the spotlight and everything that comes from being the starting quarterback at Clemson. It's just really respectable what he has been able to do."
Wilkins has been impressed by Lawerence despite his very young age as a starting quarterback.
"Obviously, on the field but off the field too as well, how he carries himself," he said. "You wouldn't be able to tell he is an 18-19-year-old kid. He is beyond his years definitely and just very smart, very good leader and a guy we all respect on the team."
Wilkins has 46 tackles including 14 tackles for loss, 5.5 sacks, two forced fumbles, and a fumble recovery.