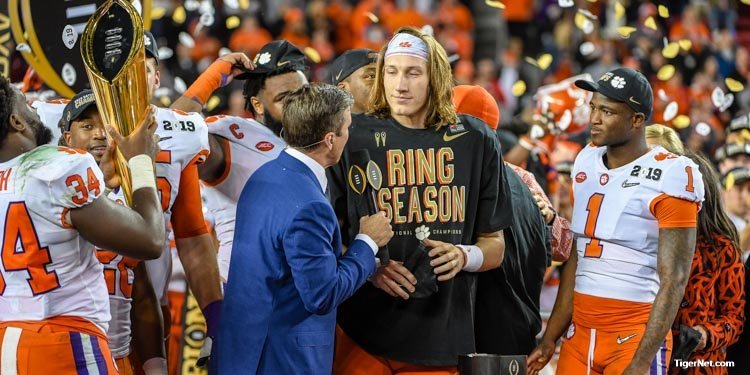 | | |
| --- | --- |
| Trevor Lawrence with 'SPECIAL' message to Tiger Nation | |
---
| | | |
| --- | --- | --- |
| Thursday, January 10, 2019, 1:14 PM | | |
Clemson has won the natty once again.
It would probably not have been possible without the elite arm talent of Trevor Lawrence. The freshman gunslinger had 347 passing yards and three touchdowns in the 44-16 destruction of Alabama.
On Wednesday, he posted a touching message to his school, team, fans, and everyone that has supported him to get him to this point in his collegiate career (3,280 yards and 30 TDs in year one).
Special.
This is the word that continuously comes to mind when I think about this team. This place, this school, this season, this team, and this time is special. Words can't express the gratitude and appreciation I have for everyone involved and all who supported. To the seniors and guys who won't be coming back next season, you all are amazing, and thank you for all you've done for myself and for Clemson. (Also shoutout to the o-line and Chase Brice, cause they don't get enough credit). It's because of GOD'S grace this is all possible. The amazing thing is, the best is still yet to come. Keep your dreams bigger than your memories, cause we're not done yet.
#BestTeamToEverDoIt