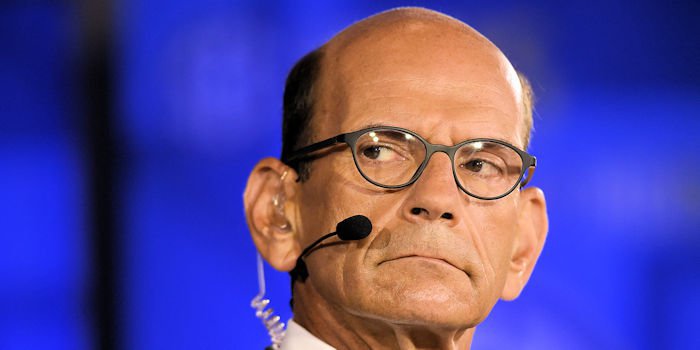 | | |
| --- | --- |
| Trevor Lawrence calls Finebaum 'unprofessional' after his 'stupid' comments | |
---
| | | |
| --- | --- | --- |
| Thursday, July 18, 2019, 1:37 PM | | |
Paul Finebaum gonna Finebaum.
The SEC Network analyst went off Wednesday during SEC Media Days personally going after student-athlete John Simpson's opinion that Notre Dame was a harder opponent for Clemson than Alabama last season.
"I'm not in the business of criticizing college players, but that is easily one of the stupidest comments I have ever heard," Finebaum said. "Alabama was a phenomenal football team last year. Notre Dame was good, but they were not as good as Alabama. Alabama would've destroyed Notre Dame, and what you get there in John Simpson's comments is just the pettiness of a program that is unaccustomed to being at the epicenter of this sport."
Finebaum continued to go after Clemson calling Simpson's comments stupid and saying that the defending National Champions have had some embarrassing behavior the last few years.
"And Clemson has won two championships, and they deserve them. (Dabo Swinney) I think is a phenomenal coach. It's a great program. But when faces of a program like that say stupid things like that, it's demeaning to what the program has accomplished. And I've said this couple of times; I'm gonna say it again, Clemson just doesn't know how to win yet. Maybe they will at some point, but not yet. And I hope that they can learn to deal with being No. 1 and being in the spotlight. Because so far, a lot of their comments and their behavior, both the last time two years ago and today, have been really embarrassing."
This is probably one of Finebaum's crazier takes, and that is saying a ton. Finebaum needs to watch out because that SEC kool-aid is making him loopy and punch drink with his laughable takes on non-SEC teams.
Clemson star quarterback Trevor Lawrence stood up for his teammates and simply tweeted 'unprofessional' with Finebaum's latest tirade regarding the Tigers.
Unprofessional https://t.co/OMZmC7avrO

— Trevor Lawrence (@Trevorlawrencee) July 18, 2019
Clemson beat Notre Dame by 27 and Alabama by 28 so at least Simpson's opinion is defensible https://t.co/KREp0M229g

— Dan Wolken (@DanWolken) July 18, 2019
I'd say Clemson knows how to win better than anybody in the country at the current moment.

But God Bless Paul for being in midseason form in July. The best. https://t.co/ixVAQYm7Sr

— Ralph D. Russo (@ralphDrussoAP) July 18, 2019