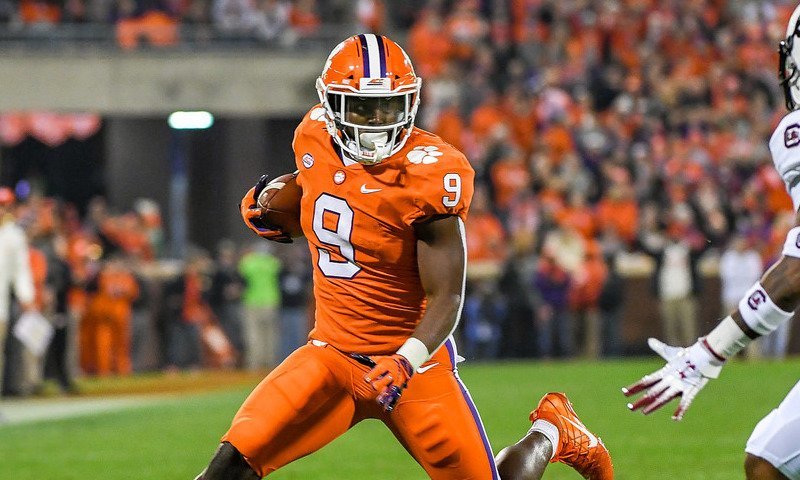 | | |
| --- | --- |
| Travis Etienne finished in Top 10 of Heisman Trophy voting | |
---
| | | |
| --- | --- | --- |
| Sunday, December 9, 2018, 8:48 AM | | |
The 2018 Heisman Trophy Award was announced for Oklahoma quarterback Kyler Murray on Saturday night in New York. However, in Clemson news, sophomore sensation Travis Etienne finished seventh in the Heisman Award with an impressive six second-place votes and 17 third-place votes.
Etienne has rushed for 1,463 yards and 21 touchdowns while averaging an elite 8.3 yards per carry through 13 games.
Vegas has already come out for next season's Heisman Trophy odds and Etienne is listed tied for fifth-best odds.
Other Clemson players in the Top 10 of the Heisman voting in history include Deshaun Watson in 2015 and 2016 (3rd, 2nd), C.J. Spiller in 2009 (6th), and Steve Fuller in 1978 (tied for 6th).
Top 10 Heisman Trophy voting for 2018
Kyler Murray: 2,167 total points: 517 first-place votes, 278 second-place, 60 third-place
Tua Tagovailoa: 1,871 total points: 299, 431, 112
Dwayne Haskins: 783 total points: 46, 111, 423
Will Grier: 126 total points: 4, 17, 80
Gardner Minshew: 122 total points: 6, 15, 74
McKenzie Milton: 39 total points: 4, 4, 19
Travis Etienne: 29 total points: 0, 6, 17
Quinnen Williams: 27 total points: 1, 4, 16
Jonathan Taylor: 26 total points: 1, 2, 19
Darrell Henderson: 21 total points: 0, 3, 15